Columns
Green Eggs
Chicken Sales Are Up
Now that more of us are shopping organic, adopting reusable water containers, buying hybrid vehicles, and using the word green in creative contexts, let's take a look at some of Goleta's green backyard chickens.
Along with the nation, urban farm life in Goleta is a growing trend—a trend that historically has accompanied economic calamity. Whether a consequence of a fiscal cinching or the sustainability movement, chicken sales are up. In fact, over 1300 chickens last year (not to mention the turkeys) were sold from Goleta's Island Seed and Feed, Brant Tunstall told me. "For the past couple of years chicken sales have been through the roof," he said. With those numbers, it seems that chickens must be in our own backyards.
Jessie Alstatt is one such Goleta chicken keeper. Jessie responded to a sign I had posted which implored for such a person to share their residential chicken keeping experience. Aside from a super-enthusiastic 12-year-old, Jessie was the only one. Tunstall mentioned that many people commented on the posted inquiry expressing trepidation regarding the sensitive nature of keeping livestock in residential communities.
Jessie is very aware of the laws surrounding chicken keeping and is especially cognizant of her neighbors as we speak in her backyard with hushed tones. "My neighbor's dogs are much louder," Jessie says.
It is no more illegal to keep chickens than any other pet. The City of Goleta zoning regulations for a single family residence state that:
"Small animals (e.g., chickens, birds, ducks, rabbits, etc.) shall be permitted provided that: a) Such small animals are for domestic use of the residents of the lot only and are not kept for commercial purposes, b) The keeping of such small animals is not injurious to the health, safety or welfare of the neighborhood and does not create offensive noise or odor as determined by the Director after advice from the County Health Department, c) Enclosures…shall be no closer than 25 feet to any dwelling."
I imagine that the woes and delights of raising chickens in the city are largely circumstantial. "There are no chicken police," Tunstall said. "It's more of a neighbor-driven complaint thing."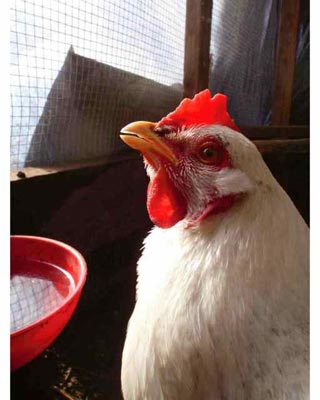 To avoid excessive noise, Jessie keeps hens only. Fortunately, cock-a-doodle-doodling roosters are not required for egg production. The hens themselves, aside from their quiet cackling, sound off almost exclusively when they lay eggs, about once per day. Jessie, who has six layers, is clearly smitten by the quirky and entertaining creatures. She picks up each chicken for individual introductions.
"This one is the escape artist, Puffer."
Izzy is the nicest chicken.
Eccentric Dolly, a plump white hen, and subject of a soon to be children's book , is the leader. "Dolly is obnoxious. She's also an all-purpose breed and I keep reminding her of that," Jessie says, eyeing the bird.
With a quietly crooning, shiny-feathered rust-and-grey chicken in arms, Jessie continues, "Excine lays a beautiful brown egg."
Bonnie was the first to produce.
And Blondie has green legs and lays a green egg.
Jessie doesn't have a problem eating eggs everyday. "I'm not worried about my cholesterol because the chickens are eating grass so good fatty acids are in the eggs."
With the sound of cars in the background, the six birds roam a run that skirts the small yard. They will eat virtually anything they unearth including earwigs, plants and maybe even a lizard. This free-range diet is supplemented with grass clippings, hay from stables, scrap produce (which Jessie collects from local markets), and an organic layer-chicken feed. "This yard is a hundred-percent organic garden," Jessie says, after explaining how the chickens are keeping down the insects that eat her growing vegetables.
Jessie may be feeling the fiscal impact of the times, but her motivations certainly encompass environmental concerns. Making an effort to build the coop largely from recycled materials is another example of how she attended to both issues.
"It's also a kind of a reminder of how we evolved through time with the service of other animals," she said. Considering the thousands of years of shared history between people and chickens, having green eggs may be more than a passing trend.