Courts & Crime
Robles Pleads Not Guilty to Murder Charge
Court Assigns Attorney for Man Accused of Hendry's Beach Killing
At his arraignment this morning, Adrian Robles pled not guilty to charges of murder and being a member of a street gang.
Robles is accused of last month's murder of Robert Simpson on Hendry's Beach, a crime that could carry the death penalty, and is currently being held in Santa Barbara County Jail.
Superior Court Judge William Gordon had delayed the arraignment for two weeks, due to issues with finding representation for the defendant. At today's hearing, court-appointed attorney Steve Balash represented Robles.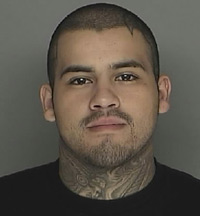 Senior Deputy District Attorney Hilary Dozer said the Public Defender's Office and Conflict Defense Associates (CDA), an organization that represents those who the Public Defender cannot, were both unable to defend Robles, forcing the court to appoint Balash.
"I have no idea why CDA couldn't accept [Robles's Case]," Dozer said.
Due to his recent appointment, Balash said he has not received the evidence related to his client's defense.
"I'm happy to finally have a lawyer on this case and finally start the case moving forward," Balash said. "I don't have the discovered evidence that puts him at the scene [of the murder.]"
Robles's case was transferred to Superior Court Judge Brian Hill for a preliminary hearing on May 25.