Columns
Scrabble and Brunch
This One's for the Library
For the most part, and no matter our origin, we grew up and raised our children counting on board games as a perennial source of family entertainment.
You name it, from Monopoly and Checkers to Taboo and Lotería (a Latino version of Bingo but with images instead of numbers), there were always games to remove any chance that a rainy, snowy, or extremely hot day would be boring. We knew that during those times we would get our share of laughter, praise or complaints, and, at times, sporadic tantrums, depending on the outcome of the game. It was all part of the fun.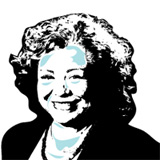 In my family, Scrabble was highly ranked among our favorite games. Not only was it entertaining, but it put our brains and creativity to extreme work, and I liked that. I still do. That's why I was excited when I found out that the Goleta Branch Library (500 N. Fairview Ave.) would host a Scrabble fundraising event on Sunday, May 16, from 10 a.m. to noon. The event benefits the Santa Barbara Public Library System's Adult and Family Literacy Programs.
"Hundreds of adult learners receive free, confidential tutoring through the Santa Barbara Public Library System's Adult Literacy Program," said Adult Literacy Coordinator Beverly Schwartzberg. "One hundred and fifty volunteer tutors, who receive free training and materials, work in Santa Barbara, Goleta, Carpinteria, and Solvang. The library's literacy service also offers free family literacy programs and free books to adult learners and their young children."
For this Scrabble event, players of all levels are welcome. Schwartzberg explained, "This event is intended to be fun, not competitive. We usually have players that are outstanding, and players that are in the process of becoming outstanding. Players will be matched by experience levels, from novice to expert, according to how they rank themselves. All of them are incredibly focused on their games."
Participants will play two timed-Scrabble rounds and enjoy a scrumptious brunch assortment of fruit, bagels, coffee, juice, and other breakfast treats. The entry fee is only $15 per person (or parent/child pair playing as a single player) and players will have a chance to win great door prizes from local businesses. You can come by yourself or bring all your friends!
I found out that this event is a warm-up for the Sixth Annual Scrabble Night for Literacy, to be held Friday evening, September 24, 2010, at the Santa Barbara Central Library. In order to put this event together, Schwartzberg has the help of AmeriCorps volunteers, and the Friends of the Santa Barbara Public Library.
Among other great programs, held at the library, there is the Outreach Program that offers free story times at local preschools in English or Spanish, free book distribution to elementary schools, and more. Their soon-to-come Summer Reading Program offers book reading contests and summer performances. They also offer computer coaching for adults (a very popular course) and many other interesting things.
No wonder volunteers love to give their time to the Public Library. They are constantly active behind the scenes.
For more information about literacy programs and for reservations and inquiries about "Scrabble and Brunch" send an email to ScrabbleLibrary@gmail.com, call (805) 564-5619, or check the library's Web site.