Food & Drink
Danny Douglas Dishes Up Deliciousness
New Caterer in Town Stomped with Savoy, Repaired with Ripert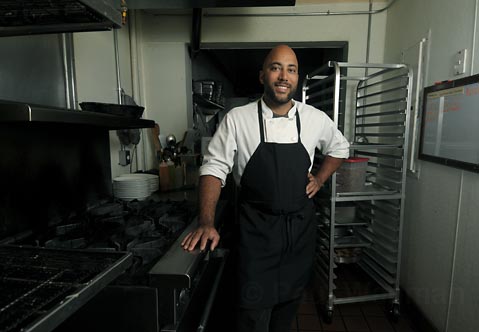 Somehow he didn't win The Independent's Sizzling Summer BBQ Contest, but Danny Douglas's grilled filet mignon with corn-cilantro slaw and mole butter sauce had the preliminary judges salivating just with his recipes. He delivered, too, at the contest itself—the beef was perfectly medium rare and tender, the corn played off the slaw in inventive ways, and the mole butter sauce added flavor without being too indulgent (it wasn't chocolate sauce, not by a long, sticky sweet stretch). That he also was in the running for best side, with the equally tantalizing and well-balanced Yukon Gold potato salad with Greek olives, radishes, Sriracha, and scallions (he has this thing for radishes, which add a crunchy, peppery touch to some of his dishes), signaled to the foodies at the paper we needed to follow up with him.
"It's just something I've always loved, even as a kid," Douglas says about his passion for food. "It' a way to make people happy—no matter what else is going on, I liked the experience at the table." He also credits his family, in a very odd way, for making him the chef he is today. "My parents weren't good cooks, so I had to figure out how to do it," he reminisced. "In my mom's defense, she bought a lot of different types of food and spices, and we used to go to the farmers' market every Saturday."
Douglas also likes to suggest that, at least in his family, a love for cooking might skip a generation. "My grandmother got me into cooking," he explained. "She used to watch the chef programs even before the Food Channel: Julia Child, Yan Can Cook, Jacques Pépin on KQED [public television in the Bay Area]. She also encouraged me to go to culinary school, but even before she suggested that, I knew it was something I enjoyed."
After a brief stint at community college, mostly because his parents "were worried about this profession and I respected that," Douglas knew what he needed to do: "I went to the California Culinary Academy and signed up." That set Douglas off to work for a series of high-powered chefs, from Traci Des Jardins to Guy Savoy. Still, Douglas stops to acknowledge two more than others, saying, "Daniel Humm comes first to mind. Danny Meyer invited him to come to New York to open Eleven Madison Park, and I was part of that team. I've never seen anyone so committed, never seen anyone work that hard. He got his four-star review this year."
Douglas also had the pleasure to work for Eric Ripert, now a celeb for his Top Chef appearances, but also known for running one of the country's best seafood restaurants, Le Bernardin. "It's a well-organized machine, with 50 cooks and sous chefs," Douglas said. "Everything going on we knew of ahead of time. Every dish is tasted by three or four people. Even between lunch and dinner, everything was made fresh. That's where I learned all sorts of good tricks, like checking crab meat under a black light for shells, or using a metal skewer to check the temperature of a piece of fish by then putting the skewer under your chin."
All that time in celebrity kitchens—not to mention stints at the Hungry Cat and with Duo Catering here in S.B.—has helped make Douglas one cool cooking cucumber, as it were. "People would tell me they saw my face on some photographer's Web site, as I'd be in the background of some photo," he related. "I know what it's like to work as part of that world." Meanwhile, in the world of Santa Barbara catering, he says his goal is simple: "To be as creative as possible but to have fun. I want my meals to be delicious and memorable at the same time."
He worried his answer may be a cliché, but then claimed, "I want to work with whatever is the freshest ingredient available. I like being creative with that. I don't use recipes; I create each dish. I know the methods and figure out what to make based on what's in front of me." Such thinking led him to prepare, recently, brilliant dishes like braised pork belly with a deeply redolent Spanish onion soubise and a bright, of-the-season stone fruit chutney, as well as ahi tuna sashimi cubes in a scintillating Pacific Rim mix of daikon, radish, avocado, and soy sauce.
"It's tough to find an upscale caterer in the area that can do a lot of different things," Douglas opined. "I want to offer that."
4•1•1
Danny Douglas will cater to your every culinary need if you call him at 722-7040 or visit his Web site at dannydouglascatering.com.