Briefs
Press Conference by Bicycle
Officials Pedal While Promoting Alternative Transportation
On July 7, south coast elected officials — accompanied by the quickest-moving members of the press — climbed atop a Conference Bicycle to chat about alternative transportation.
The Conference Bicycle is a seven-person circular bicycle that is uniquely designed for conducting pedal-powered round table meetings. Journalists and aides were left to hope that officials — including County Supervisors Janet Wolf and Salud Carbajal — were capable of steering the bike back around, as the press conference disappeared behind a nearby building. The meeting was held to commemorate the winners of the Traffic Solutions Bike Challenge and promote biking as a smarter, greener way to move about town.
The Bike Challenge is a team-based competition whereby teams of five compete for glory and prizes. Team members are awarded a point for every day that they forego their car in favor of a bike. The highest scoring team receives the Bike Challenge Grand Prize, which consists of a $100 gift certificate for each person, and a trophy constructed from recycled bike parts.
This year's Grand Prize was awarded to Fielding Forward, whose members biked a combined total of 147 days in May. There were 540 competitors taking part in Bike Challenge, and it's estimated that their combined endeavors saved 42,000 pounds of greenhouse gas from being released into the atmosphere.
Holly Wallis, a Fielding Forward team member, described the key ingredients of her success to the Independent: team camaraderie, email reminders from the team leader, and, most importantly, active support from her family. The news that her 5th grade son was persuaded to ride to and from school with her shows the depth of her achievement.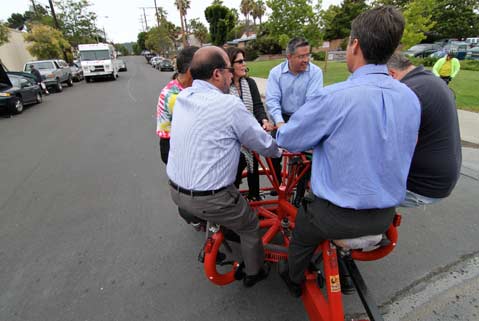 Second District Supervisor Janet Wolf said, "The Bike Challenge is a fun way to motivate people to rethink their daily transportation choices. It's amazing how a little competition and friendly peer pressure from family and friends can encourage more sustainable transportation behavior."
The Bike Challenge forms part of the month of cycling events in May, known as CycleMAYnia. For information on taking part, visit www.cyclemaynia.org.