Briefs
Commissioners Briefed on Museum of Natural History Plan
Proposals Address Public Access and Safety Issues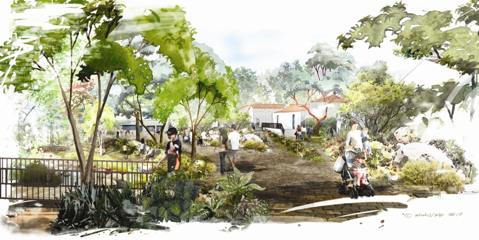 On Wednesday, July 21, the city's Planning Commission and Historic Landmarks Commission listened to speakers present a draft of the Santa Barbara Museum of Natural History's master plan, detailing proposals for a significant overhaul.
The plan has been carefully formulated over the past three years, with various community outreach workshops being held to garner the opinions of local residents and other stakeholders.
The museum's executive director, Dr. Karl Hutterer, outlined the three principles guiding all aspects of the draft plan: to inspire awe for nature; to promote sustainability; and to connect communities.
The museum opened almost 100 years ago, and its buildings have been erected individually – in rather ad-hoc fashion – from 1895 to the present. This contributes to the museum's unique, rustic appeal, but has also led to serious structural and layout deficiencies.
The planners feel that a more unified reworking will help to better integrate the museum with its surrounding environment and community. The majority of the museum buildings will be torn down, with their replacements being arranged uniformly to facilitate north-south views down the site to Mission Creek. This will allow visitors to appreciate the museum's beautiful location while they walk between buildings. The new arrangement will also make the usage of space more efficient. Non-public space will increase by only 2,000 square feet, whereas public space will increase by 16,000 square feet.
Regarding safety considerations, Dr. Hutterer described the museum as being "woefully unprotected" against the risk of fire. This is due to the difficulty of accessing the site quickly in the case of emergency. Last summer, the Jesusita Fire came within a few thousand feet of the museum, which is a timely reminder of the need to protect against this danger.
Walter Schacht, the project architect, explained that the planned solution is to have a "looped access route" circling the museum. This will allow for the quick entry and exit of firefighting personnel. He also noted that other safety concerns, such as termite-ridden wooden beams and aging rooftop equipment, will be resolved in the demolition of the old buildings.
Access to the site for visitors is also to be improved. The proposal is to give visitors the option to turn left off Mission Canyon onto Puesta del Sol. Drivers would no longer have to drive through the neighborhood to reach the museum.
The draft plan also proposes to move the historical MacVeagh house to the northwest corner of the site. One member of the public questioned whether this would lead to an intrusion of museum business into his land. It seems likely that this would depend on how the museum utilizes the house in its new location, which is yet to be determined.
The MacVeagh house may not be an architectural wonder, but its former inhabitants give it a rich past. The house is considered a potential for landmark status, but after plans for its relocation provoked controversy, the city's urban historian Jake Jacobus was left to comment: "History's not always pretty."