Dance
Janet Reineck's World Dance Workout
Dance Class Sponsors Women in Need Worldwide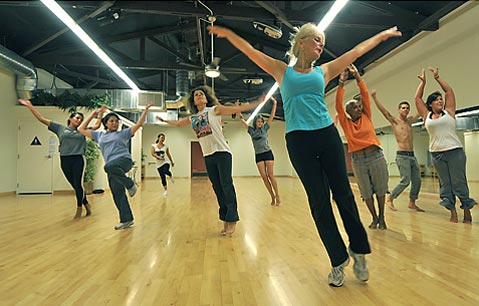 Sixteen years ago in Rwanda, there wasn't much dancing going on. Over the course of 100 days, 800,000 people had been murdered, and half a million women raped. Many of the survivors of the genocide were women, and in July 1994 they struggled to even imagine how they might rebuild their lives.
That same year, roused by a sense of urgency and a duty to make a difference in the world, anthropologist and world dance scholar Janet Reineck moved from California to Kosovo. While her young son Jeremy attended school, she worked in rural development for Oxfam and learned everything she could about Balkan folk dance. It was a tense time in the region, and in 1997, Reineck and her young son were forced to leave the country before war broke out. They landed in Santa Barbara, where Reineck's passion for social justice work led her to a job with Direct Relief International. Yet something in her was not fully satisfied that she was improving the lives of people affected by war—especially women. More than a decade later, Reineck has found a way to combine her love of dance and world cultures with her calling in humanitarian aid. She calls it World Dance Workout.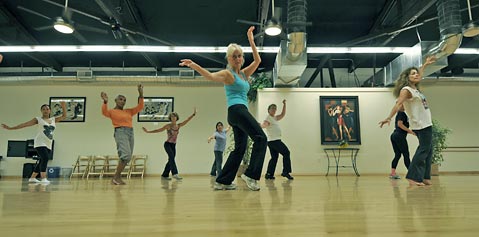 On Monday night last week, I stood with 12 other women and one young man in the spacious front studio of the Santa Barbara Dance Center. Our reflection in the wall-to-wall mirrors revealed a motley crew, ranging from early twenties to late sixties, from slender to full-bodied. Some of us wore tennis shoes; others padded across the polished floorboards in bare feet. In an electric turquoise tank top, her blond hair pulled into a girlish ponytail, 55-year-old Reineck strode to the front of the room, welcomed everyone to World Dance Workout, and called for a round of introductions. "There are some classes where it's hard to break in if you're new," she told the first-timers. "It's not like that here."
This class, Reineck went on to explain, was about having fun, working up a sweat, and learning dances from around the world in a safe environment where nobody cared whether you got the moves "right." This class was about building community, and not just inside the studio. Reineck keeps her fee low—at $10, it's one of the most affordable dance classes in town—and once she's paid for the studio rental, she dedicates the rest of her earnings to women in post-war societies. So far, World Dance Workout is sponsoring four women through Women for Women International: Debora Yal Madiu in Sudan, Zakira Mihaljevic in Bosnia, Josephine Nyirantirenganya in Rwanda, and Judith Ifesinachi Eje in Nigeria. Each sponsorship represents a commitment of $27 per month for one year. The recipients receive part of that monthly donation in cash, while the rest goes to services that directly benefit her, from job training to trauma counseling.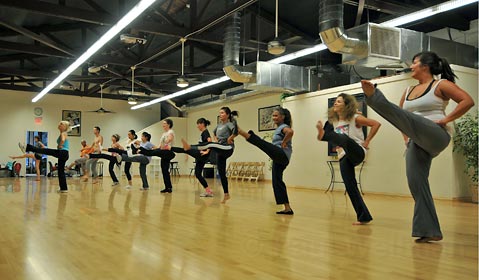 Introduction finished, Reineck put on the first track, and Michael's Jackson's voice soared from the sound system. "It don't matter if you're black or white," he crooned. At the front of the room, Reineck took a wide stance, bending and straightening her legs and circling her shoulders up and back. Soon, everyone in the room was following suit, swaying side to side with arms swinging, then weaving right and left in a fast-paced grapevine, then bopping up and down like prancing ponies. Next came a salsa number, followed by an Irish step dance ("It's Riverdance!" Reineck cried), and then an Albanian circle dance that included improvisation. With each new dance came laughter—not self-conscious giggling, but the kind of head-thrown-back laughter that arises from pure pleasure. From the beginners to the most loyal students, everyone was having a blast.
Santa Barbara Dance Center owner David Alvarez sees that enthusiasm. He has been so inspired by Reineck's vision and by the success of her class that he's planning to start his own sponsorship through Women for Women, and encourages other instructors to do the same. "The people coming to her class are so excited because they're doing more than paying for a dance class; they're changing women's lives," he said. "I think it's wonderful." Social science researcher Cindy Iliff, who's been taking Reineck's class since it started in March, said knowing her $10 is going to a woman in need transforms her experience of working out. "This is so much more than a dance class," she said. "We're giving back to women." Relative newcomer Sheryl Troy echoed Iliff's sentiment. "There are so many dance classes to choose from in Santa Barbara," she noted. "This class is not just about moving your body; it's more global, because there are these women we are supporting in other countries in the world, and that means a lot."
The day after class, I went online to learn more about Women for Women. On their Web site, I discovered a short film documenting the impact of the nonprofit's work in post-war Rwanda. At the end of the film there's footage of Rwandan women gathering in the fields they've learned to farm, thanks to the support of Women for Women. In bright patterned dresses and bare feet, they weave through rows of crops, singing and dancing.
4•1•1
Reineck's class takes place on Mondays, 7-8 p.m., and Saturdays, 9:15-10:30 a.m., at the Santa Barbara Dance Center, 127-A W. Canon Perdido Street. Check out santabarbaradancecenter.com, email jreineck@cox.net, or call 899-2901. For more about Women for Women International, visit womenforwomen.org.