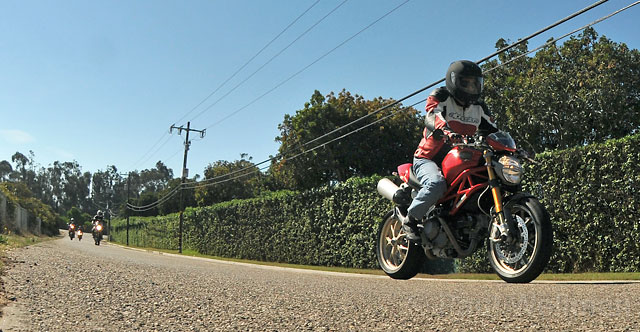 MOTORCYCLE DEALERSHIP
Ducati of Santa Barbara
17 W. Montecito St., 884-8443
"It's just a very loyal customer base," explained Ducati of S.B.'s general manager Carlin Dunne. "We're like a family group of enthusiasts; you know, like a bunch that all go out riding on Sundays together." But Dunne admits that the bike is significantly great in and of itself. "It makes my job easy. Someone comes in, I check their license, throw them the keys, and off they go for 20 minutes." When they come back, he said, they're quite often sold. "It's a quality product that brings joy to people," he said.
FINALIST: Honda of Santa Barbara
SCOOTER DEALERSHIP
Vespa Santa Barbara
118 E. Ortega St., 564-6686
"Most of my customers are just happy I was able to infuse some fun into their lives," said Vespa dealership owner Bobby Weindorf, now in his 10th year making people innately cooler in their own lives with a gas-saving, stylish Italian scooter. "It's like I opened up doors for them, fresh perspectives. But it's not for timid people, because my customers tell me they get stopped on the street and asked about their Vespas all the time. I love that."
FINALIST: Ooty's Scooters
NEW CAR DEALERSHIP
Toyota of Santa Barbara
5611 Hollister Ave., Goleta, (877) 572-1130
It's been a tough time for car companies, and maybe tougher for the dealerships. Toyota's hold on the upscale/liberal/enviro-minded, typical S.B.-dweller has proven fairly recession-proof, though. (Even if the idea of a typical S.B. person is a stereotype.) Of course, we're talking primarily about the Prius, which has become the rare kind of status symbol that people don't have to feel self-conscious about sporting. But other popular models sell well, too, including the sensible Corolla and the super-nice Camry.
FINALIST: Santa Barbara Auto Group
PLACE TO BUY USED CARS
Zoom Motors
335 N. Milpas St., 963-3989
The little Milpas Street dealership that could is ecstatic about winning this tough award in this tough market time: "Zoom Motors thanks Santa Barbara for voting for us," said owner Andrew Knox. "We've shifted our primary focus from lots of inventory on our lot to concierge buying for our clients. Customers contract Zoom to locate their exact set of new or used wheels, down to price, color, and options. This saves time, money, and most importantly, frustration. Thanks again Santa Barbara."
FINALIST: Santa Barbara Nissan
CAR WASH/DETAILING
Educated Car Wash
3735 State St., 687-8800
It's the language of the spa experience taken from the car wash Web site: "We use the softest Lambs Wool mitts available and the mildest Auto Wash that is biodegradable." And why not? Some of us spend as much on cars as we do our kiddies in any given year, and, certainly, we have deeper affections for the auto in our life than it might be polite to admit. Educated Car Wash offers to gas up your hack, clean, vacuum, and then subject it to lambs wool ticklings at a price that would be less than doing a fill up and a wash in tandem somewhere else. No wonder the readers like this Educated choice year after year.
FINALIST: Fairview In & Out Car Wash
QUICK OIL CHANGE
Jiffy Lube
4 locations
Is there any other kind of oil change one might want to endure? Besides, Jiffy keeps a record of your car and can quickly point out the annoying maintenance and preventive maintenance issues that accompany your innocent visit to the fresh oil font. If you elect not to let them change your wiper blades, they're nonplussed and go on with the servicing. At least you know that it's time. But for the best thing you can do for a car, these stores are pretty slick.
FINALIST: Fast Lane Oil Change
PLACE TO GET TIRES
Big Brand Tire Co.
4 locations
It may be odd to read a company promise not to bait and switch, but tire stores are where the classic misleading technique was perfected. Offer a great deal, so the person who desperately needs new rubber comes in and then finds they are out of the product. Big Brand does brag that it won't practice such nefarious sales techniques, and it has the inventory to back up the brag. Fast, reasonable, and packed to the high rafters with brands you know, trust, and are surprised to find so easily.
FINALIST: Costco
CAR RENTAL
Enterprise Rent-A-Car
4 locations
Jumping on the Web site and selecting a compact car we could pick up the next day and keep for two days, the price came in at a little over $51. That's $25 a day, which is not bad considering the prices trains, cabs, and cars charge here. (Buses, of course, would be much cheaper but less convenient—of course.) Enterprise is everywhere and, at that price, impossible to beat.
FINALIST: Hertz
CAR STEREO SHOP
S.B. Auto Stereo & Wireless
3234 State St., 682-2505
Alan Gold has owned the place since 1988, but it first opened back when Richard Nixon was still in office. "We started as a four-track place, then eight-track, then cassette, then CD, and now it's on a hard drive. People don't even come in for players anymore," said Gold, laughing. It's not exactly true, but the world has demonstrably changed many times, and a lot of the business they do now is Verizon wireless. But Gold has made it through the tough economy and the changing media and stayed in business, which makes him double-glad to get the readers' confidence. "The bottom line is we're here. That's a major accomplishment."
FINALIST: Car Stereo Guys
AUTO REPAIR
Richard's Accurate Import Service
401 Santa Barbara St., 962-1741
"I like to say we work on everything except Jags and Rovers," said Richard's general manager Oren Glasman. "Our best attributes are integrity, honesty, and quality of workmanship," he said. After 34 years in business and almost as many Indy Best Of awards, the attributes seem to pay off.
FINALIST: The Garage