Sports
College Cup Comes to Town
Your Guide to the NCAA Soccer Tournament at UCSB's Harder Stadium This Weekend
December Desperation, soccer's answer to March Madness, has come to Santa Barbara. Four teams that have survived a siege of heart-wrenching matches in the NCAA men's soccer tournament will compete in the 2010 College Cup on UCSB's Meredith Field at Harder Stadium.
On Friday, December 10, at 5:30 p.m., it's top-ranked Louis­ville versus North Carolina. At 8 p.m., last year's runner-up Akron will take on Michigan. The winners will take the field at 1 p.m. on Sunday and play for the championship.
If the matches are anything like last weekend's quarter­finals, fans of the visiting teams will be chewing down their fingernails. But how did UCSB — which last hosted an NCAA championship event, men's volleyball, in 1981 — become one of the few sites ever to pull the College Cup out of the East? It earned credibility on the field, by winning the Cup in 2006 at St. Louis, and in the stands. Santa Barbara set an NCAA attendance record in 2009 by averaging 4,335 fans per game, and this year the average jumped to 5,873 — boosted by an on-campus record of 15,896 that poured into Harder Stadium to see the Gauchos beat UCLA, 2-0, in September. The university recently put the final touches on almost $2 million in construction projects to improve the fan experience at the stadium.
Advance ticket sales exceeded 5,000 for this weekend, but prospects for a capacity crowd diminished when UCSB's team was knocked out of contention in a controversy-marred 2-1 overtime defeat at Berkeley in the second round.
Akron coach Caleb Porter would like to inherit UCSB's fans. The Gauchos and the Zips have a lot in common. "We used the Santa Barbara model to prove that a mid-major (no big-time football program) can be a force in soccer," Porter said. Like UCSB, his team reflects the multicultural glory of soccer — and of America, for that matter — with several players of African and Caribbean extraction. "We have a lot of flair," Porter said.
UCSB would have had to get through Akron to reach the College Cup. "Maybe the Gaucho Locos will adopt the Zips," Porter said. "I'll buy them all the tortillas they want if they come out and support us."
Tim Deakyne, a Santa Barbara attorney, is an avid follower of the Gauchos and soccer in general. He and his wife, Jenny, had tortillas tossed at their wedding in Isla Vista, and they honeymooned at the 2006 World Cup in Germany. They bring their young children to the Gauchos' home games. Deakyne said bitterness about the defeat at Cal should not dissuade people from attending the College Cup. "From a UCSB fan's perspective, I want to see us host the College Cup again," he said. "I want to see the Gauchos lift the trophy on their home field."
A few peculiarities of college soccer rules don't sit well with fans like Deakyne. Each half (45 minutes) is timed to the last second. In the rest of the sport, the time is kept on the field, and the final whistle never blows when a possible goal-scoring play is already in motion. Also, college soccer has unlimited substitutions, lessening the demands of stamina that players will face in the professional ranks — and many players on the field this weekend have aspirations to move up to that level. There's one thing that's true at every level of soccer: The referees, the lone arbiters on the field, have a tough job, and if they have a bad day, it can be painful for players, coaches, and fans.
"If you're a sports nut, soccer is the ultimate sport to follow," Deakyne said. "Every country has a league. Every country has a national team. There's a big game somewhere every single week."
For college fans, the ultimate games are in our backyard this weekend.
Who's Playing?
Akron Zips
Seeded: 3rd. Record: 20-1-2.
How They Got Here: Defeated West Virginia, 3-2; Indiana, 2-1; and UC Berkeley, 3-3 (double overtime; won penalty-kick shootout, 3-2).
Leading Scorers: Darren Mattocks (freshman forward: 18 goals, 4 assists); Michael Nanchoff (junior midfielder: 10 goals, 8 assists); Darlington Nagbe (junior forward/midfielder: 7 goals, 13 assists).
Goalkeeper: David Meves (sophomore: 0.65 goals against average).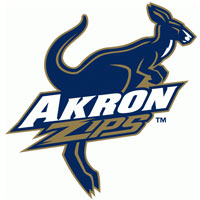 Notes: The Zips hope the third time is the charm. They were national championship runner-up in 1986 (a 1-0 loss to Duke at Fresno) and again last year. They came into the 2009 NCAA tournament as the number-one seed, but in the final game, they tied Virginia, 0-0, and lost a penalty-kick shootout. Nine starters return from that team. "We're very hungry," said Zips coach Caleb Porter, whose five-year record is 89-13-9 (0.842). Aside from the shootout, the Zips have lost only once in their last 48 games, a 2-1 upset at Cleveland State on October 30. Among their wins was a 7-1 shellacking of Michigan, Akron's opponent in the semifinals Friday. "That's what we're capable of doing when we're at our best," Porter said. They needed all their firepower to stave off Cal in the quarterfinals. Junior defender Kofi Sarkodie, a native of Ghana, buried the winning penalty kick. The door was opened when goalie Davide Meves saved a shot by Servando Carrasco, the villain or hero (depending on your perspective) of Cal's second-round victory over UCSB.
Michigan Wolverines
Seeded: 10th. Record: 17-4-3.
How They Got Here: Defeated Central Florida, 2-1 (overtime); South Carolina, 3-1; and Maryland, 3-2 (double overtime).
Leading Scorers: Soony Saad (freshman forward: 19 goals, 5 assists); Justin Meram (senior forward: 16 goals, 8 assists); Hamoody Saad (sophomore midfielder: 6 goals, 7 assists).
Goalkeeper: Chris Blais (junior: 1.28 goals against average).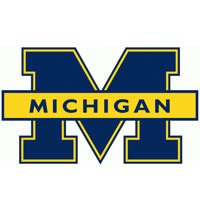 Notes: Michigan fulfills the Cinderella role. Since being pounded by Akron, the resilient Wolverines have put together a nine-game winning streak. They beat Penn State, 4-1, for the Big Ten tournament championship, and they upset South Carolina and second-seeded Maryland on the road to earn their first appearance in the College Cup. They are a dangerous team up front. Soony Saad has scored six game-winning goals and is the second leading scorer in the nation. It was another freshman, Fabio Pereira, who stunned Maryland with the first goal of his career in the fourth minute of overtime. Justin Meram, their most experienced starter, scored twice against South Carolina. Since the Michigan program attained varsity status in 2000, coach Steve Burns's record is 117-83-22 (0.607).
Louisville Cardinals
Seeded: 1st. Record: 19-0-3.
How They Got Here: Defeated College of Charleston, 3-1; Ohio State, 2-1; and UCLA, 5-4.
Leading Scorers: Colin Rolfe (junior forward: 9 goals, 7 assists); Nick DeLeon (junior midfielder/forward: 8 goals, 3 assists); Dylan Mares (freshman midfielder: 8 goals, 3 assists).
Goalkeeper: Andre Boudreaux (junior: 0.74 goals against average.
Notes: Santa Barbara will likely be a warm welcome to Louisville, who battled through the wind and snow to win a thriller against UCLA, coming back from scores of 2-0 and 3-2 before Aaron Horton was able to slip a shot past the UCLA goalkeeper in the final minute of regulation. This will be the first College Cup appearance for the undefeated Cardinals. Head coach Ken Lolla could be facing a matchup against his former squad, the Akron Zips, where he coached for 14 years, should both teams make the championship. After starting the season unranked, the Cardinals are ranked number one in NCAA college soccer by at least four different national polls. Louisville, a school of about 20,000 students, has a Santa Barbara connection in Mark Knight, a transfer from Santa Barbara City College who red-shirted this season because of injury.
North Carolina Tar Heels
Seeded: 4th. Record: 16-3-4.
How They Got Here: Defeated Georgetown, 0-0 (double overtime; won penalty-kick shootout, 5-4); Michigan State, 1-1 (double overtime; won penalty-kick shootout, 5-4); and SMU, 1-1 (double overtime; won penalty-kick shootout, 4-2).
Leading Scorers: Enzo Martinez (sophomore forward: 10 goals, 5 assists); Kirk Urso (junior midfielder: 5 goals, 5 assists); Michael Farfan (senior midfielder: 5 goals, 3 assists).
Goalkeeper: Scott Goodwin (sophomore: 0.63 goals against average).
Notes: The road to the College Cup for the Tar Heels has been dramatic, to say the least, as they've needed three straight penalty shootouts to get to Santa Barbara. This is their third straight appearance in the College Cup, having made it to the finals two years ago. The Tar Heels lost four seniors from last year's squad, which lost to Akron in the 2009 semifinals. Carolina made it to the 2008 final before losing to ACC rival Maryland. North Carolina won the College Cup in 2001. The Tar Heels are led by California native senior midfielder Michael Farfan, who last week was named a semifinalist for the MAC Hermann Trophy, which is college soccer's equivalent of the Heisman Trophy. Because the Tar Heels advanced in every game off of penalty kicks — which are considered to be ties — the Tar Heels are the first team ever to make the College Cup having not won a tournament game. North Carolina tied Michigan State in regulation with nine seconds remaining, before beating the Spartans in penalty kicks.
What's New at Harder Stadium?
There is a wrought-iron gate at the entrance to UCSB's "Soccer Heaven," one of several upgrades to Harder Stadium that will make their debuts at the College Cup.
Most prominent is a 63-foot-tall scoreboard structure that towers over Meredith Field at the southeast corner of the stadium. It includes a 20-by-13-foot video screen that will project replays and graphic features. The scoreboard, manufactured by Fair-Play, is angled so that it is in view of all but a few hundred seats. The stadium has a capacity of 17,000.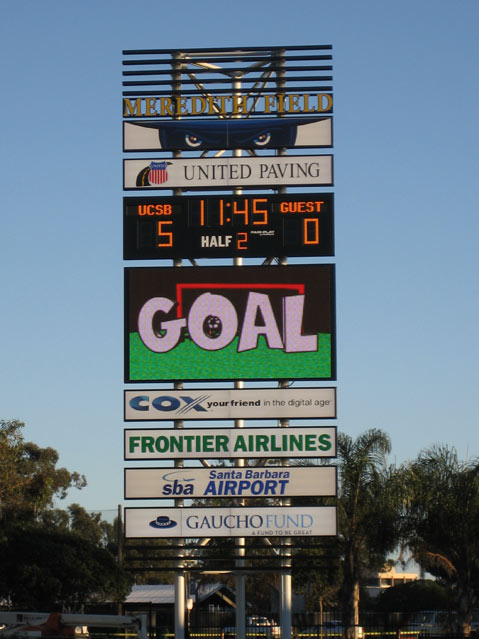 UCSB's project supervisor Andy Fee said it was decided not to locate the board in full view at the north end in order to preserve the open space for soccer practices. "We don't know of any other college that has a pure soccer facility with such an advanced scoreboard," Fee said.
Food concessions during the tournament will be served out of an innovative mobile kitchen developed by Carlin Manufacturing of Fresno. The custom-built trailer has five windows and can be moved to other locations around the campus for high-volume food service.
Paving has just been completed at the entrance plaza, which is lined with palm trees. Fans will enter through the Curtice Gate, which has been financed by UCSB football alumni from the 1960s. Their coach, "Cactus" Jack Curtice, was the main force behind the construction of the stadium. The last Gaucho football game was played there in 1991.