Dance
Works Nouvelle at La Petite Chouette Aerial Dance Arts
Show Featured New Work from Advanced Youth and Adult Companies
The circus is a world where the ordinary limiting rules—from gravity to unspoken dress codes—cease to apply. That's what makes it magic, and Ninette Paloma knows it. On Friday night at her aerial dance studio, Paloma presented eight of her top students in a sleek, exhilarating evening of assorted circus and aerial arts.
It was a hip crowd that filled the Quonset hut space to capacity, milling around the performance area during the preshow cocktail hour before squeezing in to sit shoulder-to-shoulder against the walls, creating an audience in the round. Into the ring stepped sisterly duo Sophia and Zola Phillips, members of Paloma's advanced student company. In matching white tulle tutus, they faced each other across a ballet barre, then bent from the waist simultaneously, dropping into deep backbends. With nonchalant control, they eased from one contortion to another, often pausing to gaze into each other's faces. At one point, younger sister Zola lay on her stomach and casually brushed her hair out of her face—with her toes.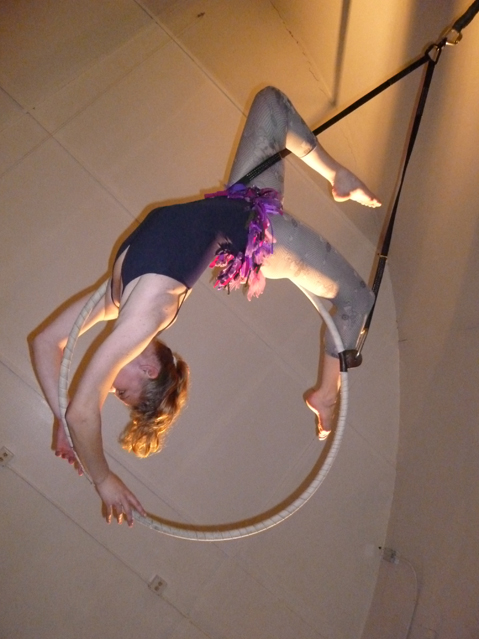 When the adult women entered, they were suddenly there, forming a circle facing one another across the room. In full makeup, lacy tights, and leotards of purple and black satin, they formed a class of their own: acrobat/dancers of the circus demimonde. Joanne Terry spun in languid circles, dangling from the lyra—a hoop of metal suspended from the ceiling—while Serra Benson tickled the audience coquettishly with a peacock feather. For the next 30 minutes, this group held the crowd's rapt attention. Paloma's masterful choreography of both aerial and ground work allowed the focus to pass smoothly from one moment to the next. With her platinum-blonde bob and blood-red lips, Emily Garvin commanded attention, swinging from the static trapeze and tossing the audience smoldering looks like an airborne Roxie Hart before dropping to hang upside down from her ankles. On aerial sling and later on duo fabrics, Helen Dickson delivered long lines and graceful transitions, while Livia Mezei showed true poise as she negotiated the lyra—one of the most beautiful and unforgiving of aerial dance apparati.
"Damn everything that won't get into the circle, that won't enjoy, that won't throw its heart into the tension, surprise, fear and delight of the circus," wrote e.e. cummings, who understood that true risk is a crucial element of this art form, both for the performer and for the audience. Even without tightrope walkers and fire-eaters, Paloma conjured a true circus Friday night, where spectators gasped and cringed as performers climbed to the ceiling on strands of silk and tumbled close to the floor without a single safety net.