Announcement
New Board and Members for National Assoc. of Women Business Owners
Local Chapter of National Association of Women Business Owners Inducts New Board and Adds Members
For the Santa Barbara Chapter of the National Association of Women Business Owners, 2010 was a year of phenomenal growth. Now 120 members strong, they celebrated their success in December at their 4th annual Holiday Party with the installation of the 2011 Officers and Board. Santa Barbara County 2nd District Supervisor Janet Wolf performed the installation.
Maeda Palius, partner, Palius + O'Kelley CPAs, who is serving her second term as President, says, "NAWBO-SB's growth this year has been partly due to a conscious effort to create a culture of support, caring, networking and education for women business owners in Santa Barbara. We've offered amazing programs that educate and entertain our members. And we have even more exciting opportunities for our members and the entire business community planned for 2011."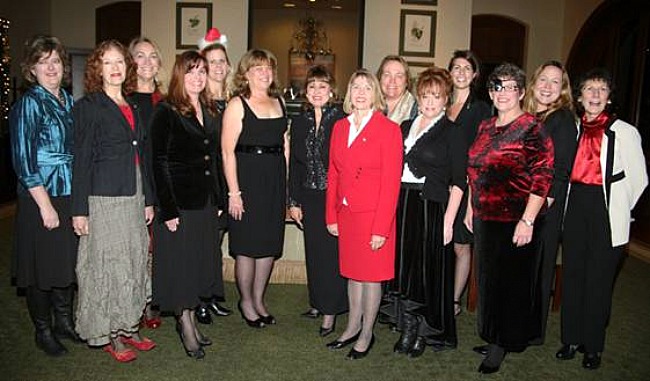 In addition to starting off the year with terrific programs, NAWBO-SB is launching to two other major initiatives. "We will be introducing NAWBO-U in the first quarter, which will allow our members and others in the business community to choose additional educational opportunities for themselves and their team to increase their skills, productivity and profitability," Palius pointed out.
The second will be Spirit of Entrepreneurship Awards recognizing businesswomen in Santa Barbara County on May 13, 2011 at special dinner and ceremony. "We are doing this with the Scheinfeld Center of Entrepreneurship at SBCC, which will be holding a New Venture Challenge competition at the same time," Palius explained. The student winners will also be honored at the event, and proceeds will go to support scholarships and prizes for future winners.
NAWBO-SB's remarkable growth and success has also attracted additional sponsors. In addition to the terrific continuing sponsors Buynak Law Firm, Marmalade Café, Pacific Coast Business Times, American Riviera Bank, Palius + O'Kelley, Anthem Blue Cross, Bank of America, The Daily Sound and Noozhawk, additional sponsors for 2011 include Citrix Online, Lynda.com and Cox Media. "We are extremely grateful for the support we've had from the business community," Palius says.
Other NAWBO-SB officers for 2010 are:
– President-Elect – Diana Bull, Sterling Properties
– Secretary – Jennifer Favell, Ph.D., Coaching Individuals Facing Challenges
– Treasurer – Judy Pirkowitsch, Ameriprise Financial
– – –
Other useful information: NAWBO-SB membership is open to individual business owners who own an equity interest and actively participate as a sole proprietor; an active partner of a partnership or active member of a limited liability company; and independent contractor; or individual owners of the stock of a corporation and are involved in policy–making and day–to–day management of the corporation.
NAWBO-SB Monthly Breakfast meetings are held on the 4th Wed. of each month at The Canary Hotel from 7:30 – 9:30 a.m.
Upcoming 2011 Programs:
January 26: The Lynda.com Story: An Inspiration, a Gift & a Challenge with Lynda Weinman
February 23: More Than Just a Pretty Place: How to Make Your Website Work for You with Amy Chorew
March 23: PERSUASIVE SPEAKING: Attitudes, Techniques & Tips for Pitching Yourself, Your Products and Your Services with Lois Phillips
More information about NAWBO-SB is online or contact Karen Dwyer at karen.Dwyer@ExpressPros.com or 965-6900