Courts & Crime
Bank of America Robbed
Authorities Asking For Public's Help in Identifying Suspect
Shortly after opening this morning, the Bank of America on upper State Street was robbed by an unidentified male suspect, said police spokesperson Lt. Paul McCaffrey. While no weapon was visible, the suspect fled with an undisclosed amount of cash that he demanded from one the bank's tellers.
Images observed on the bank's surveillance footage show the suspect wearing black gloves, a black zip-up sweater, blue jeans, and white running shoes. The suspect's face was also partially hidden by a white baseball cap and tinted sunglasses. The subject, described as appearing to be in his 30s, was wearing a black satchel bag across his right shoulder.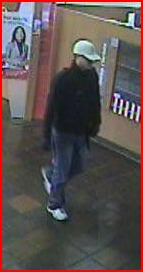 Both the Santa Barbara Police Department and FBI are currently attempting to identity the suspect, said McCaffrey. Anyone with information is urged to call (805) 897-2335.