Announcement
2011 Teen Arts Mentorship Applications now Available!
Program Application Deadline: February 26, 2011
The Arts Fund is pleased to announce that the 2011 Teen Arts Mentorship application is now available on our website. Students can also receive applications and additional information by calling (805) 965-7321, emailing info@artsfundsb.org, or asking their art teachers at school. The Teen Arts Mentorship is open to all Santa Barbara County high school students. All mentorship classes are free to students, with the exception of a small material fee. The deadline for receiving applications is Friday, February 26, 2011.
For 17 years, this vibrant arts enrichment program has offered dedicated teenage artists the opportunity to work closely with local professional master artists in a studio environment. Working in small groups of no more than 10, students receive specialized training, produce portfolio-quality work, gain insight into future careers in creative fields, and participate in a group exhibition in a professional gallery. This year's program is designed to support art educators' desire for more in-depth foundation courses for teens that are serious about pursuing advanced studies in the arts. In addition to gaining exclusive hands-on experience in an interested field of study, students will be focusing on the importance of the conceptual process that is part of creative production.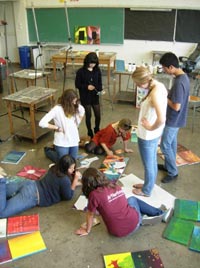 The Arts Fund's 2011 Mentorships in Basic Bronze Casting, taught by Nevin Littlehale and Black and White Film Photography, taught by Nell Campbell offer students access to materials and processes that are not currently taught by any county high school art program. Noted Santa Barbara artists Ron Robertson and Rafael Perea de la Cabada will be offering their perennially popular classes in Mixed Media Assemblage and Thinking Through Art: Contemporary Painting respectively. Mentorship sessions will be held in private studios and art classrooms on the campuses of Brooks Institute and Santa Barbara City College. The program concludes with a group exhibition of student works in The Arts Fund Gallery opening on May 20 and continuing through July 9, 2011.
Santa Barbara News Press critic Josef Woodard has long been a fan of the program, noting, "The Mentorship Program is a win-win situation, the kind we need more in the arts." The 2011 Teen Mentorship Program is made possible through the generosity of the following sponsors: Brooks Institute, Marianne Shaw, Santa Barbara City College, The Wood-Claeyssens Foundation, and The Towbes Foundation. To receive an application or for more information on the 2011 Teen Arts Mentorship Program, please call The Arts Fund at (805) 965-7321 or visit www.artsfundsb.org.