Sports
Volleyball Smackdown
UCSB Ranks No. 4 Nationally After Pummeling UCLA
Al Scates could not remember the last time UCSB had dominated his UCLA men's volleyball team. "I try to forget about the losses," said Scates, who has coached the Bruins for 49 years. "I'm better with wins." To prove the point, as he looked around Robertson Gym, where a few hundred fans had watched the Gauchos dismantle the Bruins last Friday night, his mind went back 37 years.
"It's amazing; back in 1974, we had 3,200 people in this little gym," Scates said. "It was 110 degrees that night. Wide World of Sports was in here with the TV lights on." On that night, in the first NCAA Division I championship staged at UCSB, the Bruins pulled out a marathon five-set victory over the Gauchos. It was the fourth of 19 national titles Scates's teams have won.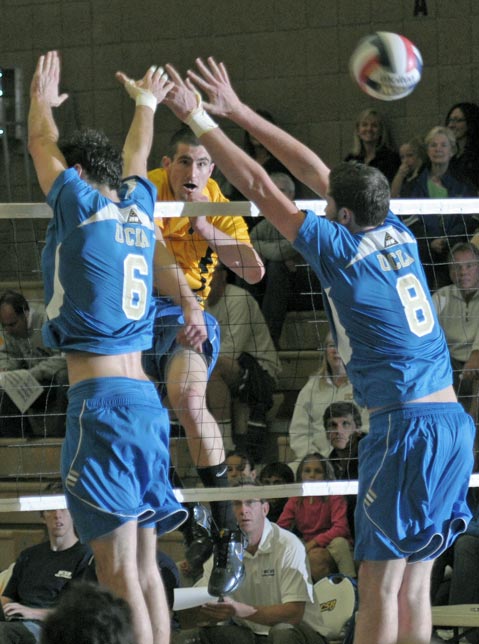 Gaucho fans are left with bittersweet memories of that night and the other two times they lost in the NCAA finals. But last week was something to celebrate. The Gauchos pounded UCLA twice—their first victory at Pauley Pavilion since 2002 on Wednesday, and two nights later, another 3-1 triumph at Robertson Gym. The scores were 23-25, 25-18, 25-22, and 25-20.
The match turned around at the start of the second set, when Scott Slaughter's wicked serves pummeled the Bruins. UCSB raced out to an 8-0 lead and never looked back. The third set was dicier, tied 17-17 before the Gauchos' big hitters, Jeff Menzel and Cullen Irons, nailed down the win. They led all the way in the fourth set, Menzel ending the match with an emphatic spike.
It is no coincidence that six of UCSB's top seven players—hitter-blockers Menzel, Irons, Slaughter, and Trey Valbuena; setter Vince Devany; and libero Andy McGuire—are seniors. "We know it's our last chance," Irons said. "We want it. That's the difference between now and previous years. We want it."
These Gauchos have experienced change—Rick McLaughlin becoming their first new head coach in 30 years after Ken Preston retired in 2008—and frustration, losing eight matches that went to a fifth set last year. Now they have an 8-5 record, 6-4 in the Mountain Pacific Sports Federation, and their wins over UCLA boosted them to No. 4 in this week's national rankings. They'll face No. 2 Brigham Young University (BYU) tonight (Thu., Feb. 17) and Friday night at Robertson Gym.
"My first winning season … it feels great," Menzel said. "If we play how we have been, we might be able to get BYU. We have high hopes. I love the team. Guys who were recruited with me, my age, we've really hit it off. Our team's a family."
Menzel is a powerful 6′6″ athlete from San Marcos High School. He had 35 kills against the Bruins last week. Scates often recruits players from this area—Santa Barbara High's Jeremy Casebeer is a junior on this year's UCLA team—but Menzel was not lured away, and he is UCSB's best hometown player since Todd Rogers, another former San Marcos star and 2008 Olympic gold medalist.
"I love the city, and I love the school," Menzel said. "My family's here. I love my family." His 2-year-old nephew, Austin Downing, was in his arms after Friday's match. His demeanor was considerably gentler than it is in the heat of competition. Menzel attacks the volleyball with fury, leaping high above the net and pounding it with such force that it can rattle the rafters. His angular face, which resembles that of an Easter Island statue, is flushed with intensity.
"I show my emotions a lot. It's a good and a bad thing," Menzel said, noting that people have sometimes perceived him as a hothead. "I can't do anything about that. I'm emotional. That's the way I am. When things are going well, like now, it's awesome."
Lee Nelson, McLaughlin's associate head coach, said, "If you don't bring emotion to the court, then what are you doing out there? You shouldn't be playing Division I athletics." Nor will you be able to face down the likes of UCLA with a volleyball match on the line.
GAMES OF THE WEEK: UCSB will be promoting breast cancer awareness Sunday (Feb. 20, 2pm) when the Gaucho women's basketball team plays Seattle University. … The Gauchos will compete with Westmont College in a four-way track-and-field meet Saturday at the Westmont track (first running event at noon). … Gaucho baseball gets underway at Caesar Uyesaka Stadium with a three-game series against LaSalle starting Friday (Feb. 18), and on Tuesday (Feb. 22), Westmont will visit the diamond. … Tuesday night, there will be free admission to UCSB's Meredith Field at Harder Stadium—aka "Soccer Heaven"—where the Major League Soccer team D.C. United will play a preseason game against the Gauchos. Former UCSB star Chris Pontius is a third-year forward with United.