Announcement
SB Triplets to Receive Makeover on Rachael Ray Show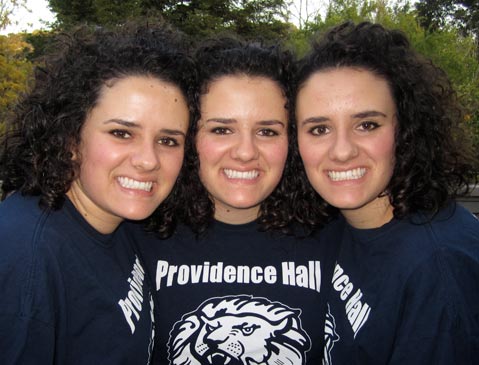 Identical triplets Dayna, Kelly, and Lauren Bishop, all three Providence Hall freshmen, have been selected to receive makeovers on the Rachael Ray television show. The show is scheduled for taping in New York City on March 9, 2011.
The goal of the makeovers is give each girl an individual look. The triplets have authorized the makeover artists to cut or color or add extensions to their hair. Makeup and wardrobe changes will also be part of the package.
Dayna Bishop, 15, said she is excited to see if she looks different from Kelly and Lauren, but is "kind of scared," since she has been trying to grow her curly dark hair longer for some time.
Born September 27, 1995, the girls were Santa Barbara's only triplets until the recent birth of a set of three boys, according to their mother, Suzon Bishop.
Providence Hall teachers are still learning how to identify each girl individually. The makeovers should help in that regard.
The producers of the Rachael Ray Show most likely found the Bishop triplets through their participation with the Triplet Connection support organization (tripletconnection.org).
The Rachael Ray Show is broadcast by KKFX 11 weekdays at 9 am.