Sports
Track-and-Field Superstar
DP's Top High School Shot-Putter in the State
As Nicholas Scarvelis coiled himself into the shot-put ring, the volunteers marking the throws backed up, like outfielders are apt to do when Albert Pujols steps up to the plate. With a mighty thrust, Scarvelis launched the 12-pound steel orb toward the clouds that hung over La Playa Stadium last Saturday. It soared 10 feet past the landing zone of his competitors before gravity pulled it down.
The throw measured 62'4.5", both affirming Scarvelis' status as the top high school shot-putter in California and leaving the Dos Pueblos senior hungry for more. He successfully repeated as champion at the 73rd annual Santa Barbara Easter Relays, but left the meet record standing. Noah Bryant of Carpinteria hit 64'0" in 2002.
"I wanted to break Noah's record," Scarvelis said. He knows he's capable, having surpassed 64 feet in a practice meet. His best official mark, tops in the state, is 62'6". He did set a noteworthy record in Ventura earlier this month, his throw of 60'11" besting the Larrabee Stadium record of 60'7.5" established in 1969 by Santa Barbara's Sam Cunningham.
Scarvelis seemed destined for track-and-field stardom. He grew up with a statue of Discobolus—the Greek discus thrower—displayed in his house. His parents, George and Alexandra, both trace their ancestry back to Greece. His older brother, Steven, was a Dos Pueblos hurdler and is now at UC Davis. His sister Stamatia is a thrower in DP's freshman class.
"My brother was fast, and I liked to throw things," said Nicholas, who tips the scales at 250 pounds. Although his throwing prowess has earned him a scholarship to UCLA, it is not his only pursuit. He is also a trumpeter in the DP jazz band. Alexandra laid down a family rule: The kids play music until they're 18 or until she dies. Nicholas played several sports at Marymount school, including soccer, and he did not take kindly to remarks about his size. "I was moved up to midfield and stepped on a kid's foot," he said. "He says to me, 'Watch it, Sasquatch.' I headed in the game-winning goal."
Scarvelis used to live in the neighborhood of Noah Bryant and his brother, Josh, a power lifter. "They were big guys, playing loud music and lifting weights," he said. "I was scared of them." Now he's following in their ponderous footsteps. Noah was an NCAA champion at USC and Olympic Trials finalist in the shot put.
Scarvelis also won the discus throw (171'2") on Saturday. Records are hard to achieve in a meet that has been around as long as the Easter Relays, but the San Marcos girls 4×400 relay team (Elysia Hodges, Kaylin Koopmans, Hannah McDaniel, and Marie Brashears) lopped almost a second off the previous record with their winning time of 3:55.03.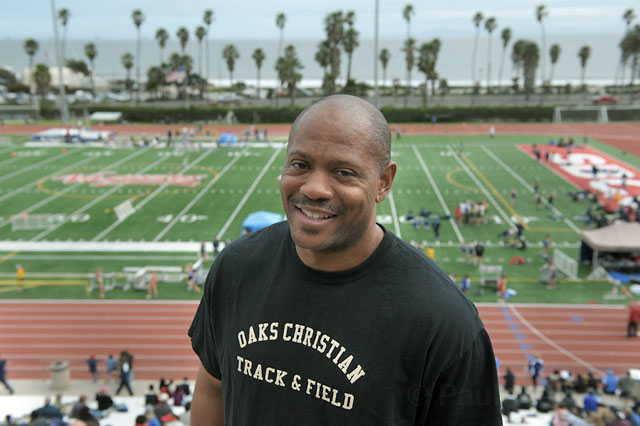 In the heyday of the Relays (the '50s and '60s), world-class athletes competed at La Playa Stadium. If they show up now, it's as spectators or coaches. Maurice Greene, the former world-record holder in the 100-meter dash, was in the house Saturday. He is coaching sprinters and jumpers at Oaks Christian, the celebrity-studded school in Westlake. "I'm trying to get football players out for track," said Greene. "It can only help them." Vinnie Saucer, an Oaks Christian sophomore, has taken up the challenge. He blazed to victory in the 100 Saturday in 10.69 seconds, the third-fastest time in the state.
GAMES OF THE WEEK: The Santa Barbara Breakers begin their fifth season of springtime basketball on Saturday, April 2, at the Carpinteria High gym, with a 4 p.m. tip-off against the L.A. Advantage. There will be a halftime tribute to John Ward, longtime coach at Bishop Diego and Carpinteria, who died of cancer last year. The Breakers play NBA rules (with a 23-second shot clock) and are a steppingstone for post-collegiate players to get professional opportunities. Team president and head coach Curt Pickering said the latest success story belongs to 7'1" Breakers power forward Rashid Byrd, who signed a lucrative contract to play in Tunisia … UCSB hosts a three-game baseball series against San Jose State (Fri., 3pm; Sat. and Sun., 1pm).