Sports
Outdoor Hoops
S.B. Breakers Battle Wind and Cold to Defeat Ventura County Jets in a Close Game at Girsh Park
The forecast at Goleta's Girsh Park was cloudy with a chance of air balls. Cold, blustery winds raked the Linehan Family Courts where the Santa Barbara Breakers and Ventura County Jets played a semblance of a basketball game last Saturday.
It would have taken a team of engineers to compute the trajectory of shots from the perimeter. The coaches and players did not have to be rocket scientists to figure out a winning strategy: Take the ball inside, hit the boards, and defend the paint. The Breakers did a little better job of it and won, 68-63.
"The wind was crazy," said Ventura's Jelani Hicks, a former Dos Pueblos player and coach of the DP girls team. "It was a big man's game today." The Breakers' front line included towering 7'3" Keith Closs, powerful 6'9" Sam Ekwe, and spring-loaded 6'7" Jerry Dupree, who led all scorers with 22 points.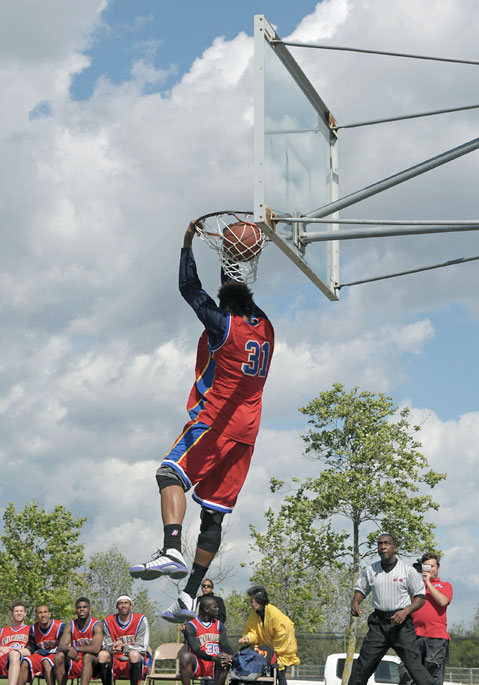 It might have been the lowest scoring game in the five years the Breakers have been playing their run-and-shoot pro-style of basketball. The remainder of their 2011 home schedule will be played inside the SBCC Sports Pavilion. The dates and times are easy to remember—every Saturday through May 28 at 4 p.m.—beginning with this week's (April 16) game against the Los Angeles Loop.
Curt Pickering, owner and coach of the Breakers, reserved the Saturday afternoon time for his founding team of the West Coast Pro Basketball League (WCPBL). The league has eight teams this spring—Santa Barbara, Ventura County, L.A. Loop, West L.A. Advantage, Hollywood Aztecs, Venice Beach Ninjas, Nationwide All-Stars, and Newport Beach Surf.
UCSB's Justin Joyner and Jon Pastorek made their debut for the Breakers in the outdoor game. "It was unique," said Pastorek, a forward with a nice mid-range shot that he kept under wraps in the wind. "I'm excited to play with these guys in a gym." Joyner started at point guard. "It was fun," he said. "There are a lot of solid players."
Closs, who set an NCAA blocked shots record at Central Connecticut State, spent three seasons (1997-2000) with the Los Angeles Clippers. Since then, he has bounced around in various leagues (CBA, USBL, ABA) and played in China. The most consistent Breakers player is Tim Taylor, an industrious 6'3" guard out of Wayne State (Nebraska) who has stuck with the team for all five years.
GAUCHO GRADS: It is worth noting that UCSB's latest basketball senior class will earn their degrees—Joyner in sociology, Pastorek in business economics, and Jordan Weiner in political science. A month ago, the Knight Commission on Intercollegiate Athletics put an unflattering spotlight on the UCSB program. It was listed among the 10 schools competing in the NCAA men's basketball tournament that showed a substandard academic progress rate among its scholarship players. Others included San Diego State, USC, Purdue, Syracuse, and Kansas State.
Gaucho Coach Bob Williams noted that the commission's report was based on data from previous years. "We're still recovering from a group that chose to transfer out," he said. The burden is on coaches and schools to graduate their athletes, but Williams maintains that "students' accountability is part of a college education," and he doesn't believe in coddling them. "Some universities provide them with note-takers in classes," he said. "What are they really learning?" UCSB's athletes in all sports, by the way, boast a graduation rate of 84 percent—exceeding the success rate of the overall student body.
GOING PRO: If an athlete leaves school early to sign a professional contract, it does not count against a school's graduation rate. UCSB may have such a player in junior guard Orlando Johnson. He finished last season with a flourish and recently declared himself available for the NBA Draft. He did not hire an agent, however, and could return for his senior college year. "We have mixed feelings," Williams said. "Orlando has earned the right to make his own decision. If he gets feedback that he's a projected draft choice, he has to go." … Mekia Valentine, the 6'4" senior center on the Gaucho women's team, was thrilled to be one of 36 players taken this week in the WNBA draft. The New York Liberty took Valentine, whose game matured in the past year, with the 34th overall pick.
PREP PRIDE: Congratulations to the athletes of San Marcos High, who put themselves at the top of 580 schools in the CIF-Southern Section-Ford Academic Team Championships. The Royals have the section's highest grade-point averages in six sports (boys' basketball, boys' cross country, girls' soccer, girls' swimming , boys' track & field, and girls' water polo) and are runners-up in five other sports. Dos Pueblos has five championship teams (boys' golf, softball, boys' swimming, girls' track-and-field, and boys' water polo). Santa Barbara High's boys' volleyball and Laguna Blanca's boys' cross country are also academic champs.