Announcement
Chocolate and Tequila Tasting Party Funds for AHA!
Supporters gather at Petersons' Romero Canyon residence to raise funds for program that is "changing the world, one teen at a time"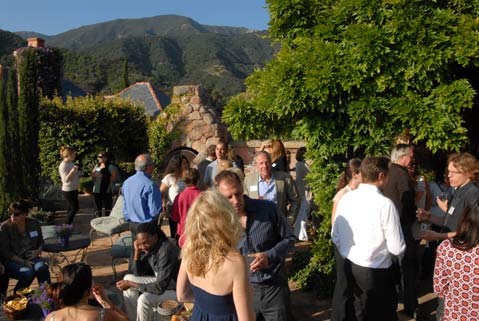 The young man told a captivated audience that AHA! saved his life by giving him positive choices and a community where his skin color and cultural background were celebrated, rather than discriminated against, as was his experience in school.
On June 13th, nearly 50 enthusiastic new friends of AHA! gathered at the home of Kay and Dave Peterson to learn more about the triumphs of this teen program, which is helping to transform local high school campuses by reducing rates of harassment, bullying, and other forms of prejudice. AHA! served more than 1,000 local teens last year through in-school, after-school, and summer programs focusing on empathy and leadership training. AHA! was named City of Santa Barbara's "Youth Agency of the Year" in 2010 and a "Local Hero" by the readers of the Independent in 2009.
The evening was organized by a powerhouse team of volunteers, chaired by Debby Peterson and supported by MaryAnne Contreras, Tisha Ford, Ken Ralph, Susan Shand, and AHA! Board members; Beryl Kreisel, Nancy Grinstein, Sally Hamilton, Tia Walker, and co-founders/co-directors Jennifer Freed and Rendy Freedman. The evening was sweetened with chocolate donated by Jessica Foster Confections and tequila-tasting, courtesy of Blue Agave Restaurant. It was attended by a generous guest list that included local philanthropists, CEOs, and foundation trustees.
AHA! was founded in 1999, the year of the Columbine shootings, and is dedicated to the development of character, imagination, emotional intelligence, and social conscience in teenagers. In-school, AHA! helps to create a safe learning environment for all students, where differences are recognized as enhancing the student body, rather than cause for splintering it into gangs and cliques. After-school, AHA! furthers teens' development through programs that offer a variety of forms of creative expression, as well as social and emotional learning (SEL).