Sports
Collegiate Dream Team
UCSB Hoop Star Orlando Johnson Makes Team U.S.A.
Orlando Johnson hardly needed another cruel reminder that he is blessed to be recognized as one of the best college basketball players in the land. Two days before he entered tryouts for the team that will represent the United States at the 2011 World University Games, the UCSB senior received the news of Andrew Daou's death.
Johnson and Daou went to different high schools in Northern California, but they played on the same club team and enjoyed each other's company. "I'd usually see him every summer," Johnson said. "He was a great person to be around." Daou's basketball career at the University of San Diego was cut short when he had to undergo two bouts of treatment for a curable form of cancer. He was a finance major and a musician with a bright future, but on July 27, he was shot and killed by his father in a murder-suicide that horrified and confounded the community of Los Gatos.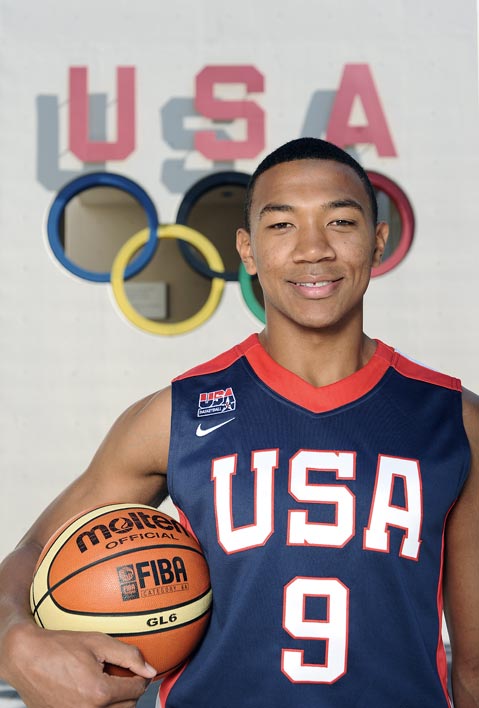 Johnson had little time to mourn the loss of his friend. He was one of 22 players chosen to attend U.S.A. Basketball's rigorous training camp at Colorado Springs. Most of the others were from high-profile teams like Michigan State, Kentucky, Pittsburgh, Syracuse, and Notre Dame, but when the final cut was made, Johnson was one of the 12 who made the collegiate "Dream Team." They will face a schedule of eight games in 10 days at the University Games in Shenzhen, China, beginning on Saturday, August 13, when they play Mexico.
"We're looking to come back with a gold medal," said Johnson, who will proudly wear a U.S.A. uniform with the number 9—which his friends noted was the number worn by Michael Jordan on the original Olympic Dream Team. "We'll see what I've got," he said.
Anybody's who's seen "OJ" in action with the Gauchos the past two years knows that he is physically gifted, a 6'5" mass of spring-loaded muscle. "UCSB's Orlando Johnson is a stud," tweeted ESPN analyst Fran Fraschilla from Colorado Springs. Complementing that quality are his work ethic, his mental toughness, and his maturity.
The tragic events that forged Johnson's character have been recounted in several stories, most recently a feature on the U.S.A. Basketball Web site. His mother died when he was one, four relatives perished in a fire when he was 6, and the grandmother who took care of him passed away when he was 11. His cell phone carries a picture of his mother, Vicki Renée Johnson. Now he carries the memory of Andrew Daou with him to China. "I'll be thinking about my friend," Johnson said. "We had good times together."
Robbie Johnson expects Orlando, his baby brother, to persevere through the latest setback. "He is a strong individual," Robbie said. "He's worked hard. I told him not to worry and let the game take care of itself. Enjoy the moment. It's the chance of a lifetime for him to be with these elite coaches and very good players."
Orlando has relied on the guidance and support of his older brothers, Robbie and Jamell Damon Sr., ever since his grandmother died. They kept him focused on school and sports, and he was the 2007 Monterey County Player of the Year at Palma High in Salinas. He started as a freshman at Loyola Marymount University. When a coaching change prompted him to transfer to UCSB, his brothers approved of his choice—it would be only a 3½-hour drive from their hometown of Seaside to watch him play at the Thunderdome.
Johnson spent his redshirt year at UCSB polishing his game. "His shooting was questionable," Gaucho head coach Bob Williams recalled. Under the tutelage of former assistant Brad Holland, he took hundreds of shots a day. Johnson's diligence paid off. He led the Gauchos in scoring as a sophomore (18.1 points per game) and a junior (21.1), with an arsenal that included powerful moves to the rim and 40-percent accuracy from three-point range. "He brings a lot to the table," Williams said. "He's a very good passer, defender, and rebounder. Last year he was one of our best ball-handlers."
Small wonder Purdue's Matt Painter, the head coach of Team U.S.A., is happy to have the Gaucho aboard. Because of his versatility, Johnson is like a two-player addition to the team.
Johnson's decision to forego the NBA draft this year has worked out well for him and the Gauchos. It put him in the mix for the University Games, and it puts UCSB, with four starters returning this year, in a strong position to make a run at its third consecutive appearance in the NCAA men's tournament.
There will be a double dose of Gauchos in the U.S.A.-Hungary game on August 14 in China—Orlando Johnson on the American side and Greg Somogyi, UCSB's 7'3" senior center, playing for Hungary.