Briefs
New Mural Unveiled at Eastside Library
Created by Kids as Part of After-School Program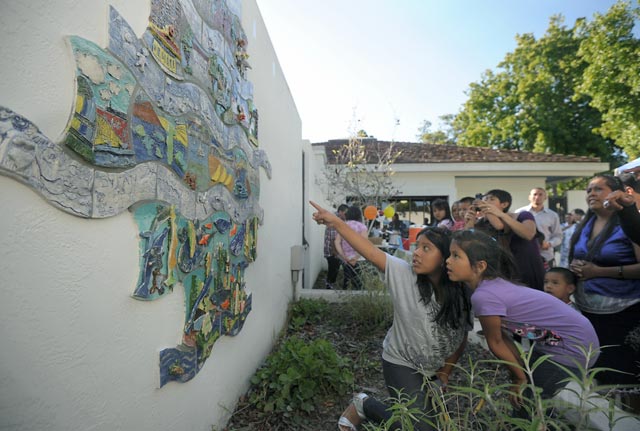 Tuesday marked the unveiling of the Eastside Public Library's newest mural. The project, themed Our Home, was sponsored by Santa Barbara's Museum of Art, and was crafted by preschoolers from the Storyteller's Children Center and 6- to 14-year-olds from the Homework/Artwork after-school program.
The 26 young artists and their families had been designing, sketching, painting, and building the tiled clay mural over the course of a dozen workshops put on since June. Each tile represents a different place in Santa Barbara: The wavy, blue wall piece contains the Santa Barbara Zoo, a scene from La Fiesta, the art museum, the Sea Center, the harbor, alongside several other individual scenes from the after-school students, and a large, critter-filled ocean environment masterminded by the Storyteller preschoolers.
The art students traveled to the Museum of Art and around Santa Barbara, but the mural-making workshops took place, for the most part, in the library with the Homework/Artwork program. The after-school program is an ongoing class at the library that gets elementary and middle school children doing their homework by motivating them with art projects. The library gets a large influx of kids from the five nearby schools in the afternoon, and acts as a safe place to leave kids after classes are over, said Elvira Tafoya, who works between 10-15 hours a week as a volunteer at the library.
The last installment by the class to the library's patio was a mural titled La Familia in 2008. Art class supervisor Tina Villadolid she she hopes to complete the "people, places, and things" mural series with a third project focused on books. Villadolid is an employee of the Santa Barbara Museum of Art, and she has been teaching since 1998. "Tina brings out the artists in anybody," Terri Allison, executive director of the Storyteller Center, said at the unveiling.
Her students' work stands as testament to that; few of them had ever worked for such an extended time on an art piece. She said she loves providing the Eastside Library grade school students with challenging projects. "It's hard to work with clay in such a brief period of time," Villadolid remarked as she set up a painting activity, "but they're up for the task."
She said with arduous art assignments, she's seen her kids surpass their own expectations. "The children love it. They're very proud of their art," said senior library technician Marivel Zambano-Esparaza with a smile. "They don't realize how much they actually learn making it."