Education
People-Powered Hope
Partners in Education a Shining Antidote to Budgetary Doom and Gloom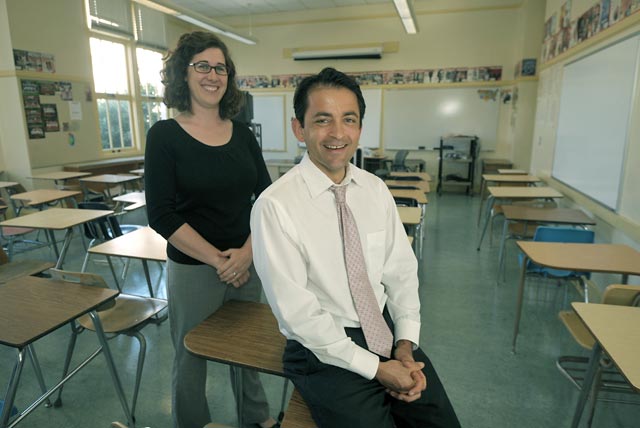 Feeling bad about the state of K-12 public education in California is way too easy to do these days, and, unfortunately, Santa Barbara is no exception. Certainly there are always minor daily victories in classrooms everywhere and the occasional standardized test score that can be pointed to as a much-needed silver lining, but the overall impression out there about our schools, whether you agree with it or not, is one of doom and gloom. And, after several years' worth of budgetary bloodbaths, class-size increases, teacher layoffs, staff cuts, program reductions, stubborn student achievement gaps, and a virtually global economic forecast that suggests things aren't getting better anytime soon, you really can't be blamed for having a pessimistic view. But you may not be as accurate as you think.
Right here on the South Coast, at a time when it seems much of our world is dead set on dividing us, there is a nonprofit group brilliantly bucking the trend and bringing people together from all areas of our community to do truly remarkable, innovative — and necessary — work both with and for our children. Even better, Partners, as it is popularly known, often aims its efforts right at the kids who need it most. As Kathy Boomer, Goleta Union School District superintendent, explained it last week, "Basically, they are exactly what the schools need. It is really a perfect partnership."
A multifaceted hydra of hope housed in Santa Barbara County's Education Office, Partners in Education was born in 1977 at a time when economics had public schools and families similarly strung out. The idea, to hear Bill Cirone, Santa Barbara County Schools superintendent, tell it, was to "create a dialogue between the business community and the school systems and try and come together with kids at the center." And so, with a spirit echoing that age-old adage "It takes a village to raise a child," the private/public partnership program has carried on in the three decades since, evolving into a wide-ranging, shape-shifting sort of organization that has the ability to positively impact everyone from the high school sophomore honor-roll regular to the Los Prietos Boys Camp teenage delinquent to the bright-eyed but underachieving 6th grader teetering on the brink of slipping through the proverbial cracks.
A people-powered umbrella of sorts that has the real potential to provide effective cover for many of the loose ends of the public-education fabric, Partners, among other things, now puts volunteers in classrooms at all age levels on the South Coast virtually every day school is in session, provides computers for thousands of Santa Barbara County students who otherwise couldn't afford the ever-critical learning tool, facilitates job training and paid internships for several dozen disadvantaged high school kids every year, organizes career days at both the junior high and high school levels, connects AmeriCorps tutors with high school–aged English learners, and reaches out to homeless students or those in foster homes with tutoring and counseling services. In short, as Cirone put it, "At a time when morale is a real issue because of dwindling resources [in our schools], Partners is showing our students and teachers and administrators that the community cares."
A Most Helpful Homecoming
In 2005, Ben Romo came back to Santa Barbara to become the executive director of Partners. The son of former Santa Barbara City College president John Romo, Ben left behind a hard-earned career in political campaign consulting and organizing (he worked famously and tirelessly for Congressmember Lois Capps and, before that, her late husband, Walter, among others) and decided to make the move home when the job offer came, eventually starting a family of his own in the same place that he grew up. The position at the helm of Partners, though a definite change from his years in the trenches of politico jockeying and mudslinging, was a perfect fit for a guy who described himself as "always running in education circles," and, with experience in the nonprofit, political, and corporate worlds under his belt, he was particularly qualified to head up the public/private operation that is Partners' calling card.
But, even with his résumé, he wasn't prepared for the depth and breadth of the problems facing public schools in Santa Barbara. "It was an eye-opener for me to see just how isolated and alone our schools have become," recalled the 38-year-old Romo. The cumulative impacts of essentially annual budget cuts and vastly reduced school services (i.e., counseling, classroom aides, career education, vocational training, etc.) all wedged underneath the oppressive thumb of various state and federal performance mandates had created a pressure-cooker situation where schools were being asked and expected to do more and more with less and less at their disposal to get the job done. Even worse, kids, especially those already hamstrung by less-than-ideal situations at home, were falling victim to the daunting equation every day. "I realized pretty quick how little I really knew about what teachers and schools are facing, on the ground, every day," said Romo.
However, in the six years since, Romo, along with Development Director Michelle Magnusson (a former social studies teacher at La Colina Junior High and Cleveland Elementary who joined Partners in 2008) and their staff, have helped evolve Partners into a well-oiled, well-connected, strategic entity delivering on the career education mandate of its founders with an unequaled — and still increasing — effectiveness while also developing a laser-like focus on helping solve many of the core problems plaguing our schools.
First up was a $4-million endowment drive effort for the already-established but ill-funded Computers for Families program. Drawing on community organizing skills honed in politics, Romo helped rally up the money and industry commitment necessary to ensure the program's permanency. As a result, to date, more than 7,000 kids in the county have been able to get access to a computer and/or high-speed Internet connection. Furthermore, the program has grown to also include a computer repairs and refurbishment center at Los Prietos Boys Camp that has students learning valuable vocational skills while also helping replenish the hardware necessary to keep the Families program growing.
Next, employing the chops learned during the endowment fundraising and leaning heavily on the deeply connected board that helps govern Partners (this includes superintendents from most area school districts; the leaders of Antioch, Westmont, SBCC, and UCSB; the Santa Barbara teachers union head; and heavyweights of the business community, including Venoco, Raytheon, Cottage Health System, MedBridge Development, and D.D. Ford Construction, to name a few), Romo and company worked to first vision and then flesh out a truly one-of-a-kind volunteer program.
Once again following a hands-on and highly labor-intensive formula more common to the campaign trail than nonprofit work, Partners in Education worked to build a database of potential volunteers — people from the professional worlds of Santa Barbara who were interested in using their expertise to enhance the curriculum being taught in classes at all age levels from Carpinteria to Goleta. Be it a geologist who comes in as a guest speaker in a science class at Dos Pueblos High School, an aerospace engineer who likes to moonlight as a free 8th-grade math tutor, or a contractor who brings in a team of tradesmen to Santa Barbara Junior High to do an interactive demonstration about what it takes to build a house, give it electricity, and get toilets to flush (not to mention, show just how lucrative a living any of these skills can provide), the goal is the same — to engage all types of students, remind them that the future is wide open, and, in the process, bring a little fresh blood into the daily routine of school.
"Partners is all about making school more relevant and more intriguing to all students," explains Don Gordon, president of Gordon-Fiano Construction. For Gordon, who also chairs the board of Tradart Foundation — an area nonprofit industry association similarly dedicated to helping kids and providing support to school-centered career technical training — Partners has proved invaluable in helping Tradart increase its ability to help, something that its members do via job fairs, demonstrations, and volunteer maintenance work at every junior high school and high school in Santa Barbara County. "No doubt, we would not be anywhere near where we are today without Partners," stated Gordon.
And he is not alone. In fact, since rolling out its volunteer program just three years ago, Partners has signed up more than 3,800 potential volunteers. More than 2,800 of them have already put in a grand total in excess of 28,000 hours of help in South Coast schools. This number becomes even more significant when you consider that all of those hours were carried out based on actual teacher requests, so volunteers' efforts go to activities that are needed or utilized most by the people who know best. "It's impressive and really very unique in how coordinated they are. It's not just, 'Hey, who can help clean up the yard?' but it is using people in their specific skills and passions to help in the most focused way possible. They are looking forward and being strategic — you can't help but love it," said Catherine Brozowski, vice president for the Orfalea Foundations, an organization that has been one of Partners' primary financial supporters. "Really, when we are looking for someone who can truly effect change in our schools locally, they are our strongest candidate," added Brozowski.
The final prong of Partners' approach is their paid job training and internship program. Also a preexisting effort by the organization that has been fully realized and given a more enduring structure under Romo's watch, the program — typically reserved for economically challenged high school students ages 16-18 who aren't on the standard college track — hooks up roughly 60 selected kids every year with six weeks of in-school job-readiness workshops (think résumé building, interview savviness, workplace behavior coaching, etc.) followed by a paid internship at a business related to a field they have an interest in. Students get invaluable hands-on experience (not to mention the inevitable self-esteem boost that comes with it) and a little cash in their pocket by doing things like working at Cottage Hospital, fixing cars at an auto garage, learning how to frame up a house, or designing a dress for a popular apparel company.
The results are undeniable. Take, for example, incoming Dos Pueblos High School senior Bethany Fitch. Selected for the program last winter, Fitch, when asked about her experience, bubbled with an excitement that is seldom expressed by teenagers about school programs. "Oh my gosh, it was awesome. The job they found me was just incredible. I mean, they found me something that I was actually interested in, and it was perfect," said Fitch about her recent work as an intern with the Horny Toad clothing company. Even more telling, Fitch added that the internship has had a major impact on her skills as a student as well as her designs for the future. "I was a little disorganized and flaky maybe before I started [the program], but the job has really helped me get it together … . If anything, this has taught me how important it is to go to college and get a degree and think about my future."
Going Forward
"These are programs that speak to the basic realities of the human condition — we crave a connection to each other," opined Romo when pressed for why exactly, especially when virtually everyone's bottom line is feeling the pain, there has been so much community support for Partners in Education. And, to that end, Partners hopes to only grow its wide web of support and influence in the years ahead by continuing to use the vast and varied community of Santa Barbara. After all, as Romo likes to say, "We have a collective stake in raising our kids."
Already there are plans in place to eventually expand the nonprofit's career-education efforts to include targeted programming for every 7th through 12th grader in the county, including things like financial-literacy classes, résumé-writing instruction, and, perhaps most importantly, vocational pathways for both "jobs that require a uniform and those that don't," as Romo put it. Partners also hopes to soon evolve its volunteer army to provide more one-on-one tutoring for students of all ages. "We are facing some big, big problems in our schools, and money alone is only a Band-Aid for them," said Romo. "You have to go out and build deliberate, reliable, and ongoing human relationships with the community around you and then nurture them. That is really a recipe for systemic change." Luckily for the future of Santa Barbara, Ben Romo and everyone involved with Partners in Education is practicing exactly what they preach.