Briefs
'A Really Great Day for Old Town Goleta'
Celebrating the Future Neighborhood Park on Kellogg Avenue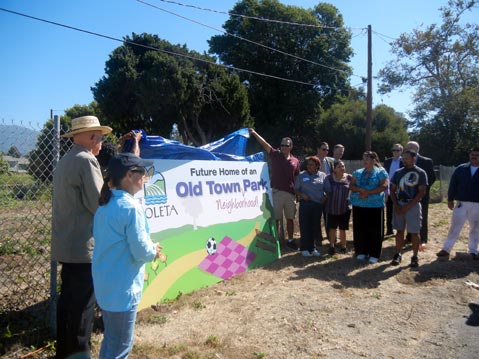 For many years, the City of Goleta has wanted more outdoor space for recreational activities, especially in the Old Town neighborhood. As an event on Thursday morning celebrated, the time has finally come and a future park just a half-block off of Hollister Avenue will soon become a reality.
"[It's] a really great day for Old Town Goleta," said Mayor Margaret Connell during the press conference to announce the purchase of an empty lot for the park, for which about a dozen people showed up. "We have a huge number of children here but only a couple of open spaces for recreational activities. This is the last remaining piece in Old Town and we need a park that people can use. We want the community to get involved."
A year ago, the city contacted Doug Connor, the owner and president of Santa Barbara Nissan on South Kellogg Avenue, to see if he was willing to sell off the four acres of land behind his car dealership. Luckily, he was and, using park development fees and redevelopment funds, the City of Goleta was able to purchase the piece of land for $2.65 million.
But the story starts earlier than that, for Connor bought the four acres in 2005 and explained, "The city was already in touch with me back then. They've wanted to purchase the land for years and years." Connor, however, had other plans: He wanted to open another car dealership. Fortunately for the City of Goleta, Connor never had the chance to realize his plans and, about a year ago, the car dealer was ready to sell.
"With this park we'll put a smile on people's faces," he said. "I believe it will be used a lot. And I think businesses will benefit by it. There's going to be a lot more people around here."
So far, the city has applied for a grant from the state, but Connell said that existing park fees will also be used to fund the project. City analyst Claudia Dato explained that funding for design is already in place but that they still need to find money for construction. The next few months, explained a press release, will be all about "hiring professional consultants with expertise in landscape architecture and park planning to lead the design effort." But Connell and Dato both emphasized that this is going to be a community project, with Dato explaining that there is "no preconceived notion."
In her welcome speech, Connell said that she is "looking forward to all the community being involved in this," and resident Rodrigo Rodriguez, for one, cannot wait to take his three children to the park. "It's a good idea because we have to play sports in Santa Barbara," said Rodriguez, who is planning on being a part of the project and hopes that the park can offer a soccer field, a pool, and a basketball court. Regardless of the end result, though, Rodriguez — who lives right across the street from the future park — will "for sure" take his children there every afternoon and he knows his brother and his four children will be spending a lot of time in the park as well.
The United Boys and Girls Club in Goleta is also excited about the project. "With the amount of kids we have, we've been crying for more outdoor space," said executive director Michael Rattray.
Right now, the four acres of land on 170 South Kellogg Avenue is just an empty piece of land. But hopefully in the near future, it will be an oasis for kids and their families. The expectations are big.