Sports
Quarterback Drew Brees
The Saints Quarterback Drew Brees and Co. Train in Oxnard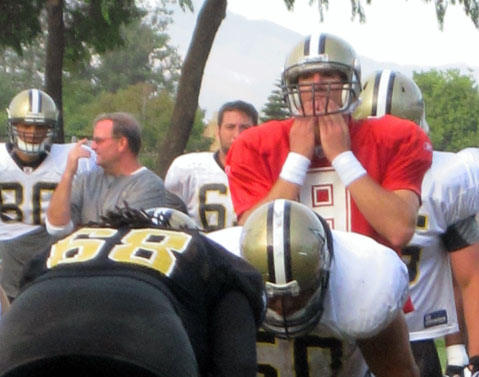 The first time I saw Drew Brees perform in person, it was in a meaningless game at the end of the 2005 NFL season. He was the quarterback of the San Diego Chargers, who were hosting the Denver Broncos — both teams out of the playoffs. Dropping back to pass, Brees was jolted on his blind side. The ball popped loose, and several linemen on both sides converged on it. Brees fearlessly dived into a violent scramble for the ball. He came up empty handed and grasping his right shoulder. It was seriously dislocated and would have to be surgically repaired.
The Chargers, who had Philip Rivers waiting in the wings, released Brees in the off-season. Most other teams had doubts about his prospects for a full recovery. He signed with the New Orleans Saints, a team that represented an entire region of catastrophic damage from Hurricane Katrina. Brees became actively involved in making the city whole again, while also reestablishing himself as a premier QB. In his fourth year, he led the Saints to the Super Bowl championship in a 31-17 victory over the Indianapolis Colts.
I saw Brees in person again when the Saints moved their preseason training camp to Oxnard for five days in late August. The practice field was populated with larger, faster men, but Brees — his red QB's practice jersey standing out — had an utterly commanding presence. His passes were unfailingly accurate during a red-zone drill. When backup Chase Daniel took his place, Brees did not rest. Defensive back Malcolm Jenkins picked off one of Daniel's passes and ran up the open sideline, until Brees appeared in front of him, his shoulders squared, and if it hadn't been a non-contact drill, he might have tackled Jenkins.
At the end of the practice, Brees approached the spectators lining a fence and signed dozens of autographs. Then he had a TV interview. When he left the field, long after the rest of the Saints had gone to the showers, Brees took the time to sign more autographs.
His next game will be about as meaningful as they can be in September — the NFL regular season opener on Thursday night, September 8, matching the last two Super Bowl winners, the Saints and the Green Bay Packers. However it comes out, you get the feeling the Saints will be playing meaningful games in January, too. They have one of the game's brightest coaches in Sean Payton; a stable of running backs, including lightning-quick Darren Sproles and tough-minded rookie Mark Ingram; and a quarterback who never backs down.