Sports
S.B. Football Round-up
The Who, What, Where, and When of Teams and Games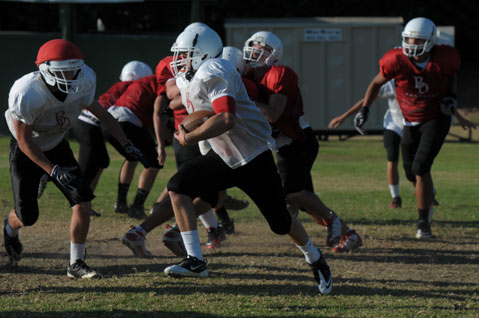 HIGH SCHOOL
BISHOP DIEGO CARDINALS
Coach: Tom Crawford
Home Field: La Playa Stadium (SBCC)
Snapshot: There are high expectations for this team, which has a pair of prime-time seniors—quarterback Nolan Tisdale and running back Brandon Gonzalez—and a bevy of talented sophomores. They will contend for the Frontier League championship and look to go far in the CIF East Valley Division playoffs. They are ranked No. 4 in the pre-season poll.
Home Games (7:30pm, unless noted): 9/16 Mission Prep (7pm); 9/30 Fillmore; 10/14 Malibu; 11/5 Villanova Prep; 11/11 Carpinteria.
CARPINTERIA WARRIORS
Coach: Ben Hallock.
Home Field: Carpinteria Valley Memorial Stadium
Snapshot: Pint-sized back Alex Rodriguez, (5'5", 135 lbs.) typifies the Warriors. They are expected to be plenty scrappy, as the CIF ranks them No. 7 in the Northwest Division. Their Tri-Valley League showdown with defending champ Nordhoff will be Nov. 4 in Ojai.
Home Games (7:30pm): 9/16 Nipomo; 9/23 Santa Ynez; 9/30 Santa Clara; 10/21 Santa Paula; 10/28 Oak Park.
DOS PUEBLOS CHARGERS
Coach: Jeff Uyesaka
Home Field: Scott O'Leary Stadium
Snapshot: The Chargers are braced to defend their Channel League championship. Senior running back Josh Bartley (1,280 yards, 14 TDs) and tight end/defensive end Isaac Gomez are among the returnees. Another is junior linebacker Nico Bornand, whose 40-yard field goal clinched the 2010 title in a 30-27 win over Ventura. The home opener against San Luis Obispo, a DP rival since they met in the 2001 CIF championship game, will be an early test.
Home Games (7pm): 9/9 San Luis Obispo; 9/16 Cabrillo; 10/6 Canyon; 10/14 Ventura; 11/10 San Marcos.
SAN MARCOS ROYALS
Coach: Dale Perizzolo
Home Field: Warkentin Stadium
Snapshot: Perizzolo, thrust into the job by the unexpected death of head coach Jeff Hesselmeyer on July 22, is upbeat about the season. He'll be looking for leadership from the linemen, anchored by senior center Garrett Hazarian, a scholar-athlete. A new artificial turf, funded in a large part by a donation from the Warkentin family, was laid down last month in the former Valley Stadium.
Home Games (7pm): 9/23 Hueneme; 9/30 Capistrano Valley; 10/21 Santa Barbara (6pm); 11/4 Ventura.
SANTA BARBARA DONS
Coach: Jaime Melgoza
Home Field: Peabody Stadium
Snapshot: The Dons relied heavily on sophomores and juniors last year, and now they have experience. "Our program is moving upward," Melgoza says. A newcomer who should make an impact is sophomore running back Cheroke Cunningham. His father, A.C., played for the Dons, as did his uncles, former All-Pro players Sam and Randall Cunningham.
Home Games (7pm): 9/9 Beverly Hills; 9/23 Rio Mesa; 10/7 Pacifica; 11/4 Dos Pueblos; 11/10 Buena.
EIGHT-MAN TEAMS
CATE SCHOOL RAMS
Coach: Ben Soto
Home Field: Cate Mesa campus
Snapshot: The Rams went 10-1 and won the Condor League last year, their sixth season of football. Despite losing 10 seniors, they should contend for the league title again. Kyle Mayfield will quarterback the offense.
Home Games: 9/9 Joshua Springs (3:45pm); 10/1 Alpaugh (2:30pm); 10/15 Hope Center Academy (2pm); 10/22 Thacher (2pm).
LAGUNA BLANCA OWLS
Coach: Ray Robitaille
Home Field: Hope Ranch campus
Snapshot: The Owls pioneered eight-man football here 11 years ago, but lately, they have been chasing Cate in the Condor League. Lacrosse star Brandon Bickett is filling in for injured quarterback Troy Ritter.
Home Games: 9/17 Westmark (1pm); 10/1 Hesperia Christian (2pm); 10/22 Dunn (2pm); 10/29 Cate (2:30pm); 11/5 Ojai Valley (3pm).
COMMUNITY COLLEGE
SBCC VAQUEROS
Coach: Craig Moropoulos
Home Field: La Playa Stadium
Snapshot: The era of basketball scores at La Playa may be over if SBCC's beefed up defense rises to the challenge. Freshmen Jaylon Jackson (292 lbs.) and Kameahoo Kahaipo (258 lbs.) are a pair of stout six-footers in the line. Manny Hernandez, a sophomore from San Marcos, is a hard-hitting 224-pound linebacker. The secondary includes former Dos Pueblos quarterback Mike Spiritosanto.
Home Games (6pm): 9/10 Antelope Valley; 9/24 Moorpark; 10/8 Santa Monica; 10/22 L.A. Valley; 10/29 Glendale.