Briefs
Sheriff's Department on How It Handled Kardashian Wedding
Claims Planning and Communication Not Agency's Responsibility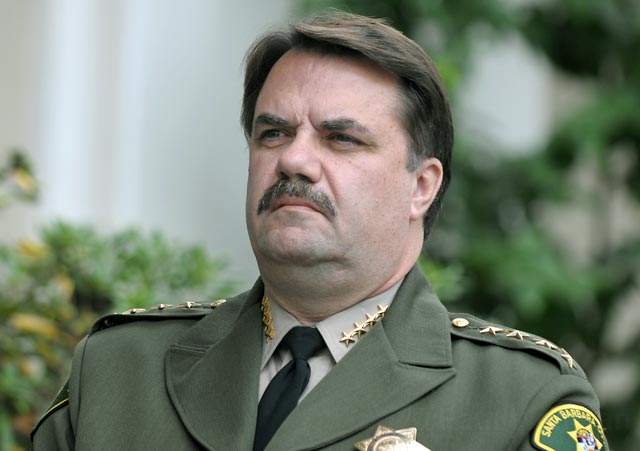 Although the Kardashians may have left town weeks ago, questions and concerns regarding Kim's Montecito wedding and its impacts on the community still linger. The Montecito Association requested that Sheriff Bill Brown attend its board meeting on Tuesday to discuss his presence at the wedding and several other concerns brought up by upset citizens. Brown was unable to come speak, so his department sent Undersheriff Jim Petersen and Acting Lieutenant Dave Brookshire to offer an explanation and answer questions.
"This is a community that cares," said Petersen, "and any event that goes on, the main focus is safety. That's what we do — after 10 at night, it is keeping the peace." He said that there would always be people who felt that their peace was being disturbed on such occasions, and that his department's overall goal doesn't change if the party is made of 10 or 100 people. But several board members, Robertson Short in particular, felt that maintaining safety was not sufficient in this case. Short energetically quizzed Petersen on exactly what the Sheriff's Department knew about the upcoming Kardashian event saying, "We cannot find anyone notified prior to [August 18]." The wedding took place on the 22nd.
Short faulted the law enforcement agency for how it handled things, claiming that although it knew how many people would be at the Montectio estate as the office was in contact with the event's private security company, and that the number exceeded permit regulations, it chose not to inform the county's Planning and Development Department. "How could you ignore every other authority in the county?" asked Short.
According to Petersen, the Sheriff's Department is responsible for working the event itself, not taking care of prior planning considerations. The office is focused solely on enforcement. But, Short pointed out, it is difficult for the county to get the immediate help it needs if the Sheriff himself is in a tuxedo having a good time. Brown has the reputation of being a "hands-on Sheriff," according to Petersen, and he had planned on being at the wedding one way or another — either inside as a private guest, or outside in uniform — because he "understands a large event." It was actually a good thing that Brown was a part of the festivities because, Petersen went on, "then we had people inside and outside." Petersen said that how the high-profile wedding played out, and the issues that were identified in association with it, would enable county departments to work together and communicate better in the future.
Still not satisfied, an angry citizen spoke out, saying she saw Brown driving to the event, that he must have known how many people were going to be there, and that it was completely inappropriate for him to attend. She also told the board how she saw people trying to climb into her yard (she lives adjacent to the Caufield property, where the event took place) and she was nearly denied access to her home as she refused to show her ID to prove she was an area resident. Why was she not given fair warning? she asked.
Once again Petersen said planning was not the responsibility of the Sheriff's Department, but that this is an opportunity for better communication in the future. Boardmember Short retorted that the department knew the event's details were being kept hidden from county staffers, but Brown and others failed to do anything about it. It was Diane Pannkuk, former vice president of the Montecito Association, who most succinctly summed up the concerns of the community. "This has happened before," she said. "We had this happen with Oprah's party, and we were assured this wouldn't happen again."
She continued to describe how Montecito is now on the map for anyone who wants a "big splashy wedding," and that something needs to be put into place to protect the residential community. She said that everything Petersen said — about getting county factions working together — she heard four years ago, and nothing has happened. At that point, the board seemed satisfied that its point had been made, and added that the issue of a larger fee for such an event would be an agenda item during its next meeting.