Bookstore
Chaucer's Books
3321 State St., 682-6787
Mahri Kerley's business kind of stands alone now, though she insists we not forget the venerable Tecolote Book Shop, which probably predates Padre Serra here. But since the closure of two big book chains here this year, her business has definitely changed. "One of the surprising things is that some people who live out in Montecito have never been here before, even though they grew up in Santa Barbara, and I can just see their eyes go round when they walk in the door. They had no idea how big we were." Kerley most appreciates the patrons who come in and tell her their husbands were about to buy a book online, but they said, No, we're buying it at Chaucer's. "I'm deeply grateful for the readers of Santa Barbara who voted for us," she said. "And this is an amazingly literate city."
Finalist
The Book Den
Used Bookstore
The Book Den
15 E. Anapamu St., 962-3321
Eric Kelley's store changed somewhat after the big chains left State Street. For one, he's now added new books to his inventory of used and antiquarian. "I think that's our secret," said Kelley, whose store is also the oldest used bookstore in California. "We have something for every kind of book buyer from rare books to paperbacks to the latest hardbacks." Kelley's had a few finds and good sales, though no Gutenberg Bibles, in the last year, but most of his bread and butter comes from selling just plain old books. "I much prefer that. I'd rather make money selling hundreds of good books, rather than one big sale," he said. "We're very happy to win."
Finalist
Paperback Exchange
Computer Repair
MacMechanic
216 E. Gutierrez St., 965-9722
"Yeah! We love winning," said Jimmy Dessert (pronounced: desert), general manager of the town's favorite place to take their panicky fears about swallowed files, constipated download speeds, and (worst) screens gone blank. "I think it's the local atmosphere people like," he explained. "We're the Santa Barbara shop. You're dealing with locals and you're spending your money locally." After 13 years in the biz, they're pretty good with panic attacks, too.
Finalist
Make It Work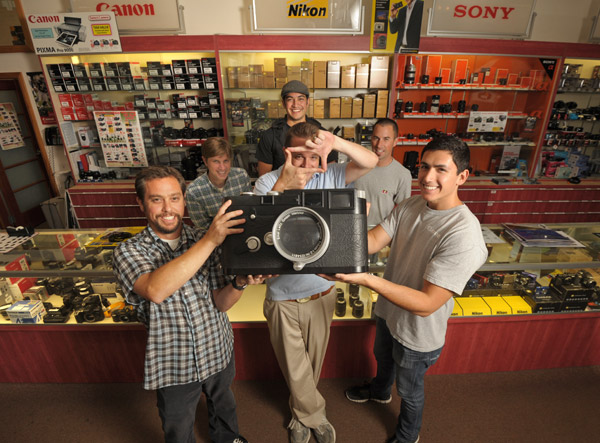 Camera Shop
Samy's Camera
614 Chapala St., 963-7269
Mostly manned and womaned by real shutterbugs, Samy's is also hands down the best-stocked store for the visualization of your photogenic dreams. Besides cameras, lighting, lenses, paraphernalia bags, video equipment, and other forms of electronic entertainment from computers to TV sets, Samy's also offers workshops and classes to teach you how to use that simple point and shoot you got as a gift and is so sleekly designed you can't figure out which end to point and are beginning to seek out somebody to shoot. Relax, go to Samy's, and it'll be a snap.
Finalist
Best Buy
Musical Instrument Store
Jensen's Guitar & Music
2830 De la Vina St., 687-4027
"Probably people like us because of all we can do helping them on their musical journeys," said Chris Jensen, whose own journey as a store owner through a wicked recession and shop consolidation has seen him happily peering out the other end at brighter prospects. With a store that sells instruments, a shop that repairs them, and a busy staff of teachers — they have 250 students at the moment — teaching chops and licks, the Jensen's empire is sure solid enough to ensure some encore years ahead. "Music is one of the really important things in this world," reminded Jensen, who is glad that times never got so bad that people couldn't sing about them.
Finalist
Folk Mote Music
Gift Shop
Imagine
11 W. Canon Perdido St., 899-3700
1470 E. Valley Rd., #V, Montecito, 695-0220
We don't usually like to quote Internet reviews, but this is irresistible: "An oasis in a cultural black hole that consumes Santa Barbara," said customer Ashley C. of Menlo Park. Perhaps we will quibble with Ms. C about the relative merits of our town versus the arts and intellectual mecca that is Menlo Park, yet we shall not debate the singular joys of shopping at Imagine. From cool and goofy trinkets to one-of-a-kind inspired pieces of art, the two locations of Imagine offer an oasis indeed, even if it is in a city of radiant beauty and truth.
Finalist
Lewis & Clark
Party Supply Store
Glenda's Party Cove
3319 A State St., 687-4500
"I'm very pleased we won again," said Glenda's owner Steve Thomson, whose late wife's family took over the store in 1975. "It proves that we are doing a very good job. I think people like what we do, too. And they like balloons. Balloons are very nice."
Finalist
Pacific Co.
Art Supply Store
Art Essentials
32 E. Victoria St., 965-5456
"We're not corporate, and people, particularly artists, respond to that favorably," said general manager Kurtis Hughes, who admits there aren't a lot of other alternatives for arts and crafts people, but appreciates the fact that people shop at his store rather than a big chain or off the Internet. "We try to keep it lively for the regulars," he said, adding that they try to take care of artists from beginner to professional. "And all the big artists in town come in here. I end up knowing a lot of them," he said proudly.
Finalist
Michaels
Craft Supply Store
Michaels
187 N. Fairview Ave., 967-7119
We tend to think about the DIY spirit as something come out of punk rock clubs and recordings, but, listen, your great aunt Margaret who was making those doily Santa Clauses before you were born was Do It Yourself way before Black Flag. Everything is here — from knitting to jewelry, from scrapbooks to sculpting tools, and it's in a big lose-yourself-for-an-hour warehouse with nice clerks. Let's say you're not craftsy, you just like to put on theme parties for less. Just DIY at Michaels.
Finalist
Craft Essentials
Frame Shop
Aaron Brothers
601 State St., 966-3954
Great frame selections, art supplies, friendly help, and fantastic prices make Aaron Brothers a constant on the Best Of list since back before the word giclée meant art. Sales are the best part and at writing time, Aaron Brother's was doing its justly famed one-cent sale where that stuff hung up on your refrigerator can now be properly presented and preserved until the time when giclée won't mean art anymore.
Finalist
Michaels
Bank
Santa Barbara Bank & Trust
14 locations (in Santa Barbara County)
Pacific Capital Bancorp owns about 40 banks in the mid-coastal area of California, Santa Barbara Bank & Trust is one of its names. The corporation trades on the stock market, listing its market value at around $820 million though its assets reach $6.3 billion. We have no idea how you get from one figure to another, but we know that we like most of the tellers and that the voters vote for the home-team bank every year, so they must've weathered the current bad season with some grace.
Finalist
Montecito Bank & Trust
Copy Shop
Kinko's (aka FedEx Office)
5 locations (in Santa Barbara County)
Technically, the copying center that our readers picked as Kinko's does not exist, though everybody knows that the company that began humbly here — in Isla Vista — under that cutesy name was merged/acquired by FedEx and is now known technically as FedEx Office. We still say we are going to Kinko's, though, when we need copying done in the middle of the night. Maybe like Band-Aid was to bandages and Xerox was to copiers, it will always be called that. In fact, we always go to Kinko's to Xerox stuff. Huh.
Finalist
Bill's Copy Shop
Retirement Residence
Maravilla
5486 Calle Real, 308-9585
"Maybe it seems like a semantic thing, but instead of calling Maravilla a retirement center, we call it senior living. Because we don't think that you should stop learning and growing, opportunities still exist," explained Brian McCague, executive director of Maravilla, which is part of a larger company that runs 16 other senior living centers across the country. "We are always honored that the readers vote for us," he said.
Finalist
Valle Verde
Travel Agency
Santa Barbara Travel Bureau
1028 State St., 966-3116
1485 E. Valley Rd., #9, 969-7746
Yet another one of the ancient family-owned businesses that the readers prefer, this fine purveyor of escapes and opportunities has been in business over 60 years with the de L'Arbre family (David and Charles) at the helm. Specializing in business travel, but great at arranging the high-end getaway to exotic locales, too, the offices have seen a lot of dreams come true.
Finalist
AAA — Automobile Club of Southern California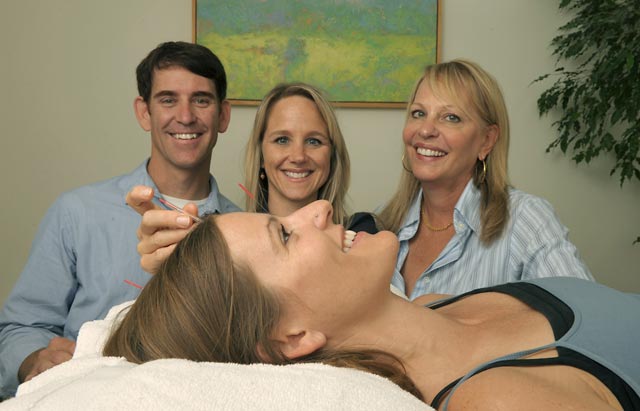 Acupuncturist
Points of Health
1805 E. Cabrillo Blvd., Ste. E, 687-7775
Erik Smith, who is Points of Health along with Stacy Smith and Johanna Anderson, writes: "We are honored to win. We want to thank all of our patients and The Indy. Helping people is our passion, and we have an incredible team who get results. Our acupuncture is gentle, and our specialties include pain relief, women's health, and fertility support. "
Finalist
Community Centered Oriental Medicine
Chiropractor
Lori Sender-O'Hara, DC
25 Carlo Dr., Ste. B, 964-0222
"I'm really thrilled that my community voted for me," said Lori Sender-O'Hara. "It gives me such pride and joy. I think, if for any reason, they voted for me because I've worked really hard for the last 24 years in the office, and I use the most advanced and specialized techniques, and I get great results in pain relief and wellness. And because I treat my patients like my family; I care and I'm there for them. I'm so happy to get the votes."
Finalist
Charles Bissell, DC
Dentist
Johnson Family Dental
200 N. La Cumbre Rd., Ste. H, 687-6767
678 Alamo Pintado Rd., Solvang, 688-9999
Family-oriented dentistry does not mean just for the kids. Office manager Theresa Higson stresses that the doctors treat "people of all ages and from all walks of life." Their particular emphasis is on the dental anxiety patients, and Higson said they have many grateful, formerly fearful patients. "I'm ecstatic that we won," said Higson. "It must be the dynamic staff," she joked.
Finalist
David Dart, DDS
Licensed Massage Therapist
Marlo's Therapeutic and Sports Massage
1211 Coast Village Rd., Ste. 10, 453-2333
16 W. Mission St., Ste. N, 453-2333
Marlo Tell has expanded her practice this year, adding a second office and two associates, both trained in the method of massage Tell feels is most advantageous to her clients, many of whom have sports injuries or concerns. "We really spend a lot of time with our clients even before we start; we use hot towels and analgesics if necessary. I believe in strong massage. And we also offer a 100-percent money-back guarantee. People feel cared for when they come here."
Finalist
Steven Fountain
Optometrist
Thomas Burke, OD
800 North Milpas St., #C, 963-2020
With the wittiest phone number in the Santa Barbara Yellow Pages, Burke is also one of the most beloved employers in the city. Both he and his staff will frequently tell you how much fun they have coming to work, and the readers seem to echo this enthusiasm. Burke takes time with his examinations, and professes a commitment to the patient's overall health. If the eyes are windows to the soul, Thomas Burke and his happy offices are there to keep the view true, and if they're happy doing it, that doesn't mean they aren't serious.
Finalist
Chiyotaka Nomura, OD