Best Of
Best of 2011: Sporting Life
Health Club
Spectrum Athletic Clubs
3 locations
Muscles, heart rates, and sagging lines must be tended to even when surrounded by a California version of paradise beckoning all outdoors to play. We still need to burn. And among the trends and innovations that come and go amongst all this self-administered physical therapy—anyone remember Buns of Steel or Callanetics? — the rock-ribbed, few-frilled Spectrum health clubs remain our readers' favorite, a fact that downtown general manager Ramon Adams refuses to take for granted. "We always hope it will happen every year. We don't want to mess up our streak, ever," he laughed. Adams credits the clubs themselves for much of this continued success. "We offer very clean, very well-kept premises," he said. Besides, the equipment gets cleaned and maintained as regularly as the building. "Can you imagine how much wear and tear these machines get? But if one breaks down it's rare that it takes us longer than 24 hours to have it repaired," he added. "We are super happy to get the readers' votes for so many years."
Finalist
YMCA
Yoga Studio
Yoga Soup
28 Parker Wy., 965-8811
"I never know what to say. It's not something we aspire to, winning. Except it makes us very happy to achieve what we set out to do," said Yoga Soup owner Eddie Ellner. And that achievement, according to Ellner, has as much to do with environment as it does with the content thereof. "Of course we offer great places, but what we feel we offer is a home base. You can walk in and have a class, or eat a piece of fruit or just read something. We always have something useful to read lying around." And his aspirations for yoga itself are similarly inspiring and yet humble. "A good yoga class is a variation on a very old theme. That you can do something to make your life less disturbance-filled: You can walk with confidence that you can have a more peaceful, less stressful life. That's the point of this place."
Finalist
Bikram Yoga Santa Barbara
Pilates Studio
CenterPoint Pilates
1 W. Victoria St., 560-6992
"It's like a real community within the walls of the studio," said CenterPoint owner Amy Havens. "It's not like a gym where everybody is working separately. And there's a nice wide demographic," she explained. Havens began the studio 14 years ago in a spare room off a bungalow on Salsipuedes Street. Then she moved to Victoria Court and now employs other teachers who brought in their own clientele to the big room over Starbucks not far from the Arlington. Part of their success, Havens acknowledged, is their relationship with the Hayashida Physical Therapy studio: "We've become a bridge between therapy and mainstream workouts." But ultimately, it's all about pulling a body together. "It's alignment, alignment, alignment," she said.
Finalist
IM=X Pilates Studio
Martial Arts Studio
Martial Arts Family Fitness
122 E. Gutierrez St., 963-6233
They don't support a bunch of bullies who invade other dojos to insist that their kung fu kicks butt on all other kung fus. Oh no: This is not the way of MAFF, insisted co-owner Melodee Meyer. "You know what we do have is a wonderful community, great people inside the school who do lots of outreach to Santa Barbara." They teach hapkido and fitness kickboxing, and they learn to bear themselves confidently and in improving health. This also fosters a feeling of benevolence toward the readers, said Meyer, who have voted them best eight times in their nine years of business. "We are very grateful," she said.
Finalist
Paragon Academy of Brazilian Jiu-Jitsu
Dance Studio
Santa Barbara Dance Arts
1 N. Calle César Chávez, 966-5299
"I feel like we're not just a dance studio," said Alana Tillim, who runs the arts academy with Steven Lovelace inside the giant Funk Zone building that begins to fill with young performers this time of year and stays that way for the duration of the school season. "It was a zoo here last week," laughed Tillim, referring to the opening days when auditions and newcomers and confusion reign as people sort themselves into voice, ballet, tap (not so popular, but holding), and aerial dancing (surprisingly popular right now.) "It's really a scene," she said.
Finalist
Rhythm Dance & Fitness Studios
Outdoor Fitness Program
Body Boot Camp of Santa Barbara
708-6693
Now the biggest craze in the fad-riddled fitness world, this one was the first, claimed owner Rob Grayson, who started the whole thing because he was training and a little lonely. "I needed exercise and I got a group together, and that was it," said Grayson. "It just kind of blew up." The best part of Body Boot Camp is that it's flexible. People now use it for their regular workouts or for one-shots like looking good before the big wedding. (It's become like Arthur Murray now for brides and grooms who want to fit the clothes they will fancy dance in.) Modeled on military training, though Grayson never joined up, it's a great way to get the whole body taut and healthy. "That's the whole point, isn't it?" said Grayson.
Finalist
BootyCampSB
Campground
El Capitán State Beach
Off Hwy. 101, 17 miles west of Santa Barbara, 968-1033
North of Santa Barbara, El Capitán features a compact little campground, a lovely beach, picnic benches, and not much more. But what more could you possibly require for a perfect getaway from city lights and bustle — even the kind produced in the intimate environs of Santa Barbara? It's $10 per vehicle and $35 a night to camp — there are no hookups or RV dumping. There is the ocean, though, and the stars overhead.
Finalist
Refugio State Beach
Camping Gear Store;
Snowboard/Ski Store
Mountain Air Sports
14 State St., 962-0049
"People like us because of our enthusiasm. Customers can tell that we are gearing up for their adventure," said Mountain Air Sports clerk Citrine Danzer. "Everyone who works here loves the outdoors — crosses their fingers that the sun stays out late so they can get out there, too!" Danzer believes that the store's commitment to staying on top of equipment changes coupled with its plugged-in personnel have made this place the readers' pick for the better part of the last three decades.
FinalistS
Camping Gear Store:
Santa Barbara Outfitters
Snowboard/Ski Store:
Arbor Santa Barbara
Surf Shop
Channel Islands Surfboards
36 Anacapa St., 966-7213
According to the store's board specialist Brandon Smith, Channel Islands has 1,000 surfboards in stock and 3,000 more in its nearby warehouse. "We make the best surfboard in the world," said Smith, who argues simply the fact that the best surfers in the world, like Kelly Slater and Dane Reynolds, ride the boards pretty much seals the deal. "We're happy we got voted the best," said the modest Mr. Smith. "Because we are the best."
Finalist
Beach House
Swimwear Store
Bikini Factory
2275 Ortega Hill Rd., #B, Summerland, 969-2887
Someday, somebody smart will make a movie about this place. Just imagine the saga, a tiny store in once-Bohemian Summerland launching its carefree couturier ideas back when the Beatles still had mop tops and Ronald Reagan was a bad actor. As the years rolled by, the costume changes would be almost as interesting as the generations of women who faithfully brought their children and grandchildren into the place where less is truly more and the idle promise that life might be a beach becomes a mandatory truth.
Finalist
Sundance Beach
Bicycle Store
Bicycle Bob's
15 Hitchcock Wy., 682-4699
250 Storke Rd., Goleta, 685-6799
On one hand, general manager Damon Williams believes shopping at Bicycle Bob's is a legacy thing after 28 years in business. "We have kids and grandkids shopping here," he said. On the other hand, the new customers also represent the way business has migrated in the wake of rising gas prices. "We don't sell the top end stuff, racing and mountain bikes, as much as before, but the commuters and the hybrids are way up," he claimed. BB's is unique in the respect that it represents Trek and Specialized, a phenomenon that does not occur in newer stores. The companies don't like it. "It would be like going to a car dealer that sold Hondas and Toyotas under the same roof." But Williams is not taking his reader status for granted. "We are absolutely thrilled that we keep winning this," he said.
Finalist
Velo Pro
Skateboard Shop
Church of Skatan
26 E. Gutierrez St., 899-1586
"Oh yeah, oh yeah," said Aaron Mendoza, clearly scintillated by the news that the Church has won again. "I think it must be that our customers know the difference between us and some mall shop or online store. But it's also because we have such a huge selection of boards and shoes," said the manager of the now two-decades old subculture emporium. Shoes? "Think about it. When you're doing this, your shoes get ripped apart right away, a matter of days," he explained. "So it's the customers: thank you, thank you."
Finalist
Powell-Peralta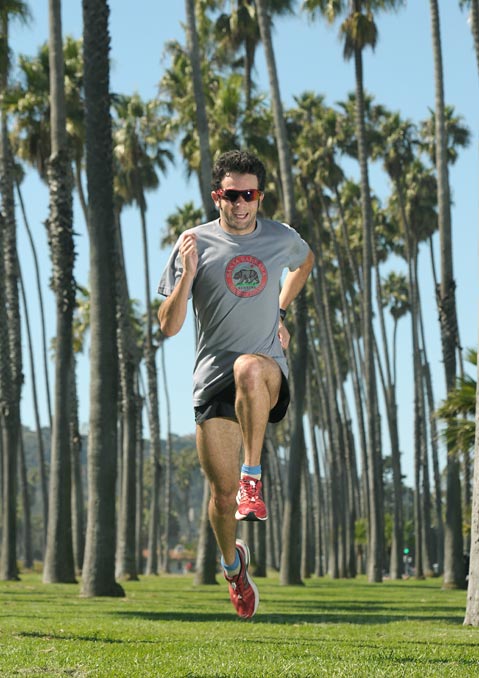 Place to Get Athletic Shoes
Santa Barbara Running Company
110 Anacapa St., 899-8802
129 N. Fairview Ave., Goleta, 964-6700
"We try to support local community events and we try to be a presence at those events," explained manger Nick DeVreese about the long success of the young company here. "But beside that, all of our people are running enthusiasts; they take part in the sport. The customers can sense that, and I think they appreciate it, too," said DeVreese.
Finalist
Big 5 Sporting Goods
Fishing Shop
Hook, Line & Sinker
4010 Calle Real, #5, 687-5689
There are new owners of this three-decades-old business conveniently sited at the bottom of the San Marcos Pass, where an angler can stop off the freeway north and south or on the way up to the lake. Their names seem funny at first (for a bait shop), Captain David Bacon and Captain Tiffany Vague, but the titles are real. Both earned their ranks in the Coast Guard and they work hard outside the service, too. Besides the shop, they fish regularly and even have a boat company called WaveWalker that takes other sportfishers out on the bounding main. They are very happy to be doing all this. "We bought the place because we've been customers here for the last 30 years," said Vague. "We're very happy that we won."
Finalist
Big 5 Sporting Goods
Whale Watching Tour
Condor Express
301 W. Cabrillo Blvd., 882-0088
"I think the people vote for us because we are the most consistent," said Captain Mat Curto. "We see whales almost all the time." In fact, the Condor Express will guarantee your whale-spotting satisfaction. If, for some reason, no cetaceans make their presence know, CE folks will stamp the back of your ticket and allow you to ride along any day for another chance at Melville-ian marvels. "My favorite time is late April when all the humpbacks can be seen," said the good captain. "But our most popular time is July and August when the blue whales come through. Then people come here from all over the world."
Finalist
Double Dolphin
Golf Course
Glen Annie Golf Club
405 Glen Annie Rd., 968-6400
"We give great value and we have great service," said Glen Annie general manager Rich Nahas, who explained that there may be other, cheaper courses to play, "but this is a championship course that is impeccably maintained. So, for a course as beautiful as this, the price is a value." Najas also stressed that people always comment on how friendly the staff there is. "Maybe it's not white-glove service, but it's like that restaurant you go to where everybody knows your name."
Finalist
Sandpiper Golf Club
S.B. Tour Company
Land Shark
683-7600
A little pang of envy passes through you every time the giant amphibious suburban assault vehicle passes by, its top deck filled with revelers on their way to the James Bond moment. You know, when the car goes into the water, a switch is pulled, and the propellers take it out to sea. "We've had to change our route a bit," admitted Captain André Maroux, "so we can spend more time on the water." Seems that tourists, who can hop on the car-ship at the foot of Stearns Wharf for a mere $25 ($10 for the kids, who will remember this outing) preferred being out on the big blue particularly in late winter, early spring when the chance of seeing whales increases. So they've cut the Mission out of the route and do a fast downtown loop before taking the salty leap. And it's a winner. "We're very excited that the readers, who live here, have voted for us," said Maroux.
Finalist
S.B. Adventure Company