Arts & Entertainment
Paul Simon at the Santa Barbara Bowl
The Pop Legend Serenaded Fans with Two Hours of Hits on Sunday, October 23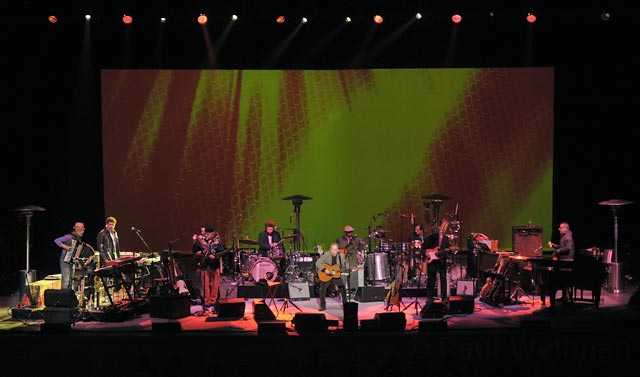 It's very telling, the finale songs an artist decides to leave us with, whether they're rallying or lullabying. And Paul Simon, who has nearly half a century of pop hits, mist-inducing ballads, and anthems under his belt, left the Bowl Sunday night with "Still Crazy After All These Years." Not "Bridge over Troubled Water," mind you, or "So Long, Frank Lloyd Wright" — eschewing the sentimental for the sweetly self-effacing; it was, in a word, perfect.
Simon opened his set with "The Boy in the Bubble," coming on early after the surprisingly dulcet Secret Sisters out of Mussel Shoals, Alabama, who did lovely renditions of their own songs but triumphed playing Patsy and Hank. "Bubble," drawn from Simon's 25-year-old mid-career magnum opus Graceland, jump-started the evening with punchy accordion (and more) from the unbelievably multitalented nine-piece backup band, assembled around the Cajun sounds of his latest recording, So Beautiful or So What. But Simon rather quickly leaped back to "50 Ways to Leave Your Lover," which he crooned, his voice improving, it seemed, each moment after every song. Then, three songs in, he said, "Hello, my friends," took a pause and added, "I hope that doesn't sound too presumptuous. It does sound better than 'Hello, my ticket buyers.'" After that, laughs, and "Mother and Child Reunion," the age-mixed, though mostly boomer-filled, crowd was his to lead.
Which is good: Simon, unlike most big bards of his day, always positioned himself just behind the cutting edge. He was folkie when the Village went Protest and had a tiny psychedelic period, which was followed by jazz fusion, reggae, polyrhythm, and world beats. But considering him on the more concrete level — like, say, the Bowl stage — it's harder to dismiss Simon's ranging creativity; his restlessness almost always took him somewhere workable. He soared through 25 songs, the clear highlights of which were "Rewrite," "My Little Town," and a haunting, vibrant version of "The Sounds of Silence." But sometimes familiar pieces turned into the occasion for mad medleys: "Hearts and Bones" led the band somehow to Chet Atkins's "Wheels," and "Diamonds on the Soles of Her Shoes" became a hothouse of musical ideas. Oddly enough, some of the night's best moments were covers, not least of which was Simon trance-channeling George Harrison's "Here Comes the Sun."
He might have ended anywhere, really. The two hours were generous and filled with songs we've heard on radios all our lives: "Kodachrome," "The Only Living Boy in New York," and "Peace Like a River." He wandered far and conjured sounds we don't tire of ever — still nutty and graceful after all these years.