Living
Cops Grow Mustaches for Charity
Judging Determined Best, Worst, and Creepiest Facial Hair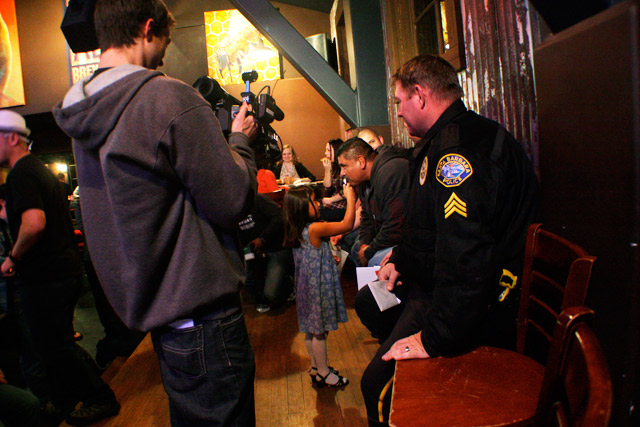 One central person was missing — but definitely not forgotten — when the Santa Barbara Police Department raised over $2,000 last week during its second annual Mustache Movember Contest at Union Ale Brewing Company.
Sergeant Mike McGrew's son Michael, or T.T., who died of cancer over a year ago, was the inspiration for the mustache contest. In honor of Michael and the work of the Teddy Bear Cancer Foundation, Officer Blake Burgard proposed the mustache contest as a beneficiary fundraiser for the foundation in 2010.
"[The SBPD's Patrol Team 3] wanted to help the Teddy Bear Foundation because they saw what we went through," said Sergeant McGrew. "We were in the hospital over 200 days a year."
In 2003, Nikki Katz founded the Teddy Bear Cancer Foundation to financially and emotionally support low- to middle-income families with children who have cancer. City and county public safety departments helped fund the organization, as Katz recalls, down to letterhead, business cards, and envelopes.
"The police department is one of our biggest sponsors," said Katz. "They're insanely important to our organization."
Twenty-five officers accepted Patrol Team 3's challenge this year to grow the best, worst, or creepiest mustache between November 1 and November 23. "It all began during a briefing before patrol," said Burgard. "We began talking about mustaches, teasing each other, then daring and challenging each other." The result was a successful annual fundraiser.
The Kelt Group also accepted the challenge for the second year as a main sponsor while Union Ale donated 25 percent of its profits that night to the foundation.
"We love this event," said Jessica Mireles whose daughter, Isa, has been cancer-free for two years. Mireles still remembers her days with the foundation. "Even a little bit helps a family with a newly diagnosed child, especially in this economy."
Isa was one of nine judges scrutinizing the 25 mustached police officers. The judges were a mix of current and past Teddy Bear Foundation participants, volunteers, and employees, including founder Nikki Katz and patient-turned-employee, Becca Solodon. Solodon's success story is one the SBPD wants to help duplicate.
Before becoming a program assistant and foundation spokesperson, Becca Solodon was diagnosed with cancer at age 16. She met Katz, then a volunteer on the pediatrics ward of Solodon's hospital, who learned of Solodon's passion for singing. Katz contacted an entertainment lawyer, raised funds, and made it possible for the teen to record in a professional studio.
The foundation still organizes special events and experiences for individual children called "A Moment in Time." These experiences range from a tea party for a 4-year-old to a giant pizza party and other activities the child desires.
It turns out Solodon received much more than one moment. One week before Solodon's mid-calf amputation, she was recording in a professional studio, and six weeks after the surgery she was opening for Mariah Carey. She also got to know the McGrews and Michael because of their similar situations. She loved getting to know them. Since meeting Michael, she has been immersed in the foundation.
"I love it," said Solodon. "I feel a sense of what they're going through. I had the same nurses, the same hospital, even the same rooms." Her story provides hope and gives the families someone to connect with.
Officers Charlie Katsapis and Mark Corbett took home "Creepiest Mustache" and "Worst Mustache," respectively, while Officer Blake Burgurd was voted "Kids Favorite," and Officer Chris Martinez was crowned "Best Mustache." Officer Bryan Kerr walked away with the brand-new honor of "Prime Time Mustache."