The artist's mission is to collect reference material of the ship and crew as they perform their duties on the new ship. Ron is also to collect images that are unique features of the new National Security cutters.
Guthrie has been involved in the Coast Guard Art Program, COGAP, for 5 years. This is the artists' first deployment on a Coast Guard ship. Artists in COGAP are periodically sent on short deployments to get reference material for future paintings submitted to the Coast Guard Art Collection.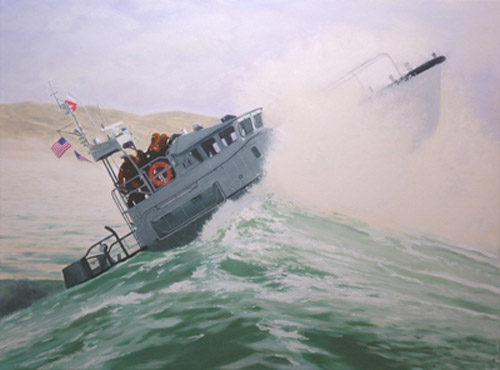 As a COGAP artist Guthrie feels fortunate to be shipping out for 4 days on the Stratton. The Legend-Class cutter Stratton has the ability to patrol from the Bearing Strait to South America. These new 418-foot Legend Class cutters are fast, very high tech and will be replacing the reliable but aging Hamilton Class cutters built in the 1960's. The Stratton with its latest in electronics systems will perform alien migrant interdiction operations, fisheries protection, search and rescue, counter-narcotics and homeland security missions. "She's a brand new ship", says Guthrie, "it's my first deployment and I am honored to have been asked to spend some time on her".
Ron, a member of the California Art Club and Oil Painters of America, has had 3 paintings juried into the Coast Guard Art Collection. Jurying is done at the Salmagundi Club in NY. Ron has been working with Mary Ann Bader, COGAP Coordinator in Washington DC and the Executive Officer on the Stratton, CDR Laura Collins, regarding the deployment since mid October. Upon his return from this deployment Ron will begin sorting through his reference material and begin painting. "We COGAP artists donate our work to the Coast Guard Art Collection", says Ron, "the collection is seen all over the country to promote the mission of the Coast Guard. There is no higher honor than to serve your country and I served with the Army in the 1st Armored Division back in the 70's. The pieces I donate to the collection are just my small way of continuing to help out today's men & women who serve".