Dance
A Review of Nebula Dance Lab's Premiere
Clair-Obscur at Center Stage Theater, January 27.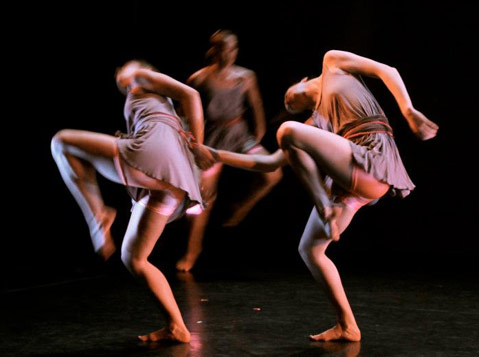 With its company premiere, Nebula Dance Lab has made a distinct impression. Last weekend at Center Stage Theater, Clair-Obscur paired two new works. Erin Martinez's "The Singing Bones" used a variety of media to tell a deliciously spooky story; Emily Wheeler's "Take the Bull by the Horns" took a more abstract approach to the theme of self-acceptance. Artistic Director Devyn Duex founded the group to give emerging choreographers a platform for expression. Already, it's clear she's meeting her objective.
Behind a screen, we see shadows struggling: arm-yanking turns to hair-pulling, then to a deadly choke. Andrew Bird's folk rock score lends the scene a heady mix of nostalgia and doom. For "The Singing Bones," Martinez created a panoramic illustration of swamp, forest, railroad tracks, tilting water towers, and boarded-up storefronts. The camera guides us back and forth across this desolate landscape: the scowling townsfolk tend to stick to the town, while the swamp becomes the setting for unspeakable horrors. Martinez took inspiration from a 17th-century murder ballad, but her retelling blends various elements — there's a bit of the Wild West here, a touch of Scottish brutality, and the dark whimsy of a Scandinavian fairy tale.
Wheeler, who dances a chilling murderess in "The Singing Bones," brings a very different tone to her own work. In four sections, "Take the Bull by the Horns" leaves plenty of space for movement itself. The all-female company breaks into pairs, trios, and quartets, partnering fluidly, surging and recovering in waves. Within the constant motion there's a recurrent pattern of reaching, until in the end they stop, unclench their fists, and breathe.