Announcement
Homeowners Attend Workshop on Low Cost Home Energy Upgrades
emPowerSBC and Energy Upgrade California offer low-cost financing and rebates to improve home efficiency, lower utility rates and create local jobs
emPowerSBC and Energy Upgrade California teamed up to host the event which provided homeowners information and access to low interest financing, qualified contractors and big utility rebates – all aimed at helping them make energy efficient and cost-saving changes to their homes. The workshop also introduced homeowners to qualified contractors who are ready, willing and able to help them achieve savings and energy efficiency. In addition to energy saving, increased home comfort and creating a greener environment, the emPowerSBC program is also creating local jobs by providing qualified contractors with access to interested clients.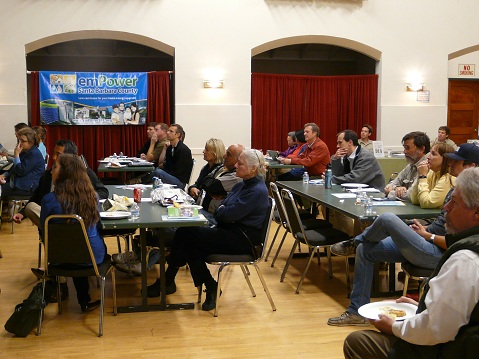 "It was great to see so many County homeowners in attendance, eager to learn about how they can upgrade their homes with emPowerSBC's low cost loans, as well as receiving up to $4,000 in utility rebates and gaining access to qualified, licensed contractors," commented Angie Hacker, Program Manager at emPowerSBC. "We are extremely grateful to our partners; the City of Goleta, Energy Upgrade California and our local utility companies for helping us bring this important event to Goleta homeowners."
The BBQ workshop was the second in a series of community events aimed at helping homeowners with their home energy upgrade projects using local funding partners for low cost, long-term loans. Currently, emPowerSBC is accepting applicants for the program as well as seeking local, licensed contractors to provide the work.
The next event will be held in Guadalupe in late February. For more information, please log on to www.emPowerSBC.org or call 805-568-3566.