Briefs
New Hospital Helipad Sees Heavy Action
Multiple Emergency Landings Tuesday Night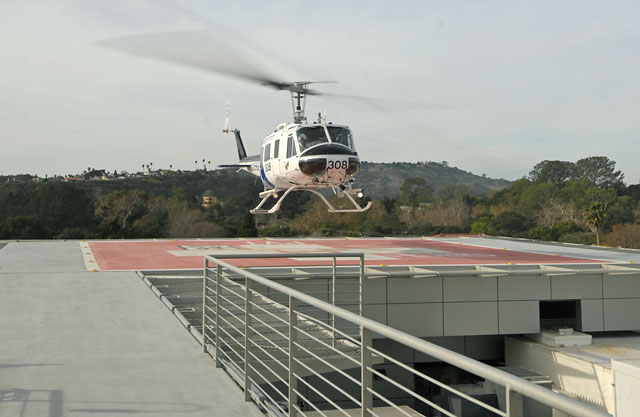 [UPDATE, 12:00 p.m.]: Cottage spokesperson Janet O'Neill said Wednesday morning that five patients were helicoptered in and out of the hospital Tuesday night. Clarifying that the new helipad is fully certified and that the chopper trips were not practice runs, she said three critically ill people were flown to the hospital by CalSTAR air ambulances.
At around the same time, two Cottage patients were prepped to be transported to Los Angeles care facilities. The L.A.-based copter company that came to pick them up, however, broke protocol and didn't properly communicate with Cottage, so the helicopters arrived while a CalSTAR unit was already on the pad. This forced the L.A. helicopters to circle for so long — leaving their designated flight path — that they had to fly to Santa Barbara Airport to refuel.
O'Neill said she and the hospital received numerous calls from concerned and upset neighbors — a few called 911 — but explained Tuesday night presented a number of exceptional circumstances that led to the commotion. The high level of noise, she said, was unusual, and the hospital is working out the kinks on its new helipad to avoid similar issues in the future.
The hospital will hold a neighborhood meeting on Monday, she said. The time and place will be announced soon. "I hope we can assure members of the community that we're here to save lives, not disturb them," O'Neill said.
[ORIGINAL REPORT]: Cottage Hospital's new helicopter landing pad — officially approved for use last weekend — was busy Tuesday night as multiple emergency choppers made a number of trips to it between approximately 8 p.m. and midnight.
A nurse supervisor on duty said there was no single incident that prompted the responses, explaining numerous emergencies in and out of Santa Barbara County demanded the copters' attention. She said she wasn't able to elaborate beyond that.
Between last night and this morning The Independent received phone calls and emails from curious city residents. Some wanted to know what was going on. Others expressed concern over excessive noise. One woman said the flybys made her neighborhood sound and feel like a "war zone." A Cottage spokesperson has been unreachable thus far.
The landing pad sits atop one of the hospital's new patient pavilions, which are set to open next week. Cottage is contracted with CalSTAR (California Shock Trauma Air Rescue) to transport patients in and out of the Level II Trauma Center, and appears to be working with other air ambulance companies as well. The new landing site eliminates the need for rescue choppers to touch down on La Cumbre Junior High School's field before patients can be transported by ambulance to the hospital.
Helicopters, said a hospital spokesperson last month, are supposed to follow a specified flight path along Highway 101 and over Junipero Street. She said the hospital expects around two landings per week. Prior to the pad's construction, the hospital held outreach meetings with neighborhood residents to discuss the addition.