Entrants completed a combination of 3 lifts (squat, bench press and deadlift) in the competition. Conn, who had only competed in one powerlifting competition prior, secured the title in the final lift by deadlifting 600 pounds, over 3 times his body weight.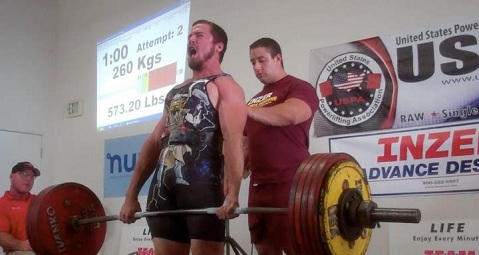 Conn, only 25 years old, has been a competitive athlete all his life, staying active with a wide range of sports from skiing and surfing, to rugby and water polo, and always a healthy portion of weightlifting. Filled with a passion for health and functional fitness, and unable to find a gym that accommodated his style of weight-lifting, Conn opened CrossFit Goodland in 2009, only months after graduating from UC Santa Barbara with a BS in Physiology.
Since its small beginning in 2009, CrossFit Goodland has grown into a strong and supportive community of athletes. So strong, in fact, that Conn recently moved the gym to a larger location at 5865 Gaviota Street in Goleta to accommodate the growing membership. Specializing in functional and athletic training, Conn and his coaching staff keep athletes committed and engaged by creating varied, sport-like workouts. Offering both group classes and personal coaching, CrossFit Goodland is open to all who are committed to their fitness.
"I have coached a 21-year-old Navy SEAL candidate on his way into BUD/S, a 60-year-old grandparent and everyone in between. Our only requirement is that athletes work as hard as they can to maximize their own potential," said Conn.
With a new gym to break in and a title to uphold, Conn looks forward to further cultivating his business and competing in more powerlifting events in the coming year. For more information about CrossFit Goodland, please call 805-455-5653 or visit www.crossfitgoodland.com.