Briefs
Books for Eating, Not Reading
SBCC Hosts Annual Edible Books Festival
Foodies and literary enthusiasts alike came to celebrate two of our most beloved activities: eating and reading. Santa Barbara City College's Edible Books Festival — in collaboration with the school's culinary and Great Books programs — was held last week in the Luria Library and featured 31 mouth-watering masterpieces judged in six different categories: Most Delicious, Most Beautiful, Most Humorous, Most Like a Book, Most Like One of the Great Books, and Most Like the SBCC Reads 2012 Book Moby-Duck.
The festival is one of many held annually around the world, always near April 1, the birthday of French gastronome Jean Anthelme Brillat-Savarin (1755-1826), famous for his a witty meditation on food Physiologie du gout.
Only four years old, the local Edible Books Festival has grown in popularity at SBCC, according to Elizabeth Bowman, the school's outreach librarian. "It bridges together students from many different disciplines, ranging from biology to culinary arts," Bowman said. "It helps students see that the library is a place that has a lot of vibrancy and energy, a place where you never know what you may find next!"
Here were a few of our favorites: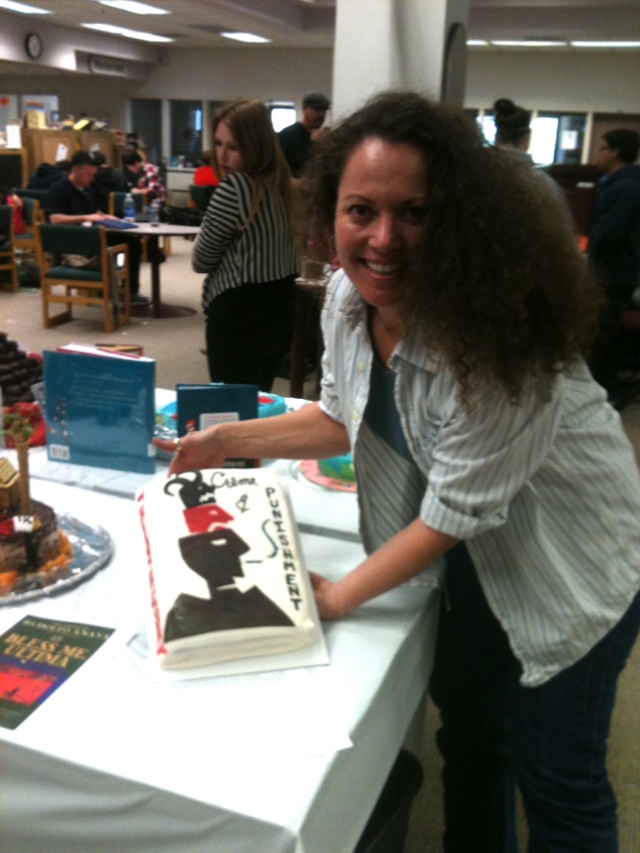 Crime and Punishment by Michelle-rene Marmolejo
Michelle-rene Marmolejo, a crime-scene technician specializing in fingerprints and DNA, created a delectable Crime and Punishment red velvet cake with hazelnut ganache filling. "I'm hoping to do all kinds of air-brushing techniques next year," shared Marmolejo. "Maybe I'll experiment with some background lighting and music to go along with it." Marmolejo perfected her craft at Le Cordon Blue Culinary institute in Pasadena and was a first-time participant.
Princess and the Frog by Stephanie Cissell
Stephanie Cissell was inspired by Disney's animated film The Princess and the Frog. Her cake depicts Princess Tiana attempting to kiss the frog, who is delicately perched on a log made out of marshmallows rolled in peanut butter. The cake is complete with a cream cheese frosting and chocolate custard filling.
The Frog Prince by Sybille Kroemer
"He's my baby," proclaimed fourth-semester culinary student Sybille Kroemer, referring to the rice-crispy treat frog sitting atop her vanilla cream cake. Kroemer snagged Best In Show during last year's competition for her Girl with the Dragon Tattoo cake. This year, her Frog Prince cake took Most Beautiful.