Briefs
Greyhound Moving to Train Depot
Iconic Sign is Removed and Slated For Destruction
The Greyhound bus depot in downtown Santa Barbara has been vacated this week after 70 years of continuous operation, and the company's iconic rooftop neon sign — a sleek racing dog in full stride against the skyline — has been slated for destruction. Greyhound will still serve Santa Barbara, but riders will have to visit the company's new digs at the former site of Open Air Bicycles, located in the same complex as the train depot.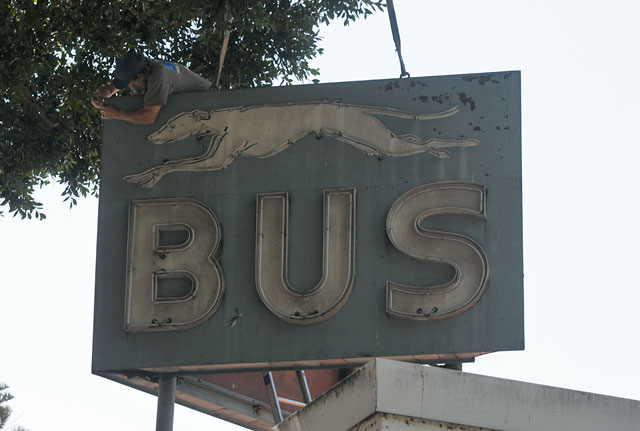 What will go into the Greyhound location remains to be seen, said Marck Aguilar, with the city's Redevelopment Agency. Aguilar explained that Greyhound's lease expired and that the company was "bleeding cash" under the terms of the old lease. Aguilar said he's received many calls about the fate of Greyhound's neon sign, but he explained company officials plan to destroy it in order to protect Greyhound's corporate trademark. He said Greyhound had expressed a willingness to give the sign to historical preservationists who could pass muster with the company's legal department, but that didn't happen.
For most of the company's tenure at the corner of Carrillo and Chapala streets, Greyhound owned its station. But after a bus drivers' strike in the late 1970s that damaged the company financially, the company sold the property and then leased back space.