Arts & Entertainment
Pierre-Laurent Aimard at the Lobero Theatre
CAMA Masterseries Presents French Pianist in Recital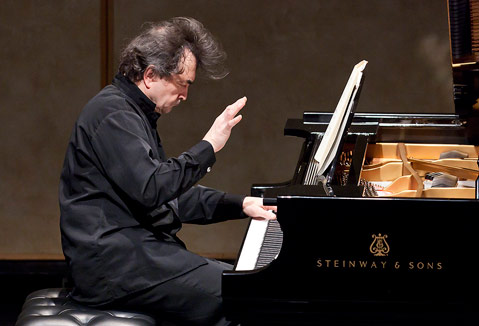 This final concert of the 2011-2012 CAMA Masterseries perfectly demonstrated what the program does best: present the world's most exciting musicians in a setting that lets everyone involved focus on the music. Pierre-Laurent Aimard performs music in virtually every idiom available to the contemporary classical pianist, and his reputation for interpreting challenging traditional pieces stands every bit as tall as his renown for championing modern compositions. Aimard gave a stunning performance on Monday night, full of passion and ingenuity and devoid of ego or showmanship.
The program was an interesting one, leaning toward the music of France. The entire second set was devoted to Book II of Claude Debussy's Préludes, but with a substantial detour through Hungary (by way of living composer György Kurtág and Franz Liszt) and a short stop in Germany (for the Bunte Blätter of Robert Schumann). The Kurtág piece with which Aimard opened the program is called Játékok and consists of a variety of short pieces written in the 1970s. They are stark, often dwelling on the overtones and decay of sustained whole notes, and witty, with plenty of elegant solutions to the problems posed by the miniature form.
The transition from these cerebral exercises to the music of Schumann was abrupt and tonic. From there, Aimard gradually ascended to the heights of Liszt's "Les jeux d'eau à la Villa d'Este," simply the best musical evocation of flowing water ever written. The most difficult question posed by this outstanding performance was which to prefer — the engrossing inner world of Debussy explored so thoroughly in the second half or the exciting and idiosyncratic journey of the first.