Announcement
Newest Public Art Installation at SBCC on April 13
The event will be held next to the sculpture on the lawn adjacent to the Humanities Building on the college's East Campus.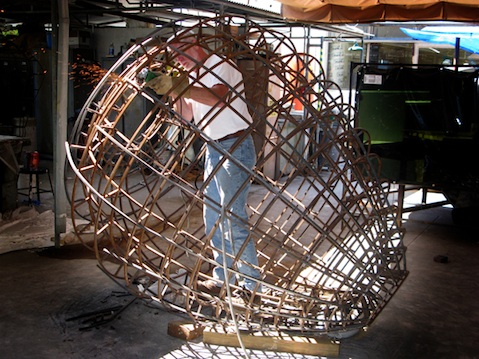 The sculpture, which measures 8' x 8' x 9', resembles a tilted vase made of metal and was commissioned by Dr. Vincent and Lies Jaccarino, long-time art patrons of SBCC.
In describing his work, Professor Inks said. "I imagine public art providing residents and visitors a wonderful experience of the unexpected — familiar surroundings are renewed and re-invigorated. He added, "Consequently, I believe that my work attempts to be beautiful; a simple poetic beauty that inspires, encourages social interaction, reconciles a playful inner fantasy with the reality of everyday, as well as encouraging narrative associations of the past to the needs of the present."
"Through their generosity, Vince and Lies Jaccarino are sharing their passion for the arts which will inspire our students who are studying to become future artists and provide ongoing art appreciation to our faculty and staff and visitors," said Vanessa Patterson, Foundation for SBCC Executive Director.
Dr. Vincent Jaccarino brings an eclectic background to role as an art patron. He worked for 25 years as a physics professor and director of the Quantum Institute and was instrumental in the development of the free-electron laser at the University of California Santa Barbara. After his retirement, Dr. Jaccarino began to explore other interests including taking credit classes at SBCC and at the college's Continuing Education Division. He developed his talent for sculpting when he enrolled in a sculpture class taught by Professor Inks. Dr. Jaccarino went on to create pieces that have been exhibited throughout Santa Barbara and is a member of the Santa Barbara Sculptors' Guild. Mrs. Jaccarino worked as a systems adviser for the UCSB University Library and was responsible for the implementation of the computerized system used by the UCSB libraries. In addition to their funding for sculptures, Dr. and Mrs. Jaccarino have supported the SBCC Art Department and its students by donating sculpture equipment and other supplies.
"SBCC prides itself on being a cultural hub in our community," said Dr. Jack Friedlander, SBCC Acting Superintendent/President. "Adding this sculpture to our campus will contribute to the college's commitment to create an intellectually engaging and esthetically pleasing environment in which to learn and work."
Professor Inks, who received his master's in fine arts from Carnegie Mellon University in Pittsburgh, has been affiliated with SBCC since 1991. His most recent exhibits include Made in California at the Brea Art Gallery in Brea, Calif., Small Works in the 35th National Juried Exhibition at Harper College in Palantine, Ill., and SWG 2011 at the Sylvia White Gallery in Ventura, Calif.
Following the art installation ceremony, the SBCC Annual Student Art Exhibition at the Atkinson Gallery will open with a reception at 5:00 p.m. Winning entries will be named in a number of categories. The Atkinson Gallery is located on the second floor of the Humanities Building on East campus.