Sports
Hall of Famers
Former UCSB Athletes Show Their Mettle During Alumni Weekend Games
Kayte Christensen was such a huge fan of the sitcom The Golden Girls (which ran from 1985 to 1992) that she recorded and watched every episode of the TV series. Last Saturday, she was a "Golden Girl" herself. Wearing a gold uniform, she played the role of an older woman in UCSB's alumni basketball game. Many of her teammates, going back as far as Susie Matthews (Class of '92), had children running around the Thunderdome. They were pitted against blue-clad Gauchos of a more recent vintage. All had played for Mark French, the inspirational coach who was going into the UCSB Intercollegiate Athletics Hall of Fame that evening.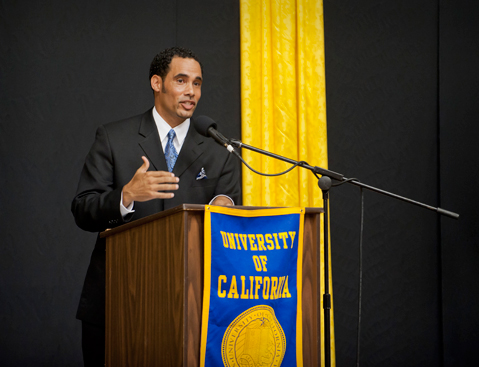 "We should score double because we're so much older," Christensen said of her team. "We're speedy in our minds, but our bodies are slower." For the many fans who turned out for the 10 a.m. game — French said it was "a testament either to their loyalty or their fanaticism" — time itself slowed to a halt. They harkened back to an exalted era when the Gaucho women burst out of the locker room to the tune of Lou Bega's "Mambo No. 5" and proceeded to ring up 90 or 100 points against a hapless foe.
The score of Saturday's game hardly mattered, but at one point I looked up and noticed that the newbies led by 27 points (39-12) following a streak of dazzling shots by Jessica Wilson. Just like the Clippers in Memphis a day later, the oldsters whittled away at the deficit, with the help of a scorekeeper who seemed to be following Christensen's suggestion that their tallies be doubled. Who could protest when a Superior Court judge, George Eskin, was announcing the scores? At 69-69, he said the next shot would win. Stacy Clinesmith promptly drained a long three-pointer to give the "Golden Girls" the victory.
The age gap was too wide and the scoring too obvious for the Pioneer/Legacy Soccer Club — men who played on the earliest Gaucho soccer teams (1964-69) — to pull a similar upset against an energetic UCSB women's club. The final score was 8-1. It would have been worse but for a bushel of saves by 64-year-old goalie Mike Nickoloff. "My wife was afraid I'd have a heart attack," said David Hollingsworth, 63, who played with remarkable intensity for all 60 minutes. He works on his hay farm but said, "Hauling bales is nothing like running around on the pitch."
There was a message in the willingness of these alumni to return to Santa Barbara and relive the exertions of their younger days. They were affirming the significance of their time as Gaucho athletes. It is an identity they cherish, not because it signifies how much they won — face it, UCSB is not a college-sports superpower — but how hard they tried.
That theme received emphasis at the Hall of Fame banquet. French said his Gauchos were "unknown, underfunded, under-respected," but they took down such teams as USC, Colorado, and Vanderbilt by cultivating "habits of excellence" that would serve the women in their post-collegiate lives. Former baseball coach Al Ferrer, also taking his place among the Gaucho legends, said the school "has always been small-market" like the Kansas City Royals or Pittsburgh Pirates. But that's no reason to lose heart. Ferrer recalled the times UCSB took a pair of series from top-ranked teams, Stanford and Texas, comparing those successes to Halley's Comet.
Mike Gorman, the latest volleyball star to be enshrined by UCSB, looks forward to the day the comet flares again. "When, not if, the Gauchos win the national championship," Gorman said, "there will be 40 years of players ready to bust loose. That is going to be one hell of a party."
The All-American tennis doubles team of Amelia (White) Escalante and Kelly Spencer tearfully accepted their accolades. Escalante confessed to being overtaken by "a flood of emotions." To her partner, she said, "Kelly, you're it … the best friend I ever had, the godmother of my children."
Amahl Thomas, who played a sport that no longer exists at UCSB, delivered a delightful speech. Thomas caught 55 passes in 1991, the last season of Gaucho football. He vividly described the pains and pleasures of his experience, enlivened by some wacky characters. Thomas, a Santa Barbara native, is a high school history teacher, as well as receivers coach at Claremont College. He articulated the symbolic quality of a diving catch he made at the University of San Diego. He hoped to see it on film, he said, but a pole blocked the angle of one camera and a spectator stood up in front of another. "All I have is a memory," Thomas said. On a larger scale, memories are all that's left of Gaucho football. Thomas did his part to keep them alive.