Sports
Olympic Trials End
S.B. Track-and-Field Athletes Come Close, But Fail to Win Berths to London
To the Olympic motto — "Citius, Altius, Fortius" ("Faster, Higher, Stronger") — add "Vetus" (experienced), a word that applies to many athletes going to the 2012 London Games, and especially to UCSB's representatives, freestyle swimmer Jason Lezak and beach volleyball master Todd Rogers.
Lezak swam on medal-winning U.S. relay teams in 2000, '04 and '08, most famously keeping Michael Phelps's eight-golds quest alive with his furious anchor of the 4×100 freestyle at Beijing. Lezak, who also scored an individual bronze in the 100 free, will be going to his fourth Olympics this summer. At the ripe age of 36, the self-trained swimmer from Orange County finished sixth in the 100 at the U.S. Trials last week and will be on the team as a relay alternate.
Rogers, like Lezak a father of two, pushes the envelope even further at 38. The Santa Barbara native and his playing partner Phil Dalhausser won the gold medal at Beijing and will be among the favorites in London. They will tune up this month at tournaments in Switzerland, Germany, and Austria. They can add Santa Barbara to their post-Olympic schedule. The Association of Volleyball Professionals (AVP), revived by new ownership, will hold a tournament at West Beach on September 15-16.
Meanwhile, two young Gauchos fell short at the U.S. Track and Field Trials. Four more years of training and competing by 800-meter runner Ryan Martin and heptathlete Barbara Nwaba should put the 2012 graduates in strong contention for the 2016 Rio de Janeiro Olympics. Martin has just turned pro and obtained sponsorship from Asics. He will start a slate of European competitions this week in Belgium. By finishing fifth in the heptathlon last weekend, Nwaba qualified for the Thorpe Cup, a multi-event team competition between the U.S. and Germany later this month.
Henk Visser remains the only Gaucho to have competed in Olympic track and field. Visser, a 26-foot long jumper, was a UCSB student from the Netherlands. Representing his home country, he placed seventh at the 1960 Rome Olympics.
Westmont College has put two Olympians on the track — Paul Herman, who finished fourth in the decathlon at the 1964 Tokyo Games, and Jean-Louis Ravelomanantsoa, a sprinter from Madagascar who could run the 100 faster than people could spell out his name. He was a semifinalist at Munich in 1972.
Westmont's Steve Gay was a member of the U.S. soccer team at Munich. Tugce Canitez, the star of this year's Warrior women's basketball team, is about to become the school's fourth Olympic athlete. She plays for Turkey, which last week defeated Puerto Rico, Japan, and Argentina in a qualification tournament for the London Games.
A number of other Olympians have come out of UCSB. Susan Morgan rowed in the pairs event at the Montreal Games in 1976; breaststroker Richard Schroeder brought home gold medals in the medley relay from the '84 and '88 Games; water polo goalie Craig Wilson started for the U.S. teams in '84 and '88 — capturing silver medals at both — and in '92; Greg Boyer was on the '88 team with Wilson; rower Amy Fuller earned a silver medal in the four-oared shell at Barcelona and was on the U.S. women's eight in '96 and 2000; and Eric Fonoimoana struck volleyball gold in 2000 on Sydney's Bondi Beach.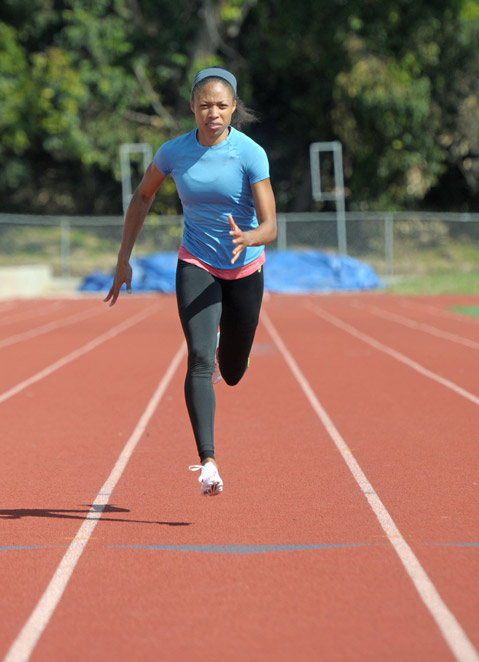 Back in April, a star-studded collection of athletes prepared for the Olympic summer in Santa Barbara. Ashton Eaton, the future world-record holder in the decathlon, displayed his blazing speed in a meet at Westmont College. Coach Bobby Kersee brought his Los Angeles-based elite team — including Allyson Felix, Jeneba Tarmoh, and Dawn Harper — for a week of concentrated workouts at Westmont and San Marcos High.
"It's nice to get away and stay focused," Felix said. "In L.A., you have so much going on." Kersee made it clear this was no vacation. "He's demanding," Felix said. "I enjoy the way he coaches. Sometimes it's not fun, but he gets the most out of me. We've had a very productive week, got a lot of work done."
Felix said her goal is to win Olympic gold in her favorite race, the 200 meters. She's a three-time world champion at the distance, but at the Olympics, she settled for silvers in 2004 and '08. Her hard work paid off last Sunday, when she won the Olympic Trials 200 in a blistering 21.69 seconds, a meet record. Only two American women, Florence Griffith-Joyner and Marion Jones, have run faster.
Harper, the defending Olympic champion in the 100 hurdles, won that event at the trials. And in the 100, Felix and Tarmoh tied for third place in 11.068 seconds, sending U.S. track officials into a tizzy because only three athletes can be entered in the Olympic race, and no tie-breaking procedure was in place. The controversy ended with Tarmoh declining to compete in a runoff, closing the latest chapter in the trials and tribulations that the Olympics foment every four years.