Sports
Return of Friday-Night Lights
New Head Football Coaches for Dos Pueblos, San Marcos, and S.B. High Schools
Before Friday-night lights were needed, the 2012 high school football season kicked off under glowing summer skies. Because of an extended post-season playoff schedule, the opening games were pushed up to August 24.
It was a memorable night for Doug Caines of Santa Barbara High and Nate Mendoza of Dos Pueblos. They stood on the sidelines as head football coaches for the first time, and both their teams were victorious — Caines's Dons 25-22 over St. Joseph of Santa Maria, and Mendoza's Chargers 12-0 over Santa Ynez.
San Marcos also unveiled a new head coach, Anthony Linebaugh, who had two years' experience leading a varsity program in Northern California. His task is rebuilding the Royals, who lost their opener to Cabrillo, 27-14.
All three coaches are on their schools' teaching staffs — a welcome change at Santa Barbara and San Marcos, which had to resort to walk-on coaches in recent years. In separate interviews last week, they described their approaches to the sport that captivates America every autumn.
Once a Don, Always a Don
Part one of Doug Caines's football career was as a 250-pound offensive lineman at Santa Barbara High. He remembers holding his own against powerful Long Beach Poly in 1999, the fall of his senior year. But after playing in the County All-Star game, he started his own film production business and put his gridiron days behind him.
Part two finds Caines, his weight reduced to 200 pounds by an austere diet, overseeing the Dons' football practices. It began when he decided to follow his mother — La Cumbre Junior High principal Jo Ann Caines — into education. He took online courses to earn a bachelor's degree in project management, and he attained a certificate to teach film and video production at the high school. He joined the Dons' football staff, serving as both offensive and defensive coordinator under former head coach Jaime Melgoza.
Now, at age 30, Caines is running the whole show. He is surrounded by older assistants. "One of them likes to joke that I learned football in dog years," Caines said. "Every year I put in is more like seven, because of the kind of student of the game I am."
He attended a clinic taught by Pete Carroll at USC that ratcheted up his demeanor. "I'm a very calm guy as a classroom teacher," Caines said. "The intensity, the attitude, and the swagger I bring as a coach is reflective of what I try to instill in the kids. You can't forge metal out of water. You must use heat. You can't play this game timidly."
Curse words are not in his vocabulary, Caines said. "Some coaches feel like their language can be what it is because it's football, and it's supposed to be tough," he said. "I think it comes from an attitude and a tone and a way to talk, not using foul language. I'm not saying I'm a perfect coach, but we make sure we don't berate kids, we don't belittle kids, we don't put kids down. I'm excited to build that culture and really work with my staff on how we coach kids."
Santa Barbara High upholds a long and glorious football history. "People often say just the tradition to kids — the tradition, the tradition … what does that mean to them?" Caines asked. "If I'm a kid, I wasn't here 100 years ago; what does that mean for me? I think it is important that we do things so the kids find a way they can add to the tradition. They are actually involved, not just existing where great players played before."
Caines is fortunate to have a lot of varsity experience on this year's team. The Dons feature considerable talent at quarterback (Shawn Ramos), running back (Cheroke Cunningham), and tight end (Emilio Gonzalez). They passed their first test, rallying late in the game to defeat St. Joseph. Last Friday, they traveled to Beverly Hills and won their second game, 35-6.
"We were struggling trying to run the ball, but we opened up the passing game," Caines said after the St. Joseph game. "A lot of people that are naïve about football think it's a bunch of jocks running into each other, not the beautiful game of chess that I see. It's 11 pieces against 11 pieces, and how I place them and how I choose to attack and defend is so critical. That is why this is America's game. It is a combination of brawn and brains, and it's just beautiful when it comes together."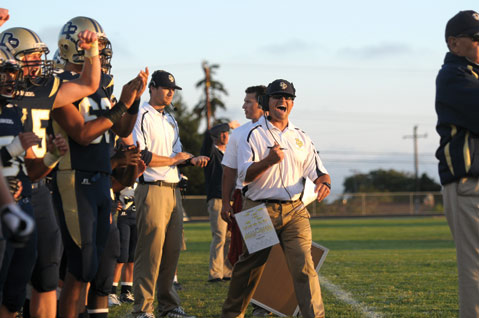 A Naturalized Charger
Nate Mendoza was a linebacker at Lompoc High when the Braves won a CIF championship in 2002. "It came down to last play of the game. We intercepted the ball. I'll remember that game the rest of my life." One of his most vivid memories was the sight of the Braves' head coach, Robin Luken. "We had him crying."
Mendoza got a hint of how the coach felt in 2010, when he was the defensive coordinator at Dos Pueblos. The Chargers defeated Ventura, 30-27, to win their first Channel League championship since 1979. "You really felt like you were part of history," he said. "The way we won that game, with the last-second field goal, it was a great atmosphere."
Mendoza, 27, has taken over the head coaching reins from Jeff Uyesaka, a DP alum who stepped aside to devote more time to his family. "Jeff is awesome, a great, great mentor," Mendoza said. "I talk to him all the time." A special-education teacher at the school, Mendoza decided to resign from coaching baseball, the sport he played in college. "I have a family, a little boy, and I feel like I'll have to take somewhat of a break," he said. "I'm spending endless hours on football."
The Chargers' next home game, on September 14, will be against Lompoc. Mendoza, whose family moved from Santa Barbara when he was 2, leaves no doubt where his loyalty resides. "I'm a very committed to this [DP] program," he said. "When we play Lompoc, I want to beat those guys. The second I stepped in as a coach, I was all-in as a Charger."
But he wants Dos Pueblos to play in a way that mirrors his alma mater's successful approach. "At Lompoc, we always played a smashmouth game," he said. "Our objective was to wear the other team down. I run the kids hard at practice, so I feel like we're well conditioned. Deep in the second half, you start seeing a team roll over or become a steamroller. You want to be the team that's steamrolling.
"One team I like watching on TV every week is the San Francisco 49ers. I love [Coach Jim] Harbaugh. He runs a real basic offense, and they play phenomenal D. They play to their defense; they don't set it up in bad situations because they've got good punting and special teams."
Nicolai Bornand, a senior middle linebacker and tight end, fits numerous key roles for the Chargers. He is their punter, and it was his 40-yard field goal that beat Ventura in 2010.
After shutting out Santa Ynez, the Chargers went to San Luis Obispo last week and pulled out another victory, 21-20.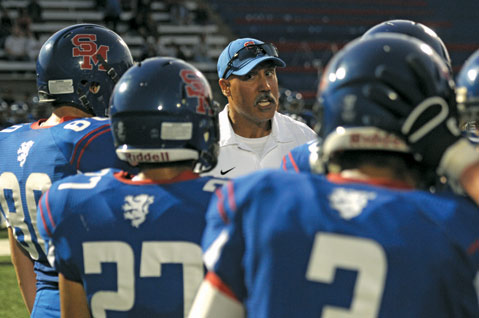 New Face in Town
San Marcos hopes Anthony Linebaugh can bring stability to a football program that has suffered from a lack of coaching continuity. He is the school's fourth head coach in the last five years, a span that was tragically punctuated by the sudden death of Jeff Hesselmeyer weeks before the 2011 season.
Linebaugh, 40, never played organized football — "I did the crazy things boys do, full-on tackle football without pads," he said — but his coaching résumé includes a striking accomplishment. He took over the program at a brand-new school, Liberty Ranch High in Galt, a community between Sacramento and Stockton. In 2010, its first season of varsity football, Liberty Ranch went 1-9. A year later, it went 9-4, nabbing a league championship and winning two playoff games.
"I got all these accolades," Linebaugh said. "It made no sense to leave, but I just got the feeling it was time to move on. I lived in Northern California my whole life. I could not shake it. God brought my wife and myself here'' — as well as his son, Andrew, a defensive back on the SBCC football team.
There was a mutual attraction between San Marcos, which has had back-to-back 1-9 football seasons, and Linebaugh. "What drew me here was the hunger and the passion on the part of the staff, the parents, and the panel that interviewed me," he said. "I did my homework. I knew about the academic success of San Marcos, the beautiful stadium, the nice area, of course. The football part has been challenging.
"There's been an accepted culture of mediocrity, to be quite frank. One thing I promised everyone was that you could come to games and see a disciplined football team. It's been a lot of work to get the kids to understand the amount of time and effort that goes into being disciplined. It makes me proud, to look in their eyes and let them know what I expect, and now they're starting to get it. We're not there, but we're starting to climb the mountain."
The slope steepened last Friday when the Royals lost their second game to Rio Mesa, 59-13. "Execution has to improve," Linebaugh said. "Linemen protecting. A running back carrying out his fake. Defensive players being where they need to be. … The kids don't understand how good they can be. I hope they'll learn that they belong.
"Trust is paramount. Football brings so many ethnicities and backgrounds together. I said, 'Guys, look around. Some of you would be friends if you didn't have football, but the bulk of you wouldn't even give each other the time of day.' Because we spend so much time together, we talk about dealing with conflict. You have conflict in your family, you're going to have conflict on the team. How do we deal with it as men? We use a lot of those life lessons."
Win or lose, Linebaugh wants the Royals to look back with no regrets. "If you don't leave it on the field, then you're going to be saying, 'Gosh, what if,' and that's going to drive you nuts, especially in later years when you can't change it," he said. "I told my son, who's not going to be playing much longer, it's a game, and once you retire, you don't come back. You've got to take advantage of the opportunities you have."
Home Games Schedule
• SBCC: (La Playa Stadium, 7 p.m.) Sept. 14 – Compton; Oct. 12 – Antelope Valley; Oct. 19 – L.A. Pierce; Nov. 9 – West L.A.
• Bishop Diego: (La Playa Stadium, 7 p.m.) Sept. 8 – Cerritos Valley Christian; Sept. 15 – Santa Clara; Sept. 28 – Santa Fe Christian (7:30 p.m.); Oct. 13 – Santa Paula; Oct. 27 – Nordhoff.
• Carpinteria: (Carpinteria Memorial Field, 7:30 p.m.) Sept. 28 – Fillmore; Oct. 5 – Bishop Diego; Oct. 19 – Nordhoff; Nov. 2 – Oak Park.tk
• Dos Pueblos: (Scott O'Leary Stadium, 7 p.m.) Sept. 14 – Lompoc; Sept. 21 – Rio Mesa; Oct. 26 – Buena; Nov. 2 – Santa Barbara.
• San Marcos: (Warkentin Stadium, 7 p.m.) Sept. 28 – Nordhoff; Oct. 5 – Dos Pueblos; Oct. 12 – Buena.
• Santa Barbara: (Peabody Stadium, 7 p.m.) Sept. 7 – Atascadero (7:30 p.m.); Sept. 21 – Bakersfield Centennial; Oct. 19 – San Marcos; Oct. 26 – Ventura.
• Cate: Sept. 22 – Faith Baptist (1 p.m.); Sept. 29 – Laguna Blanca (3 p.m.); Oct. 6 – Orcutt Academy (2 p.m.); Oct. 27 – Dunn (2 p.m.).
• Laguna Blanca: Sept. 22 – Thacher (2 p.m.); Oct. 13 – Coast Union (2 p.m.).
FOOTNOTES: SBCC is playing all its home games on Friday nights. Despite the conflict with most high school games, a crowd of more than 3,000 turned out for the Vaqueros' opener last week against Hancock College. They saw Kyle Brown return a kickoff 99 yards, as SBCC took a 19-14 halftime lead, but Hancock pounded out a 41-19 victory in the second half. … The dean of local prep coaches is Tom Crawford, in his 13th season at Bishop Diego. The Cardinals, ranked No. 2 in their CIF division, outscored their first two opponents, 97-18. Carpinteria, 0-2, came up a touchdown short in each of its contests. … Eight-man football lived up to its high-scoring reputation Saturday — Cate School winning its opener, 70-40, while Laguna Blanca lost, 69-42, in the debut of Owls coach Shane Lopes.
And Now for Something Completely Different …
The best active beach volleyball players in the U.S. will take the sand at West Beach this weekend (Fri. -Sun., Sept. 7-9) in the 2012 AVP Championships. The event is a showcase for the return of the Association of Volleyball Professionals from its 2010 bankruptcy. Three Olympic teams will be featured — Todd Rogers and Phil Dalhausser, the 2008 champions who are based in Santa Barbara; Jake Gibb and Sean Rosenthal; and 2012 silver medalists Jennifer Kessy and April Ross. Kerri Walsh, who won her third straight gold medal in London, will pair with Nicole Branagh in the wake of her Olympic partner Misty May-Treanor's retirement. The players — 12 teams each in the men's and women's divisions — will compete for $225,000 in prize money. The finals will be Sunday, starting with the women's at 10 a.m. General admission is free, and reserved courtside seating will be available for $35. For more information and tickets, visit avpchampionships.com.