News
Woman Arrested for Disrupting City Council Meeting
Kate Smith Plays Possum After Speaking Out of Turn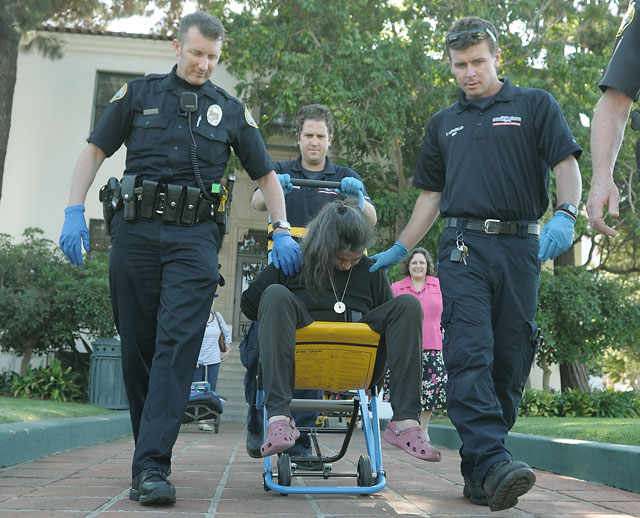 A Santa Barbara education advocate and public meeting gadfly was arrested Tuesday afternoon for sufficiently disrupting the Santa Barbara City Council meeting that it was put on hold as police responded and placed her into custody.
Kate Smith had approached the council chambers podium in front of the dais and began talking out of turn, said SBPD spokesperson Lt. Paul McCaffrey. "She was speaking at a time that wasn't appropriate and was asked to sit down," he explained. "She refused, so her microphone was turned off, and she was again asked to step away."
This back and forth went on for some minutes with Smith reportedly taunting, "Arrest me! Arrest me!" An officer already in the room asked her to leave, saying her voice should be heard in a more appropriate manner. At this point, said McCaffrey, Smith plopped on the ground in front of the podium and remained motionless and unresponsive.
The meeting was halted as paramedics were called to see if Smith was experiencing some kind of health emergency. They determined she wasn't — another city worker who knows Smith well was called to try and coax her into cooperating — and put her in a chair specifically designed to carry people in distress up and down steps.
Smith was taken out of City Hall in the chair by accompanying officers and placed in a police cruiser. McCaffrey explained she was arrested for disrupting a public meeting and interfering with officers. She would be transported to County Jail, he said.