Briefs
How Dan Wilson Beat 'The Rapture of the Deep'
Santa Barbara Maritime Museum Opening New Underwater Diving Exhibit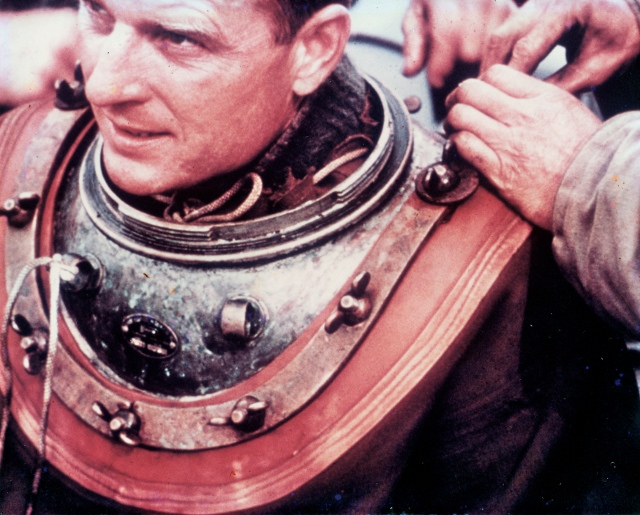 The Santa Barbara Maritime Museum will open an exhibit November 9 to commemorate the 50th anniversary of the first commercial oxygen-helium dive performed by Santa Barbara resident Hugh "Dan" Wilson.
Wilson, an abalone diver, wanted to prove to oil companies that a mixture of helium and oxygen was a commercially viable option. It allowed divers to go deeper into the ocean, thereby allowing oil companies to drill where crude is more abundant. Using compressed air, commercial divers could only reach around 200 feet deep. On November 3, 1962, Wilson jumped into the Santa Barbara Channel and reached a depth of 400 feet.
Don Barthelmess, Professor of Marine Diving Technology at SBCC and chief orchestrator of the upcoming exhibit, said that the dive was "a catalyst for the evolution of deep diving. It allowed man to breathe and explore deeper depths using a medium other than air. It also brought new technology to civilians by putting private enterprise into the equation."
Oil companies knew that they could harvest more oil if they drilled at greater depths, but they couldn't get their divers deep enough to monitor the process. Divers breathing compressed air become severely intoxicated below 200 feet because of the nitrogen content in their tanks. Nitrogen is a narcotic when inhaled at high pressures. Jacques Cousteau called this "The Rapture of the Deep" and it rendered commercial divers useless.
"The Rapture of the Deep" was not the only obstacle that Wilson had to overcome. Though the Navy had been using oxygen-helium mixtures long before the historic dive, they used an unwieldy 250 pound helmet. Wilson took it upon himself to design a new helmet that would be more practical for commercial divers. With the help of Santa Barbara Radiator Shop, Wilson modified his Japanese abalone helmet and created a lightweight alternative to the Navy equipment.
Furthermore, Wilson's design included an on-demand breathing system which allowed him to conserve the expensive oxygen-helium mixture. Wilson filed a patent on his design in 1963, it is regarded as an important forerunner to modern diving technology. The original helmet will be on display at the exhibit in November.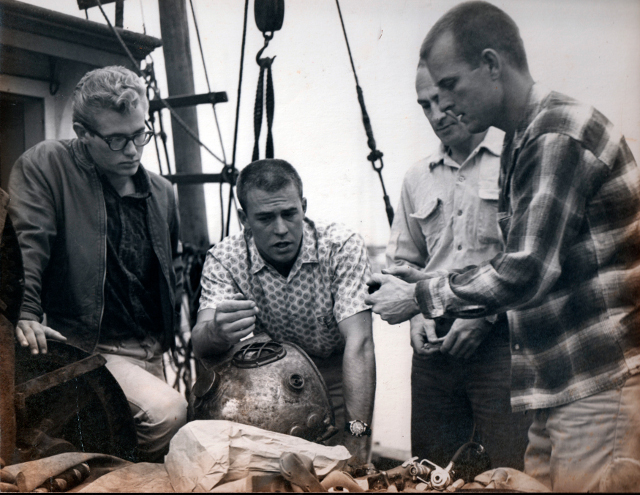 Barthelmess works for the country's only publicly funded education program that trains and certifies commercial divers. He aims to celebrate the special role of commercial diving and oil drilling in Santa Barbara's history, saying that Wilson's dive "really put Santa Barbara on the map for commercial diving."
Barthelmess said that the diving program at SBCC has been very successful at placing graduates in jobs all around the country whether they are for oil companies or in other industries such as underwater construction. However, he is disappointed that there aren't as many local diving jobs as there could be. Barthelmess recalled that when new leases for oil drilling in federal waters were effectively banned in 1984, the demand for commercial diving jobs in and around Santa Barbara came to a "screeching halt."
Offshore oil drilling has been intensely unpopular in Santa Barbara ever since the oil spill of 1969. Over the years, political careers have been made by crusading against the oil industry. In an ironic twist, congressional candidate Abel Maldonado of the "Drill Baby Drill" Republican Party recently criticized Democratic incumbent Lois Capps for supporting a plan that would allow drilling on the Tranquillon ridge for a limited amount of time. The plan was supported by environmental groups but was ultimately voted down by the California state legislature.
Barthelmess is dismayed by what he sees as the close-mindedness of Santa Barbara politicians. Nevertheless he has not been deterred from attempting to preserve the important legacy of Dan Wilson. "I don't want this guy to be forgotten," he said. "What he did was too important."