Briefs
Panga Rams Coast Guard Boat, Kills Chief Officer
Patrol Boat Investigating Suspected Smugglers Near Santa Cruz Island; Two People in Custody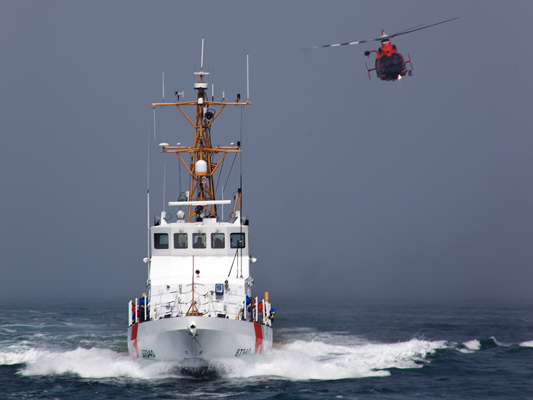 Chief Petty Officer Terrell Horne III, second in command on a U.S. Coast Guard patrol boat, was killed early Sunday morning as he and his crew investigated a suspected smuggling vessel near Santa Cruz Island in the Santa Barbara Channel.
The panga — a type of small, open craft often used by Mexican smugglers to run drugs and migrants up the West Coast — was first spotted by a Coast Guard patrol plane at around 1 a.m., said spokesperson Petty Officer Adam Eggers. The panga was "running darkened ship," meaning it was operating without any navigational lights, he explained.
The Coast Guard dispatched its 87-foot Cutter Halibut and, once it arrived on the scene, the Halibut deployed its smaller intercept boat with Horne on board. The crew approached the panga with its blue law enforcement light flashing when the panga "maneuvered at a high rate of speed directly towards the Coast Guard small boat and struck it before fleeing the scene," said Eggers.
Two Coast Guard members, including Horne, were thrown into the ocean and immediately recovered by the small boat, but Horne had suffered a severe head injury. The other Coast Guard member sustained minor injuries.
The Halibut collected all crew members on board, administered first aid to Horne, and rushed to Port Hueneme in Ventura County where emergency medical units were waiting. Horne, 34 years old and living in Redondo Beach, was declared dead on arrival at 2:01 a.m. Sunday morning. His family was notified soon after.
"Additional Coast Guard assets were able to stop the fleeing panga, and detained two suspects," said Eggers. The incident remains under investigation and the names of the two suspects have not been released. It's unclear if any drugs were found in the panga.
The Halibut, according to the Coast Guard's website, is stationed in Marina Del Rey and is responsible for patrolling 300 miles of Southern California coastline from Morro Bay to Dana Point, including the northern Channel Islands and Catalina Island. It also provides security for the Ports of Los Angeles and Long Beach.
"We are deeply saddened by the loss of our shipmate," said Coast Guard Commandant, Admiral Robert J. Papp, in a prepared statement. "Our thoughts and prayers go out to his family and friends, and his shipmates aboard Coast Guard Cutter Halibut. We are focused on supporting them during this very difficult time. Our fallen shipmate stood the watch on the front lines protecting our nation and we are all indebted to him for his service and sacrifice."