Announcement
The Inn Crowd Renewed for Additional Year on KEYT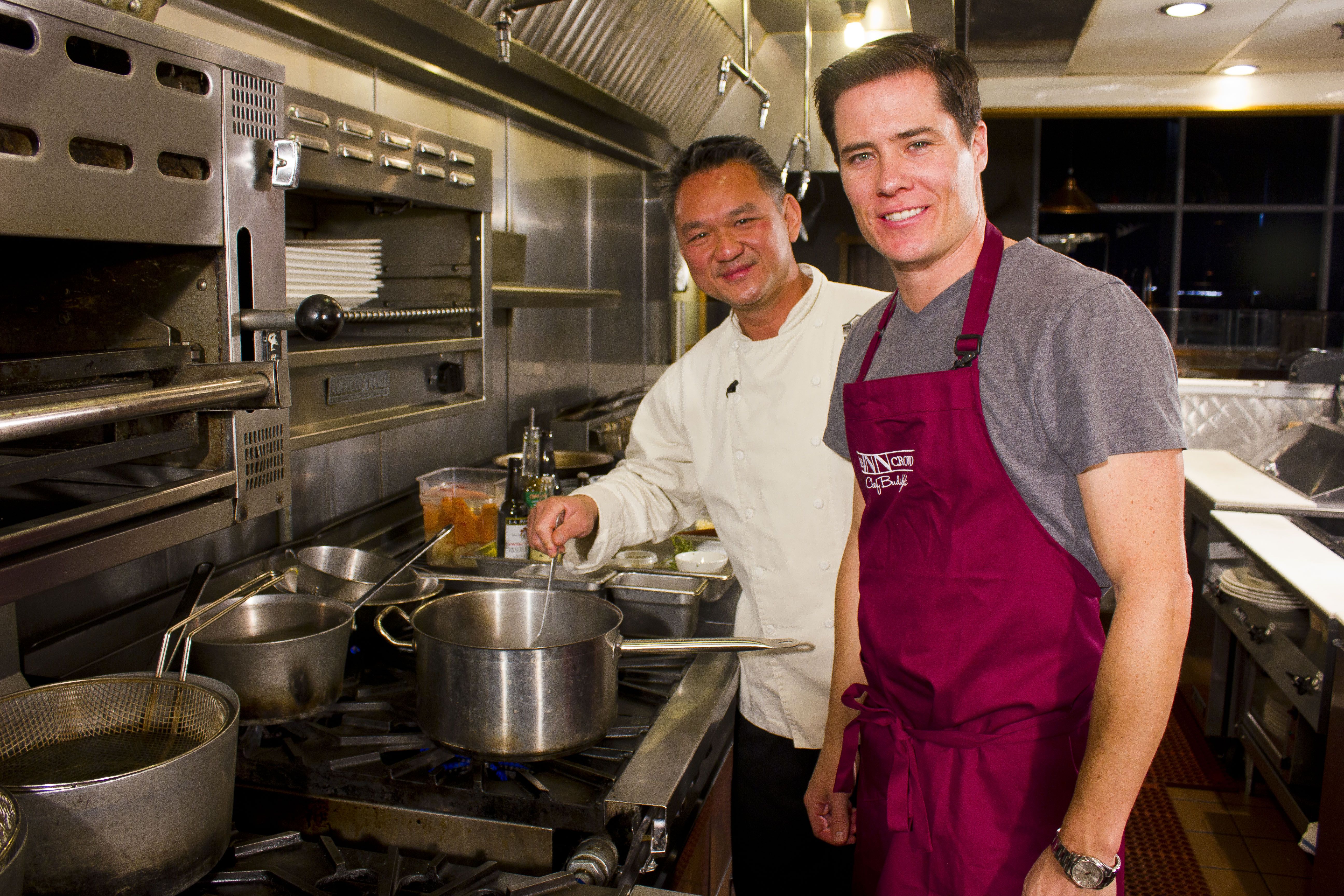 The Inn Crowd begins its second season this Saturday night, February 16, at 6:30pm. The Inn Crowd is a cooking show peppered with a healthy dose of fun, easy gourmet recipes, breathtaking scenery and magnetic personalities.
The show centers around Chef Budi Kazali, an amazingly imaginative chef and owner of the Ballard Inn & Restaurant in the heart of California's famous wine country. Kazali is renowned for his unique fusion of French and Asian cuisine and his uncanny ability to bring people together around gourmet foods, wine and recipes.
As an added twist to Season Two, each week The Inn Crowd will feature a local central coast celebrity sharing the cooking honors with Chef Kazali.
Kicking off Episode One is Santa Barbara News Press Co-Publisher and Nippers.com founder Arthur von Weisenberger. Weeks to follow include ABC's Bachelor Andrew Firestone, Billionaire businessman and wine mogul Bill Foley, Musician Jimmy Messina, Sheriff Bill Brown, County Supervisor Salud Carbajal, Community Leader Anne Towbes, and former KEYT Anchor Debby Davison to name a few….
As a special treat, Inn Crowd viewers will get the first televised tour of the renovated El Encanto along with special recipes cooked by Chef Kazali and the new Executive Chef of The El Encanto Patrice Martineau.
The Ballard Inn is the backdrop for the Inn Crowd and takes on a personality of its own. A nationally recognized romantic destination for years, the Ballard Inn and the picturesque Santa Ynez valley make for the perfect environment for this wonderfully unpredictable half hour of entertaining, informative and flavorful television.
"There's something about the combination of a place like Ballard, a chef like Budi Kazali and the heart of wine country that makes a project like this so exciting, so amazing…so right," says The Inn Crowd's Creators and Producers Linda and Ira Distenfield from Santa Barbara's Marketing Express.
According to the show's host, Craig Case "creating these masterpieces of flavor that Chef Kazali does, with local wines, is just awe inspiring."
According to the Distenfield's, "look for Season Two to reveal some of Chef Kazali's best kept cooking secrets. Along with his infectious smile, warm graciousness and engaging sense of humor, The Inn Crowd will again be the perfect recipe with the finest ingredients for an amazing half hour that will leave viewers hungry for more."
The Inn Crowd's title sponsor is Mark T. Weiser, DDS, one of the central coast's premier cosmetic dentists. Dr. Weiser states "I am proud to bring The Inn Crowd to our central coast viewers as Chef Kazali highlights the special foods, wines, and recipes that come out of our amazing surroundings."
The Inn Crowd is the only cooking show originating from the Central Coast and it appears KEYT is making sure it lasts for quite a while. The Inn Crowd will run every Sunday-Saturday following each KEYT broadcast at the Food Channel at newspress.tv