Arts & Entertainment
The Knights to Perform at UCSB with Wu Man February 23
Arts & Lectures Presents the New York-based Indie Orchestra The Knights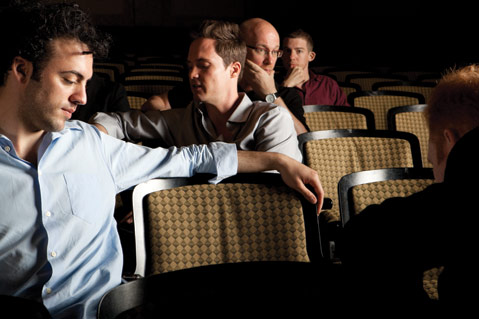 The last few years have not been kind to the world's symphony orchestras. Oh, the big leaders are still doing fairly well, and television journalists can't seem to get enough of Gustavo Dudamel, but elsewhere, there's often chaos, with labor disputes and budget shortfalls becoming as familiar accessories to city symphonies as tympanis and tuxedoes.
Yet leave it to Brooklyn, the geographical and symbolic center of all things hipster and indie, to have served as the birthplace of The Knights, a brilliant new orchestra project from the brothers Colin and Eric Jacobsen, who brought us the great postmodern string quartet known as Brooklyn Rider. On Saturday, February 23, The Knights will be at Campbell Hall with Wu Man, the pipa virtuoso, to perform a fascinating program that ranges from Igor Stravinsky to Lou Harrison to Claude Debussy. I spoke with violinist and cofounder Colin Jacobsen about what makes this group, and this concert, so different, and so indie.
You and Eric are breaking new ground with your approach to forming ensembles. How did that come about? Our dad played in the Metropolitan Opera orchestra, and when he was starting out, you were either a soloist or you were in an orchestra, and those were totally different careers. Today, as a result of musicians working directly with one another to create new models for the group, there are beginning to be some different kinds of work available, and obviously, we think that's good. From a certain perspective, of course what we are doing — growing an independent orchestra at this time — makes us look like Don Quixotes, but we tend to see it the other way round, because at this point it may be that pursuing a career through the traditional roles is what's become really quixotic.
What can you say about the orchestra and your soloist, Wu Man? Many of us were in the Silk Road Project together, and all the members of The Knights overlap with other musical worlds, so for us the inclusion of an artist like Wu Man on the program comes naturally. The Lou Harrison concerto that we are doing was written for her, and the other piece we will perform with her, Blue and Green, is something that she wrote. We will also be playing Stravinsky's "Dumbarton Oaks," the Prélude à l'Après-midi d'un Faune of Claude Debussy, and Le Boeuf sur le Toit by Darius Milhaud.
The Knights released a Beethoven recording just a few weeks ago, is that correct? That's right, there is a new Beethoven recording, of the Triple Concerto and Symphony No. 5. For the Fifth, we just tried to strip away the layers of interpretation that led to the establishment of the familiar old Beethoven on a pedestal that everyone is used to. With the Triple Concerto, the composition is more lighthearted and operatic, so we approached it a bit differently. The idea there was to re-create it as more of a chamber piece, and to frame the parts as jazz-like riffs that are being tossed back and forth among the three soloists.
How would you advise a prospective listener to think about the upcoming program here in Santa Barbara? For this concert, I'd recommend listening for the dialogue between Wu Man and the orchestra. She can be very delicate, but she can also wail like an electric guitar. This is Musical America's 2012 Instrumentalist of the Year; she rocks out.
4•1•1
The Knights with Wu Man play UCSB's Campbell Hall on Saturday, February 23, at 8 p.m. For tickets and information, call 893-3535 or visit artsandlectures.sa.ucsb.edu.