Goober is a one-year-old Catahoula leopard dog. He is a very cool dog, but he needs a gentle, patient person to help build up his confidence. Goober is sweet and will bond strongly. Catahoula leopard dogs are one of the few truly American breeds. It was developed by the first colonists in Louisiana and became especially popular in the parish of Catahoula. Goober is an active pup, affectionate, eager to please, and quick to learn. He is shy, but warms up quickly.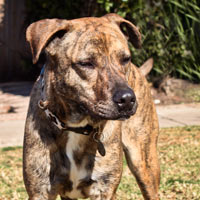 DAWG (Dog Adoption and Welfare Group) is a no-kill not-for-profit dog rescue/adoption organization. All of the dogs at DAWG have been spayed/neutered, microchipped, are current on their shots, and have flea/tick/mosquito protection. We ask for a minimum adoption donation of $250 for young dogs (under three years), $150 for adult dogs, and $125 for seniors (dogs 8 years old and over).
To inquire about adopting a dog, visit DAWG at 5480 Overpass Road. For more information, call (805) 681-0561 or email adopt@sbdawg.org. You can view more adoptable dogs at sbdawg.org or come by during open adoption hours, Thursday-Monday, 12 -5 p.m.