Briefs
S.B. High Competitive Cheer Team to Defend Title
Reigning National Champions Will Travel to Anaheim for March 15-17 Competition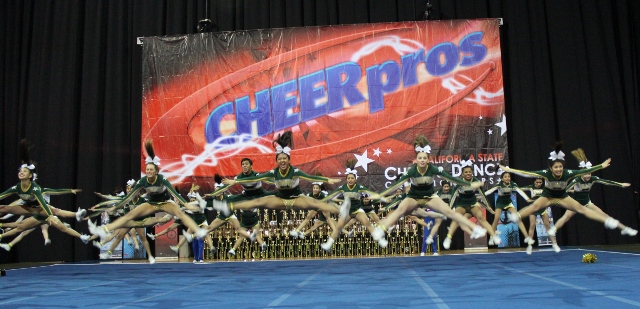 Santa Barbara High School's competitive cheer team will defend their title as U.S.A. National Champions at this weekend's showdown in Anaheim. The "super varsity" squad, made up of 32 freshmen, sophomores, juniors, and seniors, will compete against teams from all over the United States on March 15-17.
The Dons won first place in the Best of the West Invitational in its Show Cheer Division on March 10 in Long Beach, and since January have won two U.S.A. Regional championships in San Juan Capistrano and Agoura Hills.
The competitive cheer group is a smaller part of the S.B. High's cheerleading team, and they've appeared at school football games, girls' soccer games, and both boys' and girls' basketball games. At Nationals, they will be competing in both group stunts and show cheer, a combination of group stunts, spirit, and dance.
"There is definitely magic with this team," said Easter Moorman, a mom of one of the members. "What makes this team successful is the choreography, the blending — you don't feel like you're seeing three different sections."
The team is currently asking for donations to help cover the costs of registration, travel, food, and lodging. For more information, contact Head Coach Jenn Lemons in the Santa Barbara High School Athletic Department at (805) 966-9101.