Announcement
Santa Barbara AIRBUS Celebrates 30th Anniversary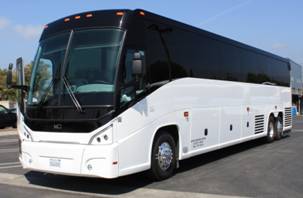 The coach features free Wi-Fi, AC power outlets at every seat, Bosch sound system and four 10.4″ LCD wide-screen monitors, a quieter, fuel-saving 2010 EPA compliant engine technology and electronic stability control for an even smoother, cleaner ride. Both mini-coaches offer leatherette seats, video monitors and easy access doors.
Onnen remarked, "We've logged more than 30 million miles in the last three decades and seen tremendous changes: from stop lights on US 101 at State Street, the introduction of HOV/Car Pool lanes on Interstate 405; using pay phones for driver check-ins to cell phones, and going from a card file reservation system to computers and fully integrated online bookings. However, some fundamental things have stayed the same; such as our commitment and delivery of consistent, safe, friendly customer service. Our relationships with our passengers, suppliers, and our staff, most of them with us more than seven years, continue to be based on the principle of' treat others the way you would like to be treated.'"
Santa Barbara AIRBUS received the prestigious 2012 Operator of the Year Award by the California Business Association and in February 2013 was named a Santa Barbara County Certified Green Business. On April 4, 1983, Eric and his wife Kelly Onnen along with their partner Mark Klopstein inaugurated their transportation service from Santa Barbara County to Los Angeles International Airport (LAX). The company began with two, 10-passenger vans running 5 trips to/from SB/LAX from Monday-Saturday. In 2013, Santa Barbara AIRBUS has a fleet of 20 deluxe motor coaches, four mini-coaches seating 21-to-25-passengers; and "The Black Pearl Limo Bus". Services not only include 16 daily trips to/from SB/LAX; but also offers private Charter Bus Service, public Day Trips and Multi-Day Adventures. Santa Barbara AIRBUS started in the spare room of the Eric and Kelly's Santa Barbara area condominium and after several moves for expansion, is now located at 750 Technology Drive in Goleta. Santa Barbara AIRBUS employs approximately 60 people; completes over 1.2 million miles annually; and now leases more than 53,000 square feet of fenced parking area, a 5,000 square foot office building and a 5,000 square foot maintenance facility.