Briefs
CALPIRG Hosts Solar Energy Conference at UCSB
Coincides With Celebration of Earth Week
In conjunction with UCSB's celebration of Earth Week, nonprofit public interest group CALPIRG hosted a press conference Tuesday morning on the advantages of implementing solar panels and using solar energy within Santa Barbara schools and across California.
With a real life solar panel in tow — a demo used later in the day to make "solar smoothies" — a current student, a UCSB professor, and a member of State Senator Hannah-Beth Jackson's staff took center stage in front of the University Center with hopes of enlightening students and onlookers on the need for further developing California's solar energy plans. The solar energy campaign is one of CALIPIRG's foremost and most pressing. In order to encourage statewide use of solar energy, CALPIRG is working toward installing 3 million solar roofs in California by 2020, an endeavor they hope to accomplish through instating legislation with the help of Sacramento lobbyists. One goal of this legislation is to establish programs like "Solar Schools," which will permit local Santa Barbara schools to install solar panels on their rooftops; the panels will efficiently generate power for the schools, produce profit, and reduce schools' carbon footprints.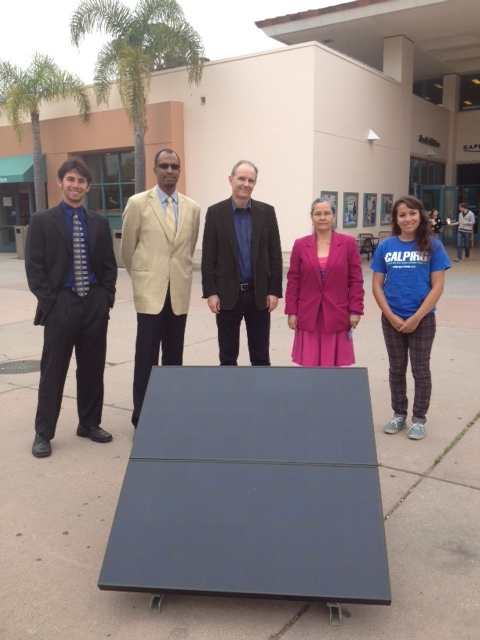 Other members of the UCSB community are working to bring light to this issue as well. Third year political science major and Research Chair for the UC for Clean Energy program, Ross Zelen, remarked that UCSB, an already-environmentally friendly campus, can be even more proactive in progressing its energy plan. With Bren Hall earning a double-platinum LEED (Leadership in Energy and Environmental Design) award for sustainability and greenest laboratory among campuses across the nation, Zelen asked, "Why not make students and professors accountable for making a huge impact on this campus?"
To further emphasize the issue, Professor Raymond Clémençon of the Global Studies and Sociology departments at UCSB advocated a determined push for renewable energy, with particular attention toward installing solar energy panels. Clémençon stressed that California must further strengthen its role in developing and employing renewable energy, stating that the its significance is twofold. "This is an investment that doesn't just make environmental sense; it makes a whole lot of economic sense," he said.
California is a nationwide leader in clean energy, renowned for its top-notch energy standards and international role in reversing climate change. Helping to galvanize that effort is the 1,200 signatures UCSB students and campus passersby provided Senator Jackson in support of widespread solar panel use. According to James Joyce, Deputy District Director for the Senator and one of Tuesday's speakers, Senator Jackson aims to somehow engage these eco-minded individuals, likely in similar vein to her and Senator Das Williams's involvement with the Green Job Expo in Ventura, a summit on green job training and skill development featuring educators, industry experts, and legislators. Despite California's comparatively impressive transcript for renewable energy use, all presenters in Tuesday's conference emphasized that there is room for improvement.